Tiregate Bed Mount Tire Carrier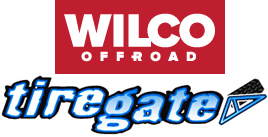 The Tiregate Bed Mount tire carrier is designed and fabricated to the same high standards as our swing away tire carriers. In fact we use the same Y Bar, urethane wheel cone, and wheel safety tether cable that our top rated swing away PR and HT Series Tiregates use. To improve over ALL competitors we use the largest mount plates in the industry to help spread the loads over a much greater area, this maximizes mounting strength to your truck for offroad use. In addition to the large mounting plates a flush mounted D-Ring is welded to the Upper Mount Plate to connect our exclusive safety Tether Cable acting like a leash from your truck to your spare wheel.
This cable can also be used in conjuction with a lock to help prevent theft of your spare. Either way your spare wheel will be more safe and secure with the Tiregate Bed Mount than any other bed mount available! As with all Tiregate products this bed mount spare tire carrier is the BEST of it's kind and priced right!!
Bed Mount Tire Carrier - Flat
Wilco Off-Road Bed Mount tire carrier mounts an over size spare tire directly and securely to the truck bed. A large mounting plate is employed to distribute the extreme loads encountered when covering rough terrain off-road. The Y-Bar and polyurethane wheel cone keeps the spare rock-solid in the bed while allowing for quick wheel changes. For extra security, a steel safety cable loops through a flush mounted D-ring, serving as a leash connecting the spare to the truck. This cable can also be used in conjunction with a lock (sold separately) to frustrate tire thieves.
Bed Mount Tire Carrier - Angled
Bed Mount Pre Runner mounts your spare tire directly to the truck bed at a rearward-facing 30-degree angle that provides a more ergonomic position for faster tire changes. This Tire Carrier allows for mounting a Hi Lift Jack and other accessories.
Key Benefit
Provides secure spare tire mounting directly to the truck bed.
Features
Mount an over size spare tire directly to the truck bed
Bar with urethane wheel cone for rapid wheel mounting and dismounting
Black PVC-coated steel safety cable included
Product Specifications
Material: XX-inch diameter, XX gauge steel tube
Construction: Mandrel bent, MIG welded
Finish: Powder coat with black polyester semi-gloss
Load Rating: 150 lb
Source: Made in USA
Warranty: Limited Lifetime Warranty