Wilco Offroad Hitchgate™ Solo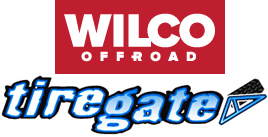 Average Lead Time is 3-4 weeks
When it comes to strength and weight, the Hitchgate™ Solo packs a powerful punch. With the same tow rating as its bigger siblings and the capacity to carry a 35-inch tire, the Solo is ready for whatever the adventure calls for. The Hitchgate Solo was designed to go lean and low on the next adventure while still being prepared. The Hitchgate Solo's reduced weight is perfect for those looking to carry a 35-inch or smaller spare tire,and a single Rotopax fuel can.
Not only is weight reduced, but so is the overall height of the truck mount, 4″ lower than a Classic Hitchgate. By relocating the truck mount at the *same level* as the vehicle's receiver hitch, the Solo is uniquely designed to accommodate vehicles that have low clearance between the rear hatch/door and the receiver (Ex: Sprinter, Renegade, Tahoe). The Hitchgate Solo is also a phenomenal candidate for Subarus and any vehicle where every pound counts.
The Hitchgate Solo spare tire carrier universally fits on all vehicles with a Class III/2″ hitch receiver. This swing-away, spare tire carrier mounts to any 2-inch, Class III hitch receiver and is perfect for SUVs, Jeeps, vans and pickups. This tough tire carrier secures up to a 35-inch spare tire while maintaining ground clearance with minimal change in departure angles when driving off-road. Release a single latch pin and it opens wide for full access to the vehicle's cargo space. NOTE: Solo sits level with vehicles receiver hitch.
The Hitchgate Solo is tow-rated at 7,500 lbs (max trailer weight) and 750 lbs (tongue weight).
Like all Wilco Offroad products, the Hitchgate Solo is proudly built by hand in Santa Ana, California by certified welders and comes with a limited lifetime warranty.
Fitment Notes
Zero offset or shallow offset wheels may require an additional wheel spacer.
Rectangular support arm is welded to secondary hitch extending 2″ above factory hitch and 29″ out horizontally.
When properly installed, the Solo will sit level with inside of the hitch…if your bumpers arc upward at the corners, the Solo may appear not to follow those body lines as it is mated up to the hitch rather than the bumper.
Solo may interfere with factory back-up sensors and/or back-up camera.
Features
Securely haul extra gear and an oversize spare tire without losing cargo space in the truck bed.
Fits virtually all vehicles with a 2-inch receiver
Engineered for extreme durability and performance, with less weight
Steel construction
Wobble-free wedge lock
Easy bolt-on installation
Limited Lifetime Warranty
Made in USA
Specifications
Finish: Bead Blast and powder Coat
Hardware: Zinc plated
Weight: 53-pounds
Tow Rating: 7,500 lb Trailer Weight, 750 lb Tongue Weight
Source: Made in USA
Warranty: Limited Lifetime Warranty