AEV HD 2019+ Ram Premium Front Bumper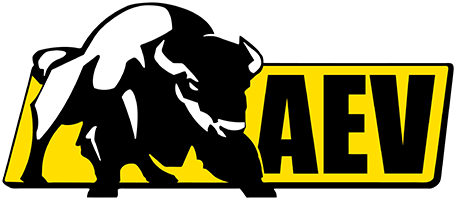 Safety, protection and style – this is the foundation upon which AEV's bumper design philosophy is built. As the aftermarket's first and only stamped steel bumper for the HD Ram truck, AEV's Front Bumper offers an unparalleled level of front end protection while also enhancing the truck's appearance with its sleek, sophisticated styling.
AEV's Front Bumper is robust and engineered to work just as hard as the truck it's installed on. Massive ductile iron recovery points are rated to pass all OE load specifications and double as wear plates to slide over steep obstacles. A 4mm thick stamped steel face provides a superior level of protection while also safely accommodating an optional Winch Mount and a 12-16,500lb Warn winch to assist with vehicle recovery. An optional Winch Delete Kit is available for customers who are not installing a winch.
HD Ram trucks are designed to work hard and tow heavy loads which makes proper engine cooling essential, especially in hot environments and higher elevations. Airflow underneath and through the bumper is critical due to the lower intercooler position on late-model Ram 2500/3500 trucks, so a unique intercooler shroud is supplied to ensure that there is no loss in cooling efficiency after the AEV Front Bumper is installed – something often overlooked in the aftermarket. Trucks equipped with a gasoline engine will receive a cooling shroud to help direct airflow to the radiator.
AEV's Front Bumper is fully compatible with ParkSense, a parking assist feature found on many higher trim levels. Sensor holes pre-drilled and the factory harness can be re-used, for a truly plug-n-play installation. Closeout plugs are included for the trucks that do not have front ParkSense. An extremely durable, multi-stage e-coat and powder coat finish is used for the best possible corrosion resistance, and any abrasions from obstacles off-road can be easily touched-up using AEV Bumper Touch-Up paint. All bumpers are proudly manufactured in the USA.
Coming Soon – Optional Power Wagon Winch Retrofit Kit, Brush Guard and Intercooler Skid Plate!
Applications:
Options Notes:
Engine - Diesel / Gas - Depending on your engine, AEV includes a protective shroud for the intercooler or radiator.
Corner Option - Standard / Short (Requires HighMark Fender Flares) - AEV offers two corner options for the Ram Premium Front Bumper. A standard corner for use with factory fender flares, and a short corner for use with AEV Highmark Fender Flares.
Winch to be Installed - Warn 16.5 / Warn M12000 or M15000 / No Winch - The Ram Premium Front Bumper is designed for easy installation of a Warn 16.5 winch. Other winches can be installed although additional hardware and brackets are required. If you select "No Winch", you will receive AEV's Non-Winch Cover Plate Kit - a stamped steel block out plate to cover the space at the top of the bumper, with a molded plastic plate that will snap into the fairlead opening as well as hold a front license plate.
Installation:
Difficulty Level: Advanced
Estimated Install Time: 6 - 8 hours
Guides
FAQs:
What makes this bumper different than all the other aftermarket bumpers out there for HD Ram trucks?

AEV's Front Bumper is the only stamped steel front bumper on the market for HD Ram trucks. This creates a stronger, better looking product while also using less material. The result is a bumper that is incredibly strong, compliments the vehicle aesthetically and only adds as much weight to the front end as necessary.

What trim levels do this bumper fit?

This bumper fits all 2019+ HD Ram 2500/3500 models - this includes Power Wagon. However, a retro fit kit is not currently available to reuse the OE Power Wagon Warn winch in this bumper.

What winches are compatible with this bumper?

Winch Install Kits are currently available for the Warn M12000, M15000 and 16.5ti winches. A Non-Winch Cover Plate is also available for customers who do not intend on installing a winch.

Does this Front Bumper hurt the approach angle off-road?

The AEV Front Bumper is designed to sit as tight as possible to the body of the truck, while still offering an increased protection and a secure mounting location for a winch. AEV stamped steel manufacturing process allows for much smoother lines and tighter tolerances.

Will a Brush Guard be available for this Front Bumper in the future?

Yes, and the Front Bumper is actually pre-drilled for it. Plugs are supplied for customers who do not wish to install a brush guard. Brush Guards will be available late-2020.

The intercooler on these trucks sits very low. Many aftermarket companies don't address cooling efficiency. What does AEV do to compensate for this?

We offer two different cooling shrouds depending on whether the truck is gas or diesel. The diesel intercooler shroud directs the air straight to the intercooler without any loss in efficiency or becoming a hinderance off-road. An optional Intercooler Skid Plate will be available late-2020 for customers who like taking "the more extreme line" out on the trail.

Will I have to trim this front bumper like my factory bumper when I install larger tires?

No, the modular design of this front bumper allowed us to design our corners to sit further forward than the factory front bumper - which often needs to be trimmed for 37" or bigger tires. We offer two different corner options, in lieu of having to trim: a standard corner for up to a 37" tire and a short corner specifically for our HighMark Fender Flares.

Are the recovery points attached to the bumper or the frame? Do you test them at all?

Our recovery points are actually one of the components of the front bumper that we are most proud of - they are MASSIVE in size and made out of ductile iron. They bolt directly to the frame of the truck and are tested to pass all OE load specifications. As an added bonus, the bottom edge is intentionally left exposed to double as a wear plate to slide over steep obstacles off-road.

My truck doesn't have factory fog lights. Will there be an open hole in the light bezel?

No, the bezel ships with a solid knock-out in place to cover the hole on trucks without fog lights. AEV does not offer an aftermarket light bezel for this bumper.

What sort of preventive measures have been taken to prevent corrosion?

We use a multi-stage, e-coat and powder coat process on these front bumpers. Additionally, great attention was paid to ensuring that standing water is able to drain out properly and exposed hardware was kept to a minimum.

Is this bumper compatible with front ParkSense?

Absolutely! The AEV Front Bumper ships pre-drilled for all the OE park sensors to be transferred from the OE bumper. The OE ParkSense wiring harness is able to be reused for a plug-n-play installation. Black plugs are provided to cover up the holes on trucks that do not have ParkSense.

Where is the AEV Front Bumper manufactured?

AEV's Front Bumper is proudly made right here in Michigan!