Baja Designs Squadron Sport LED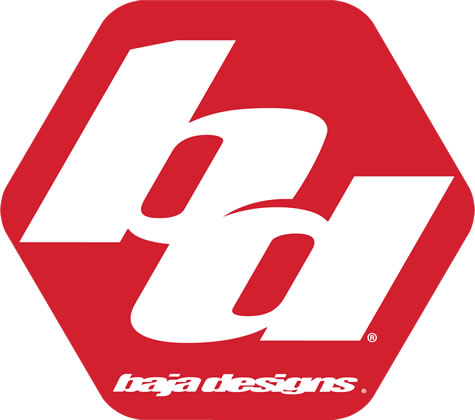 The Squadron® Sport is hands down the best $119.95 LED on the market today. Although similar in aesthetics to the Squadron® Pro, the application for the Sport varies. The Squadron® Sport utilizes 4 Cree XP-G2 LEDs producing an impressive 1,800 lumens at 20 watts making it ideal for near field, side/backup and scene lighting application. An industry first 30 Day Satisfaction Guarantee & Limited Lifetime Warranty is included for the ultimate in purchase protection.
Features:
Satisfaction Guarantee – 30 Day Money Back Guarantee
Limited Lifetime Warranty – Complete Purchase Protection
uService® – Replaceable Lenses And Optics
ClearView® – All The Light, Right Where You Need It.
MoistureBlock™ – Waterproof, Rain Proof, Submersible
CopperDrive® – Only LED Driven At 100%
5000K Daylight – Less Driver Fatigue, Natural Color
Specifications:
Lumens: 1,800 Utilizing 4 Cree XP-G2 LEDs
Wattage/Amps: 20W / 1.4A
Dimensions: 3.07" x 2.77" x 3.07"
Weight: 12 ounces
LED Life Expectancy: 49,930 Hours
Front Lens: Hard Coated Polycarbonate
Housing: Powder Coated Cast Aluminum
Bezel: Billet Machined Aluminum
Hardware & Bracket Material: Stainless Steel
Exceeds MIL-STD810G (Mil-Spec Testing)
Built-In Overvoltage Protection
IP69K (Waterproof, Submersible to 9ft)
IK10 Compliant (Mechanical Impact Testing)
Exceeds MIL-STD810G requirements:
Low Temperature Test
High Temperature Test
Temperature & Humidity Test
Thermal Shock Cycling Test
Dust Test
Random Vibration Test
Mechanical Shock Test
Low Pressure Test
Drip Box Water Test
Includes:
Squadron® Sport LED Light
Mounting Bracket
Part Numbers
55-0001

| Spot Beam Pattern

55-0005

| Wide cornering Beam Pattern

55-0003

| Driving/Combo Beam Pattern

55-0006

| Flood/Work Beam Pattern
Patterns:
Driving/Combo: Maximum trail coverage in a single light. The Driving/Combo pattern is equipped with both Driving (10°) and spot (9°) optics to provide you with a smooth blend of light for both near field applications and distance (Lighting Zone 3)
Wide Cornering: BD was the first to develop a pattern specifically for cornering, dust and/or fog conditions. The Wide Driving pattern offers a 42° flattened horizontal beam for the ultimate in comfort lighting. (Lighting Zones 1 & 2)
Spot: A longer and narrower 9° beam focus for illumination further down the trail or road. The Spot pattern is designed to be used in conjunction with additional Wide Driving and/or Driving/Combo beam lights. (Lighting Zone 4 & 5)
Flood: Excellent work light or "scene light" with an extremely smooth 60° circle that projects about 40ft. This pattern is not suitable for driving. (Lighting Zone 7)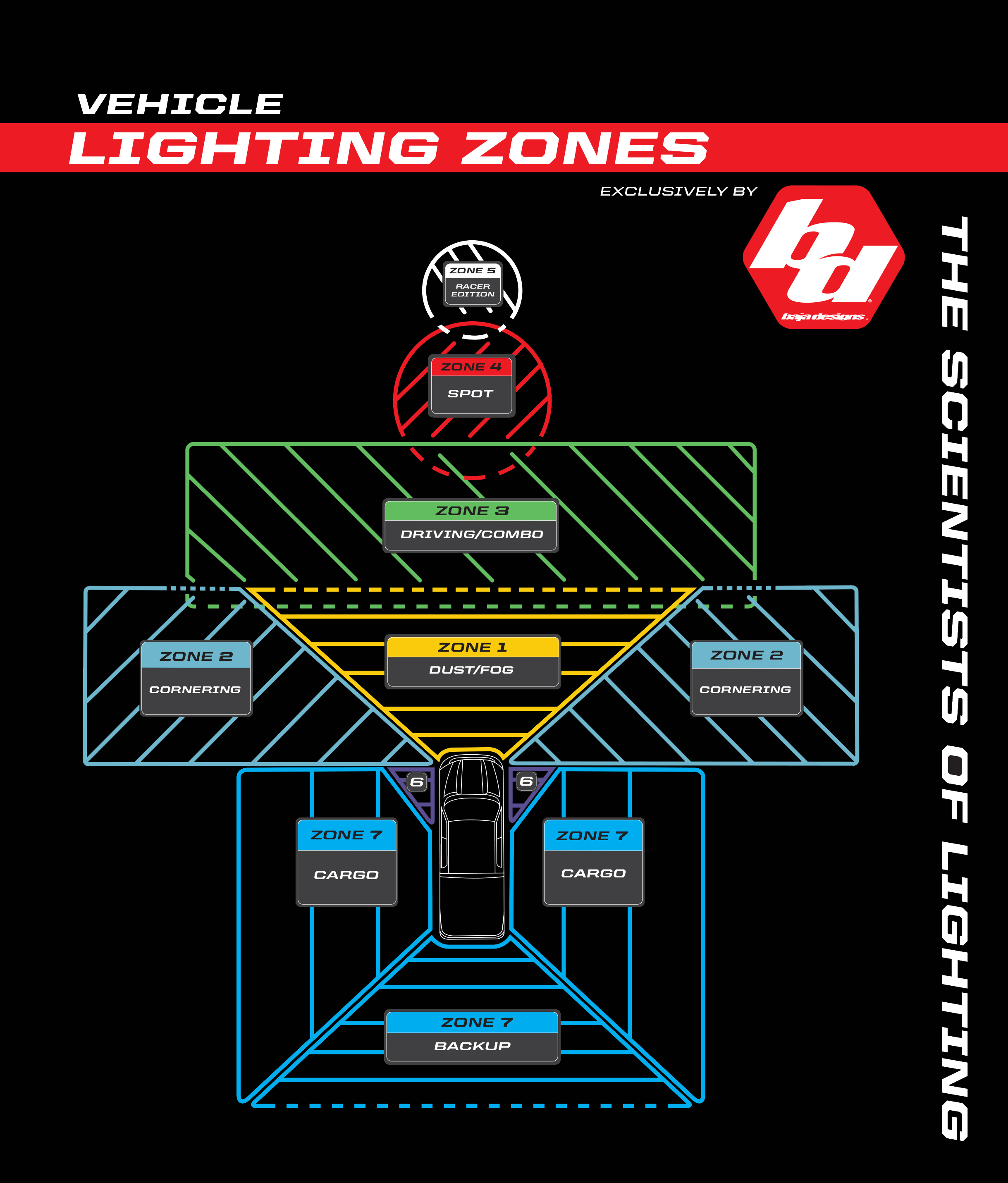 These zones have been designed by Baja Designs: The Scientists of Lighting.
Zone 1 - Dust/Fog: This zone illuminates the area directly in front of the vehicle. Mounting these lights low on the bumper eliminates glare from dust and fog.
Zone 2 - Cornering: This zone provides cornering light which is necessary to drive comfortably at speed. By toeing these lights out 10°-15°a smooth field of light is achieved, eliminating the feeling of tunnel vision.
Zone 3 - Driving Combo: This zone is your primary driving light. These lights are mounted in the middle of the front bumper to avoid glare off of the hood or from dust and fog in front of the vehicle.
Zone 4 - Spot: This zone is your first level of long distance lighting. Lights intended for this zone will give you the distance needed to travel at speed. Combined with zone two lighting, a smooth transition is achieved creating less stress on your eyes.
Zone 5 - Racer Edition Spot: This zone is necessary for triple digit speeds or wanting to see miles down the road. This is the only forward projection pattern we recommend mounting along your roofline.
Zone 6 - Dome Lighting: This zone is used for wheel well lighting. This light is perfect for truck, jeep, buggy and UTV applications.
Zone 7 - Flood: Excellent work light or "scene light" with an extremely smooth 60° pattern. This pattern is not suitable for forward projection applications.
Zone 8 - Backup Lighting: This zone illuminates the area directly behind the rear of the vehicle. It is recommended that these lights be mounted on your rear bumper or cargo rack.