Carli 2.5" Leveling Kit 2014+ Ram 2500 Diesel AIR RIDE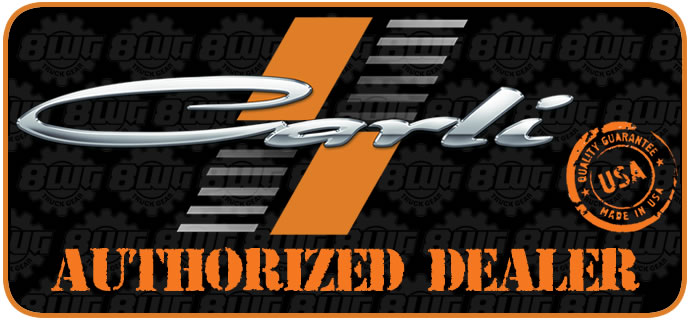 This system is designed for the customer that keeps their truck on the road with an eye for quality and appreciation for bang-for-their-buck. At the heart of this system is a 2.5" lift, Linear Rate Coil Spring paired to matched travel Fox 2.0" IFP Shocks that have been custom tuned, in house, for superior ride quality and handling SPECIFICALLY to the air-ride truck. The tuning in these shocks is completely different than those offered for the coil spring trucks. The included Adjustable track bar centers the axle to the frame. For those that aren't looking for massive increase in travel or big shocks but still want to attain a leveled stance and improved ride quality and handling characteristics, this is the perfect kit. The 2.5" lift height doesn't require the geometry correction of our 3" Systems.
So let's look into the rear, starting with the airbag spacers. They're included because the air-ride trucks have 1″ less rear to front rake when compared to a coil sprung truck. Our choice was between making a shorter coil and shock combo to a truck already starved for suspension travel or space the rear to match our 2.5″ spring; we chose the latter to maximize the travel and ride comfort. For the leveling system, this required some engineering as you can't just throw a 1″ spacer on; the length of the factory stud doesn't facilitate this. We designed a 2-piece spacer. Half bolts to the bag, half bolts to the axle – in between, chromoly spacers to support the load, then it all bolts together.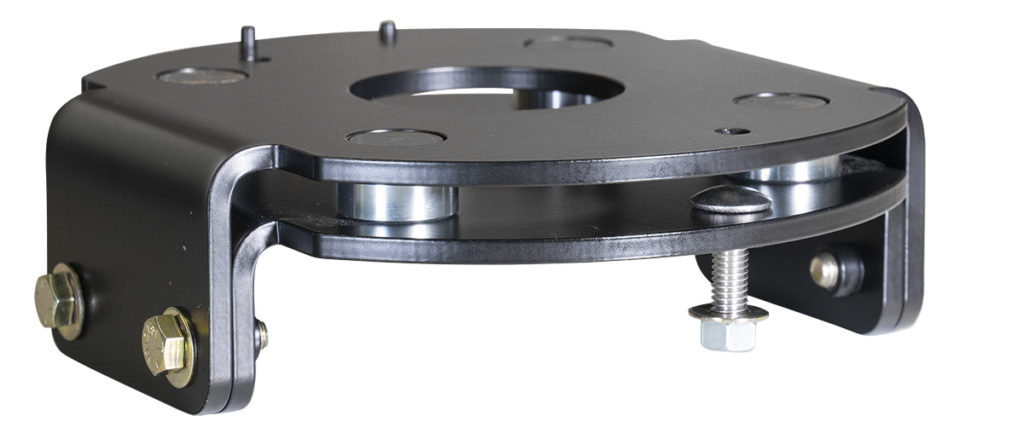 It installs seamlessly. The whole assembly snaps together like an ultra-satisfying adult lego set. The pins pressed into the upper half of the bracket mark the rear and provide a failsafe for the airbag.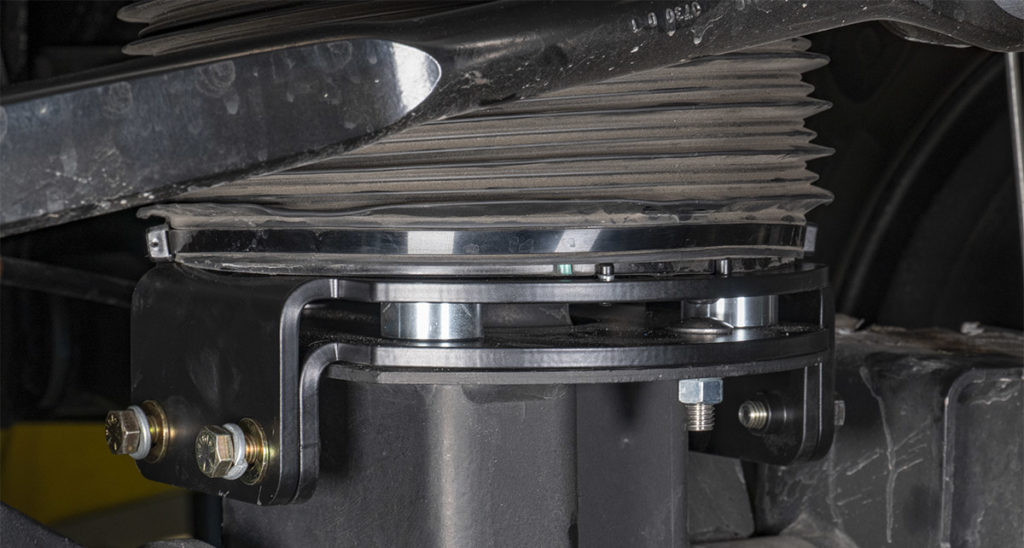 The links; what's to say about the links? The factory links are cheesy polimer ends. This part sees no real load but polimer isn't our style. We machined exact length rods for the 2.5″ Systems and 3.25″ Systems from aluminum rod then thread the ends to accept our zinc-steel ends. The ends snap into position with authority and are provided with a spring clip keeper for insurance.

Lastly, the bump stop drops. Nothing much to detail here. The Leveling Systems will be provided with a 1-7/8″ Bump Stop Drop. These bolt in place of the factory 7/8″ bumps providing a 1″ total drop over stock to compliment the 1″ airbag spacer provided. The bags bump out exactly as they do factory and are essentially shifted down 1″. The rear shocks provided with the leveling system maintains the stock rear travel.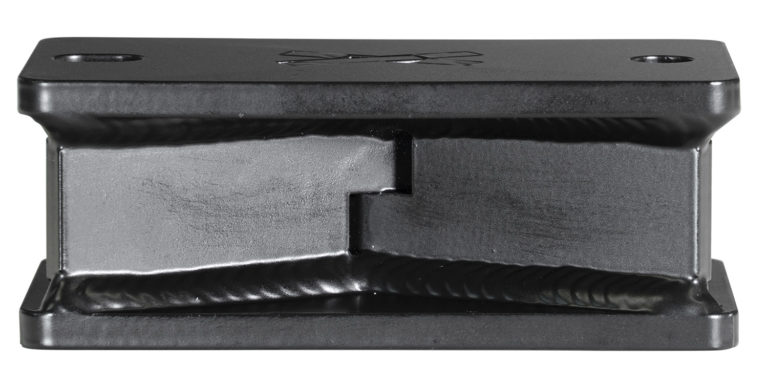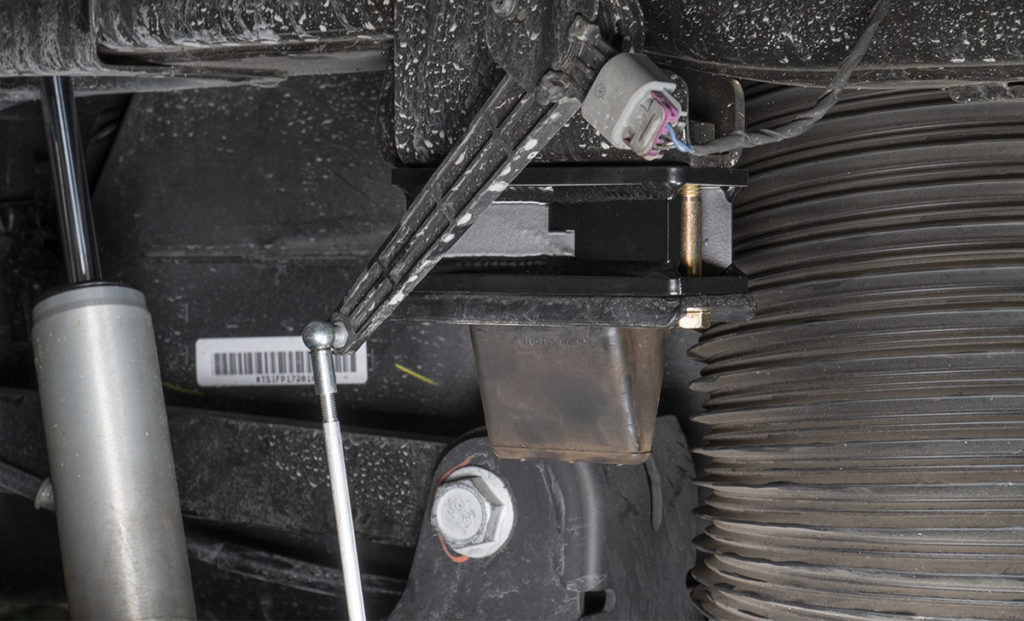 Further, ride quality can be substantially increased with the addition of our Torsion Sway Bar. We recommend a 35" tire on an 18" wheel that's no more than 9" wide with 5.5"-6" Backspace. Recommended unloaded tire pressure is 45F/40R. The addition of a Carli Low-Mount Steering Stabilizer is recommended for any tire over factory size.
This system will NOT be upgradeable to any of the 3″ Carli Suspension Systems. It's designed to be a solution for customers wanting a quality system with minimal lift and part inclusion. Customers can purchase the Pintop leveling shock package for a huge boost in on-road control and off-road performance as well as ancillary components compatible with this lift height but there isn't compatibility between the 2.5″ leveling and 3″ lift systems.
We recommend slight eccentric bolt compensation to correct caster after the lift as there are no Radius Arm Drops. For this reason, customers may experience a slight bow in the coil spring. We did not experience a coil bow in any of our test trucks but it's possible at the 2.5" lift height without a Radius Arm Drop Bracket.
DODGE RAM FITMENT GUIDE:
CS-DLEVEL-1419-D-AR

| 2014+ Ram 2500 AIR RIDE 4x4 Trucks

(will not fit the 3500's)
Altered Vehicle Characteristics:
2.5" of front lift (varies slightly with different cab configurations)
1" of rear lift
System Notes:
Wheels - Carli Recommends a 17"-18" Wheel, no more than 9" wide with 5.75" of Backspacing on Leveling Systems
Tires - 37", E-Rated Tire Fitment is Recommended. Recommended unloaded Tire Pressure 45F/40R
Recommended Configuration - Carli Leveling Systems are Designed and Tested on Vehicles with 17"-18" Wheels with 35", E-Rated Tires. Stock wheels and tires or running a larger wheel diameter will result in a stiffer ride.
Torsion Sway Bar - Selection of the Torsion Sway Bar Replacement will not Require size selection as the entire sway bar assembly is replaced..
Sway Bar Options
CS-DTSB3-14

- 3" Torsion Sway Bar

Easily the Best "Bang for the Buck" Upgrade for ride quality
Allows front suspension to move freely without giving up Control
Heavy duty chromoly arms and end links with 5/8 race series heim joints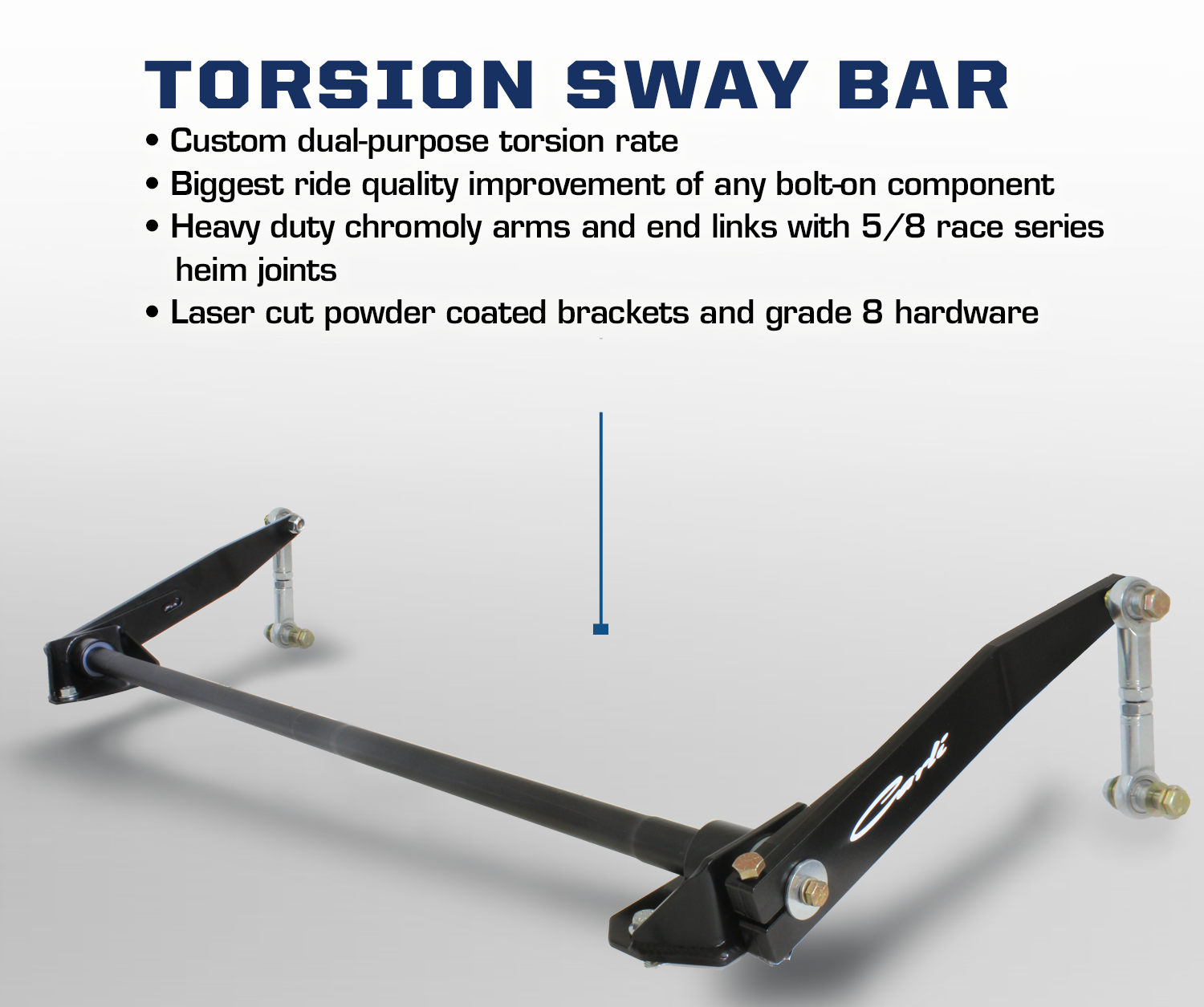 Radius Arms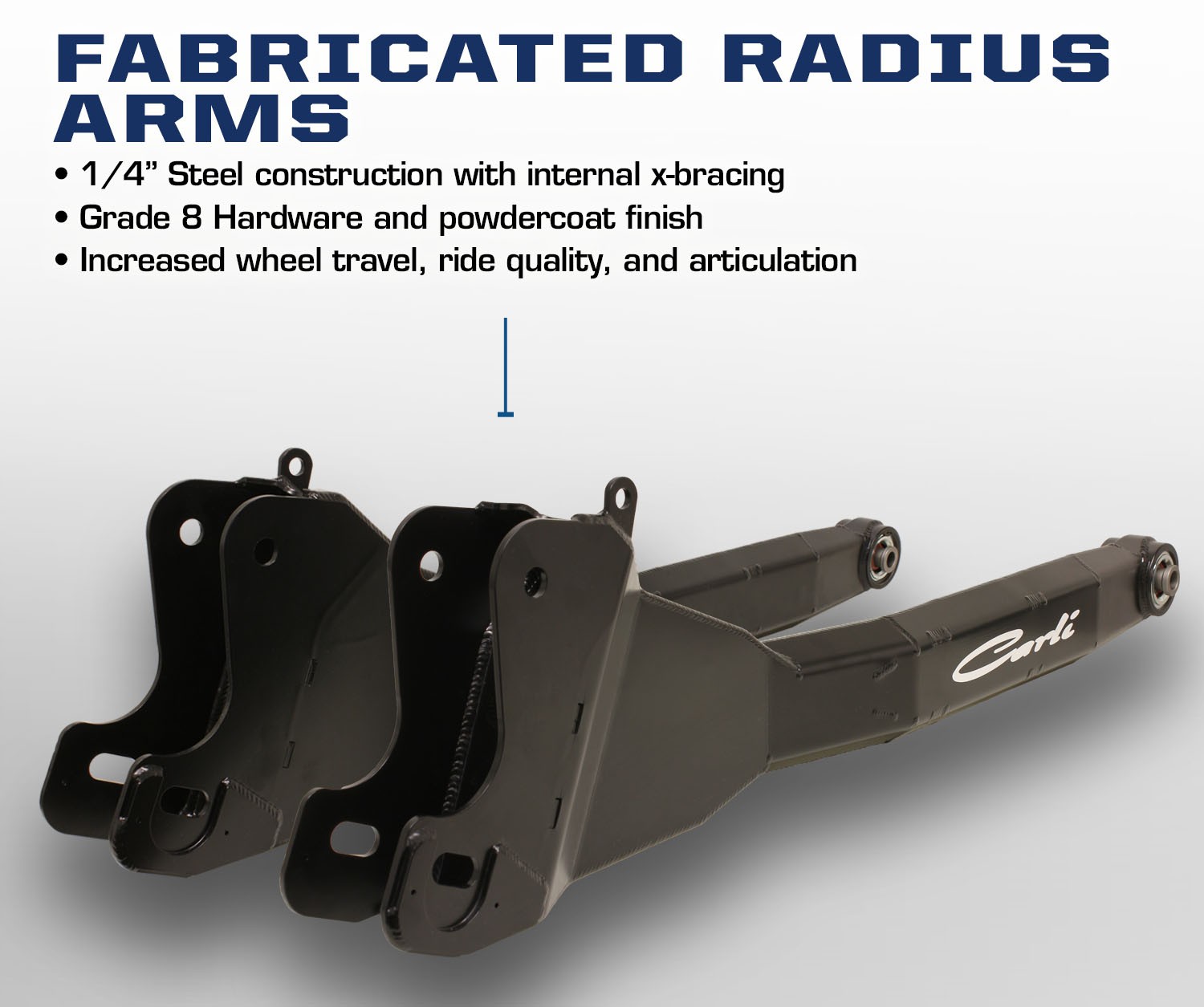 Radius Arm Drop Brackets
CS-DRAD-14

- Radius Arm Drop Brackets

Maintains critical geometries with 2.5-4" Front Lift
Heavy-Duty Construction
Bolt-On installation, no welding required
Requires: CS-DCM-20-HK to fit 2020 Rams, NOT Included
Fitment: 2014+ Ram 2500 4×4
Fitment: 2013+ Ram 3500 4×4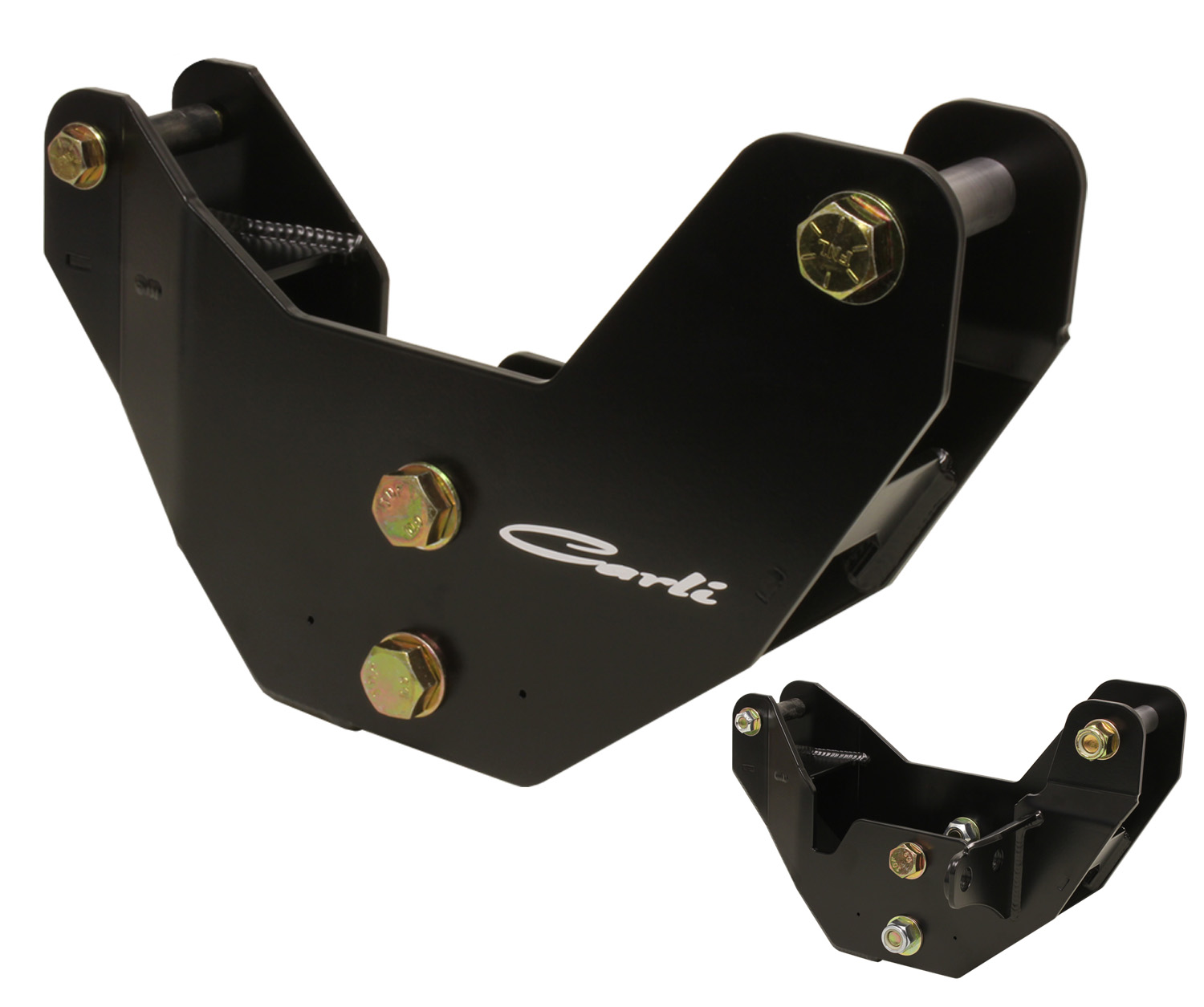 Related Products