Carli 2014+ Ram Pintop Leveling 2.5 Shock Package AIR RIDE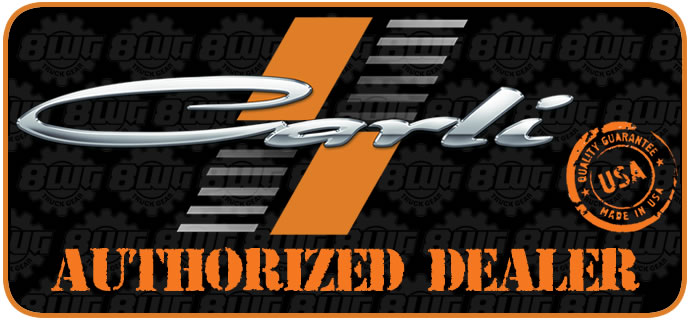 The Carli Pintop 2.5 Shock Package is like the Backcountry 2.0 Shock Package on steroids, take the description for the Backcountry and throw an exponent on it. These shcoks are used in our Jack-of-all-trades system from which every Ram owner would benefit. Raising the Ram platform then adding the 2.5" diameter shocks will support the argument that these trucks should come equipped with 2.5" shocks from the factory. This shock package is used in our most popular, all around suspension system. It was tuned and rides best with 18" wheels and 37" tires. Both of the aforementioned are recommended.

This shock package boasts Carli specific, blueprinted, King 2.5" shocks on all four corners. In an effort to provide customers with the best product, we designed a custom piston to determine proper base flow rates to ensure the shock works well in the heavy duty truck platform; we then tuned the shocks around the custom pistons based on the only thing that matters to us, seat-of-the-pants feel. We round off ALL our King shocks with shafts machined and polished from a solid piece of 17-4 Stainless. Unlike King's standard shafts, there is no coating to wear off, weather is far less likely to hurt them and if there is a small chip, you can round the edges with emery cloth to ensure the seal housing isn't damaged as they're not brittle like the stock, hardened shafts. The shocks are finished with King oil good to -55* F. Note that all King shocks are built with a plated steel body. If subjected to inclement weather for extended periods, we recommend wrapping your shocks in 3M to provide a moisture barrier that's replaceable.
FITMENT GUIDE:
CS-DPT25SPKG-1414-D-AR

| 2014+ RAM 2500 Diesel 4x4 Trucks with Air Ride system
Compatible with Factory Rear Air Suspension ONLY
Whats Included:
(4) Pintop 2.5" - King Shocks
Stainless Steel Shafts
Coil Mounted Reservoir Mounts
Rear Brake Line Tabs
Features:
9" Front Wheel Travel
9" Rear Wheel Travel
King 2.5", Remote-Reservoir, Carli Tuned Shocks
Much Improved Handling
Much Improved Control
Very Comfortable On-Road Ride
Vastly Improved Off-Road Capability
We recommend running the Carli front and rear bump stop drops with these shocks to avoid damage. They are avaliable by clicking the related products tab below.