Carli Dodge Performance 2.0 Suspension System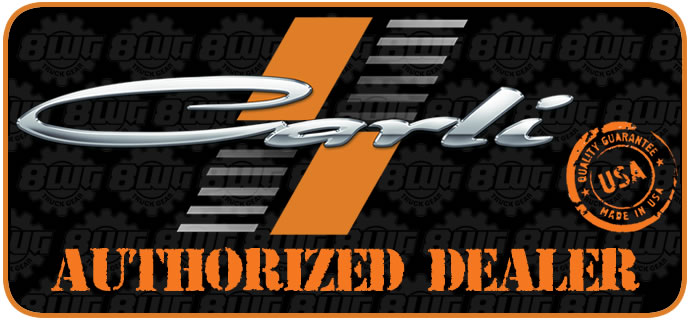 Carli Performance 2.0 Dodge Ram Suspension System
Brought to you by the same company that dealt the industry a royal flush in radical off-road performance now delivers incredible appeal for the everyday truck owner. Taking a step back from the rock crushing experiences and testing south of the border, the guys over at Carli Suspension filled a gap for those of us who don't see harsh desert environments every weekend. The Performance 2.0 system was designed to deliver a plush ride for driving and towing while remaining more than adequate for the weekend warrior in the dirt. Working with Bilstein's exotic digressive piston design, Sage's team dialed in a valve profile that turns the heavy duty Dodge Ram into a tamed beast on the street. Still doubling the wheel travel and flowing fluid through an external reservoir, the off-road characteristics are staggering.
The Best Riding, All Around Dodge Ram Suspension System
These trucks come tremendously capable and lead the pack with strapping ability, but with a Performance 2.0 system you find yourself wondering where that brawny feel went. Outfitted with a 5-stage progressive leaf pack that replaces the factory overload spring, adjustable chromoly track bar and Carli's own multi-rate coil springs, a deceptive transformation occurs. Highway chatter, potholes, winter beaten roads, washboard, all the things you don't want to encounter with a topped off cup of coffee in your hands, simply disappears. Still boasting OEM load and towing capacity, the truck takes on an entirely new discipline... a refined toughness that gives you more control, better handling and a smooth quiet ride you'd never expect from a Dodge Ram HD.
The system is complete with stainless sway bar end links, limit straps, zinc-plated u-bolts and a specialized billet aluminum clevis that allow a 15mm bearing to be used that marry the Bilsteins to the chassis using the factory shock tower. This design can only be found here and it's made to go on easy, installation can be done with a handful of tools and a jack. Air powered socket guns will make the track bar and u-bolts a much easier task, but this system goes on in a few hours. In the end, you will raise the front of your Dodge approximately 3 inches, and 1 in the back. This will level your ride, giving it a more aggressive stance and afford you enough clearance to run 35's with no side effects.
Building a system that's right for you is a hallmark of the Carli Suspension engineering program. This base system can be complimented with a host of enhancement features from a full spring pack with optimized shackle positioning and poly bushings for even more travel and smooth cycling, or box-tube control arms that give you better tire clearance and push the front axle forward .5 inches for better steering response. Three steering stabilizer packages are available; high-mount, single lower, or both which gives the wheel a luxurious feel on the street and absorbs those high-speed sidewall impacts in the dirt.
Your truck will sit 2.5"-3" higher in the front (year/cab configuration dependent) with 50% more suspension travel than the factory platform thanks to the taller, lighter rate coil springs. The rear is lifted 1"-2" via the customer's choice of a Progressive Add-A-Pack or Full Progressive Leaf Pack. The Progressive Add-A-Pack replaces the factory overload with a 5-Leaf, progressive pack that changes the final rate of the spring pack keeping the rear planted while increasing traction and predictability. The optional Full Progressive Leaf Pack replaces the entire factory leaf spring assembly increasing travel and drastically increasing comfort throughout the entire usable travel stroke at the cost of a 15% payload reduction from a standard 2500. This payload reduction can be supplemented back to factory 3500 SRW capacity with the addition of the Long Travel Airbags for the best of both worlds; ride quality and payload capacity/load control.
When pairing added down-travel with the taller ride height, the position of the factory, front sway bar will need to be altered as well. For this, we offer two options (unless 1994-2002, then there's only one); extended, Sway Bar End Links or the replacement Torsion Sway Bar. The End links are equipped with ½" FK Rod-Ends and in-house machined 17-4 stainless bodies that are extended over stock to reset the sway bar engagement points. Factory pillow-bushings are re-used to assemble the sway bar to the lengthened link. Carli's optional Torsion sway bar removes the entire factory sway bar assembly replacing it with a torsion bar supported by fabricated drop brackets and delrin bushings. Fabricated sway bar arms and dual 5/8" FK heim end links round off the package. This is the single best bang for the buck, ride-quality upgrade offered by Carli Suspension (in close competition with the full progressive leaf spring upgrade).
When lifting the front end of a straight axle truck, the front axle is pulled off-center unless the proper linkages are addressed. Three inches of front lift equates to an axle shifted toward the driver's side ¾" and back toward the cab ½". This system includes an Adjustable Track Bar to push the axle back toward the passenger side and provide a stronger link with less deflection for the lifted application. We also recommend the purchase of a set of extended control arms to shift the axle forward to its new center of travel.
Intricate Design and Construction
The 2 inch Bilstein external reservoir shocks are married to the chassis by retaining the stock shock tower and utilizing a Billet 6061 aluminum clevis. This is a unique system component and specifically designed for this system so that the suspension kit is a bearing-to-bearing shock application. You won't find rubber bushings here, like you may on other 2 inch systems. The clevis utilizes a 14mm stud with misalignment spacers, constructed out of 4130 chromoly and black oxided, which makes this the strongest design in the industry.
Wheels and Tires
This system will fit up to a 35" tire with stock control arms (we recommend purchasing our extended, Mild Steel Control Arms) on wheels with 5.75-6" of backspacing. If running factory wheels, we recommend an All Terrain 35" tire to avoid rubbing. For 37" tire fitment, our High-Clearance Control Arms and Adjustable Track Bar can be paired to a wheel with 5.75" of Backspacing. The more rubber, the better the small bump compliance will be at proper inflation pressures. The ride will firm up as you go larger in wheel diameter. For more details, see our article on wheel and tire selection and tire pressures: HERE
Features:
Bilstein 7100 Series Remote Reservoir Shocks (15mm Bearings Top and Bottom)
6061 Billet Clevises and Hardware
Multi-Rate Coils Springs
Zinc Plated U-Bolts
Limit Straps
Adjustable Track Bar
High Misalignment Spacers
Reservoir Mounts
Dodge Ram Fitment Guide:
2003 - 2012 2500 / 3500 4x4
2005 - 2009 1500 Megacab 4x4
2005-2011 Power Wagon (Add-A-Packs not compatible.)
1998.5 - 2002 2500 / 3500 4x4 (requires track bar conversion bracket)
1994 - 1998 2500 / 3500 4x4 (requires track bar conversion bracket)
Part Numbers
CS-P20-03-D

| 2003-09 2500/3500 4x4 Diesel, 1500 4x4 Mega cab

CS-DP20-03-H

| 2003-09 2500/3500 4x4 Hemi, 1500 4x4 Mega cab | (Old Part Number: CS-P20-03-H)

CS-DP20-03-PW

| 2003-09 Power Wagon

CS-DP20-10-H

| 2010-13 2500/3500 4x4 Hemi | (Old Part Number: CS-P20-10-H)

CS-DP20-10-PW

| 2010-13 Power Wagon

CS-DP20-94

| 1994-98 2500/3500 4x4 Diesel | (Old Part Number: CS-P20-94)

CS-DP20-985

| 1998.5-02 2500/3500 4x4 Diesel | (Old Part Number: CS-P20-985)
+ 2010-present vehicles have 2 possible sizes of Sway Bar End Links. Place a socket on the nut that compresses the rubber End Link bushings, an 18mm socket will indicate the need for the 12mm part number.
Altered Vehicle Characteristics:
2.75" of front lift (3" on 2010+ Diesels)
1"of rear lift
Level Ride
Full Leaf Upgrade Notes:
Full Leaf Shipping Info - If you are choosing the full leaf upgrade we will need you to provide an address that accepts freight truck deliveries as the kit will ship on a pallet. Please contact us if you have any questions about shipping.
System Notes:
Wheels - Carli Recommends a 17"-18" Wheel, no more than 9" wide with 4.5" of Backspacing on 6" Systems
Tires - 37", E-Rated Tire Fitment is Recommended. Recommended unloaded Tire Pressure 45F/40R
Recommended Configuration - Carli Leveling Systems are Designed and Tested on Vehicles with 17"-18" Wheels with 35", E-Rated Tires. Stock wheels and tires or running a larger wheel diameter will result in a stiffer ride.
Torsion Sway Bar - Selection of the Torsion Sway Bar Replacement will not Require size selection as the entire sway bar assembly is replaced.
Fitting 37" Tires - 37" Tires will fit with the above wheel specifications if the system is equipped with Full Replacement Leaf Springs and Control Arms.
Sway Bar Options
Sway Bar End Links

Machined out of 17-4 Stainless Steel
FK Bearing, Chromoly Rod-End
Relocates and drops the front sway bar for fit and correct geometry
Eliminates End Link bind which could lead to premature failure

CS-DEL-94

| 1994-1998 Dodge Sway Bar End Links

CS-DEL-985

| 1998.5-2009 Dodge Sway Bar End Links

CS-DEL-10

| 2010-2013 Dodge 10mm End Links (15mm Nut Size)

CS-DEL-12

| 2010-2013 Dodge 12mm End Links (18mm Nut Size)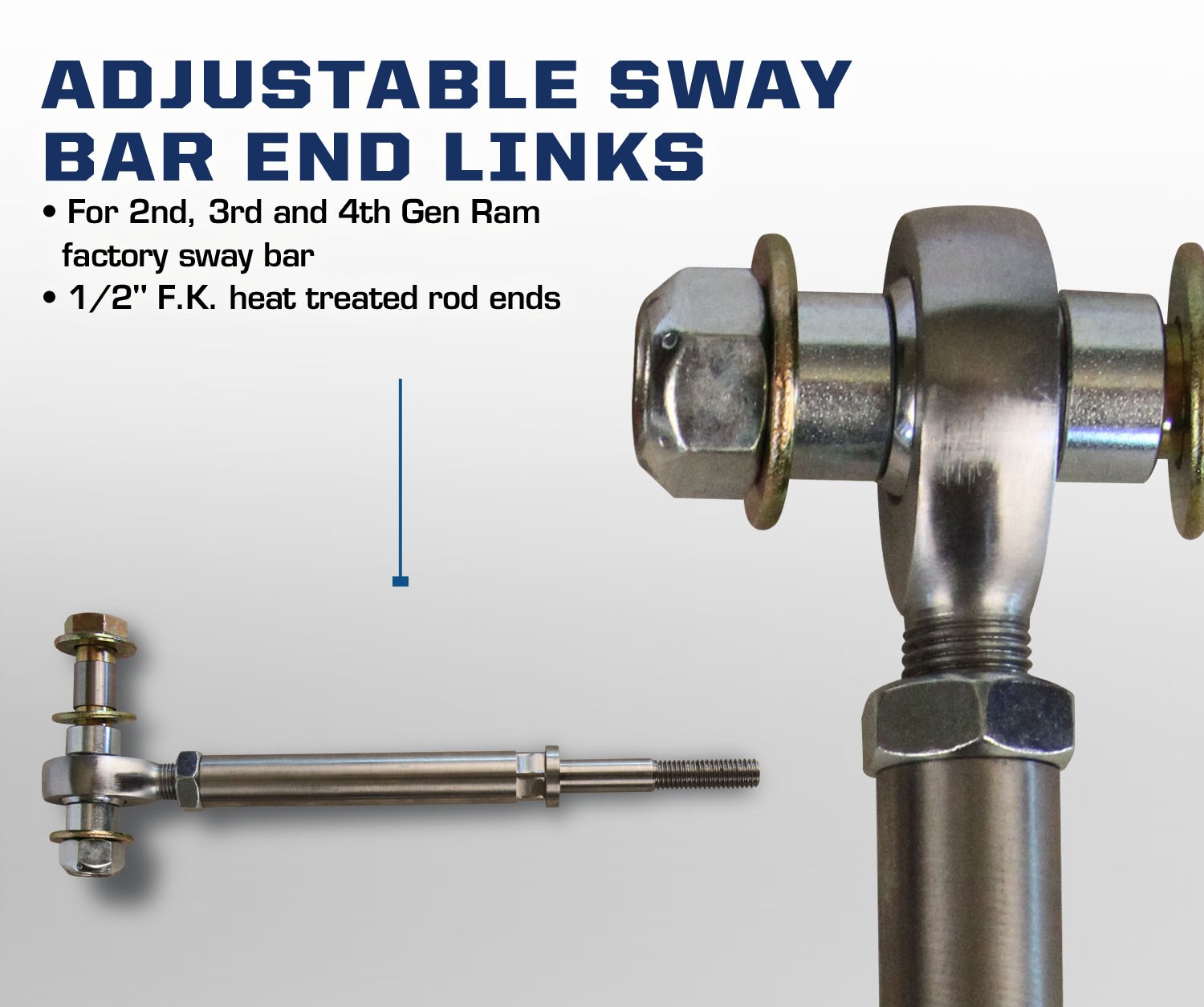 2003-2013 Torsion Sway Bar |

CS-DTSB3-03

Easily the Best "Bang for the Buck" Upgrade for ride qualityy
Allows front suspension to move freely without giving up Control
Heavy duty chromoly arms and end links with 5/8 race series heim joints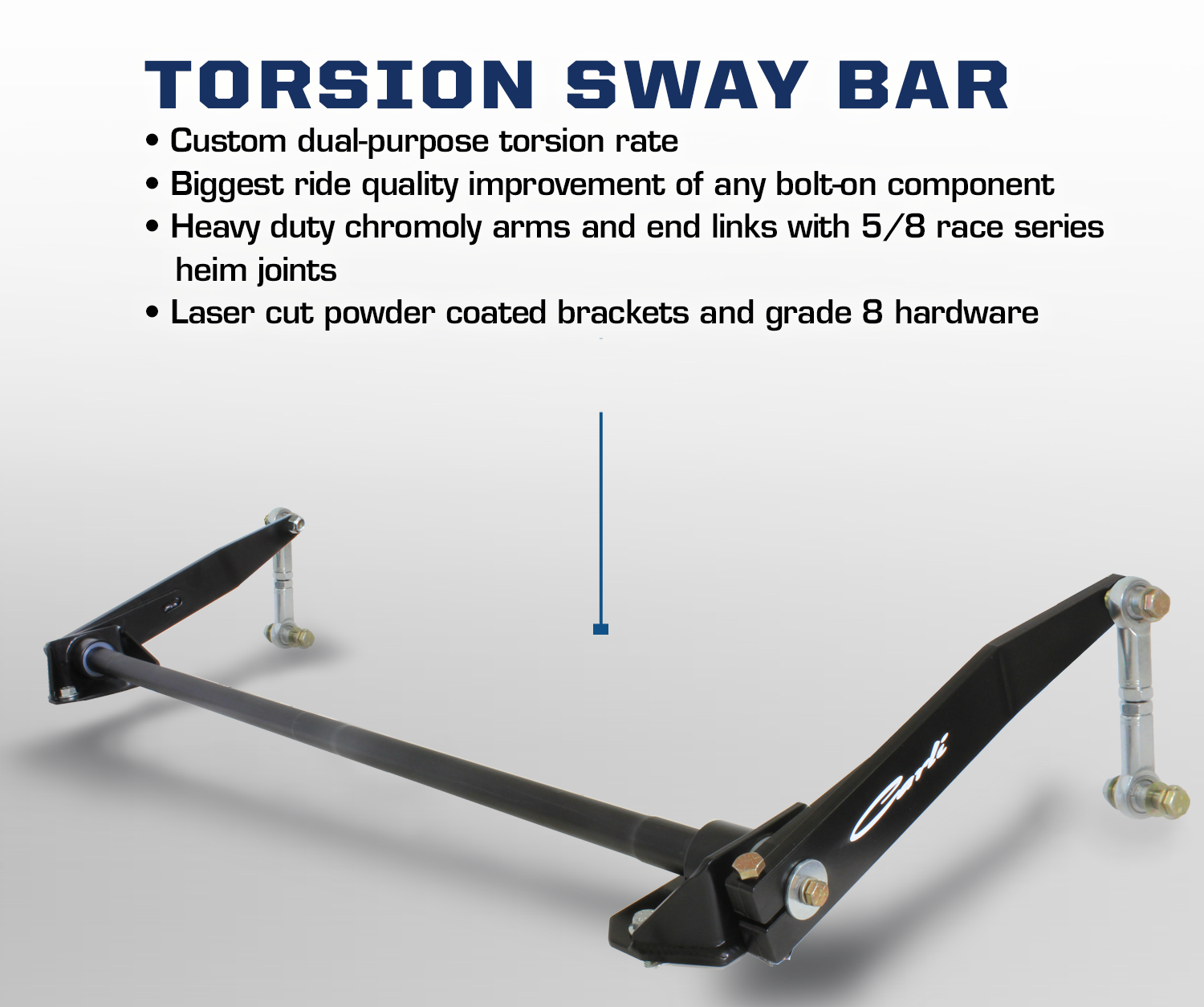 Rear Lift Leaf Options
Although it is possible to order this kit with neither of these options, it is HIGHLY recommended that you do choose one of these options in order for this kit to perform as expected.
Add-a-Packs

Replaces Rear, lower overload spring for increased ride quality
Provides 1.0" of lift
The O.E.M. load capacity is still maintained while improved ride is achieved
Diesel specific configuration (AAM 11.5 Axle)

CS-DPAP-94

| 1994-2002 Dodge Ram Add-A-Packs

CS-DPAP-03-D

| 2003-2009 Dodge Ram Add-A-Packs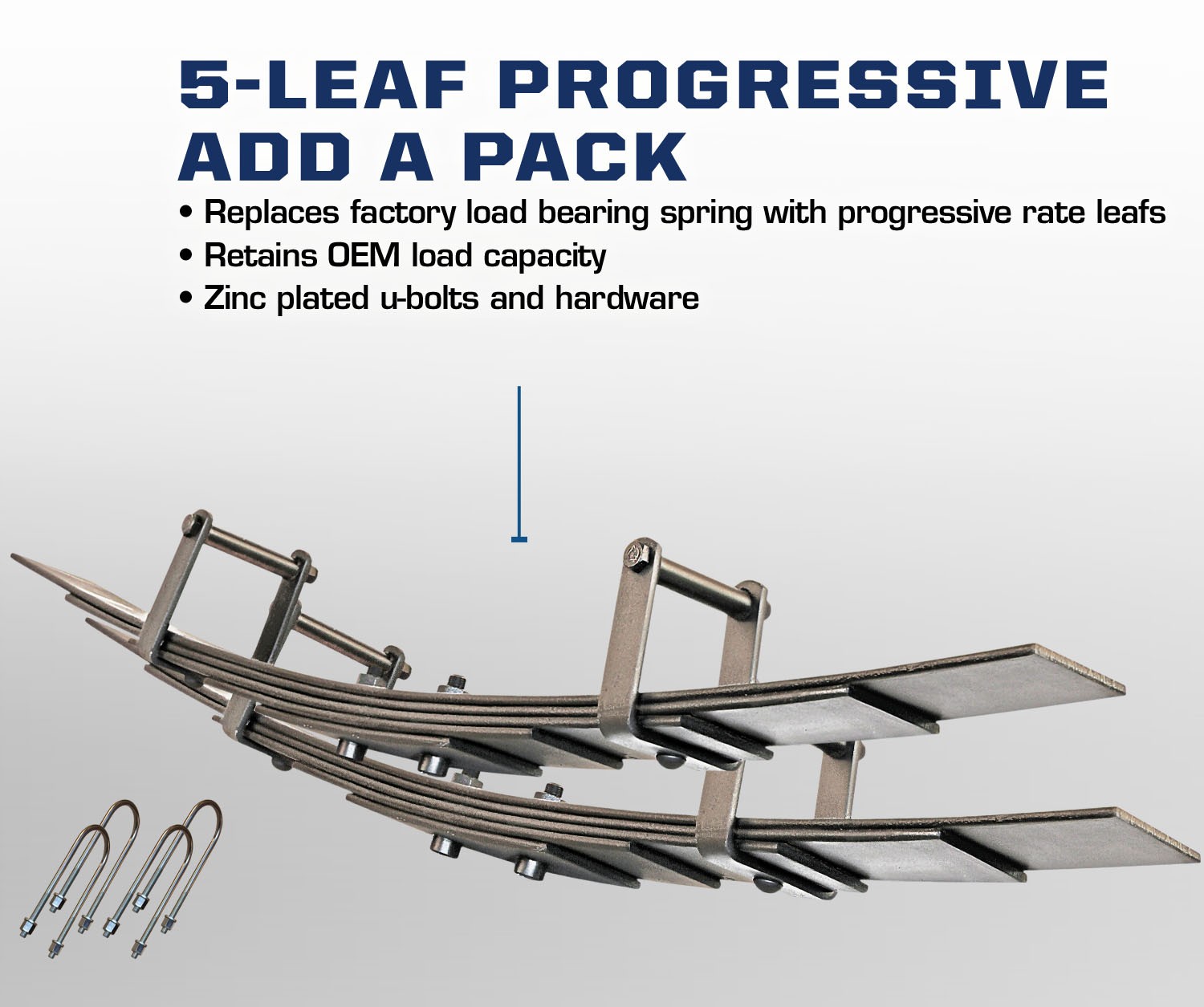 Full Spring Pack

Softens initial spring rate at ride height
Minimizes Axle Wrap/Wheel Hop
Reduces Payload 15% From Stock 2500
Capable of 15" of Suspension Travel

CS-DFSP-94

| 1994-2002 Dodge Ram Full Spring Pack

CS-DFSP-03-D

| 2003-2009 Dodge Ram Full Spring Pack

CS-DFSP-03-D-HD

| 2003-2009 Dodge Ram Heavy Duty Full Spring Pack (For Trucks with 1,500lbs. In the Bed at all times)

CS-DFSP-10-D

| 2010-2013 Dodge Ram Full Spring Pack

CS-DFSP-10-D-HD

| 2010-2013 Dodge Ram Heavy Duty Full Spring Pack (For Trucks with 1,500lbs. In the Bed at all times)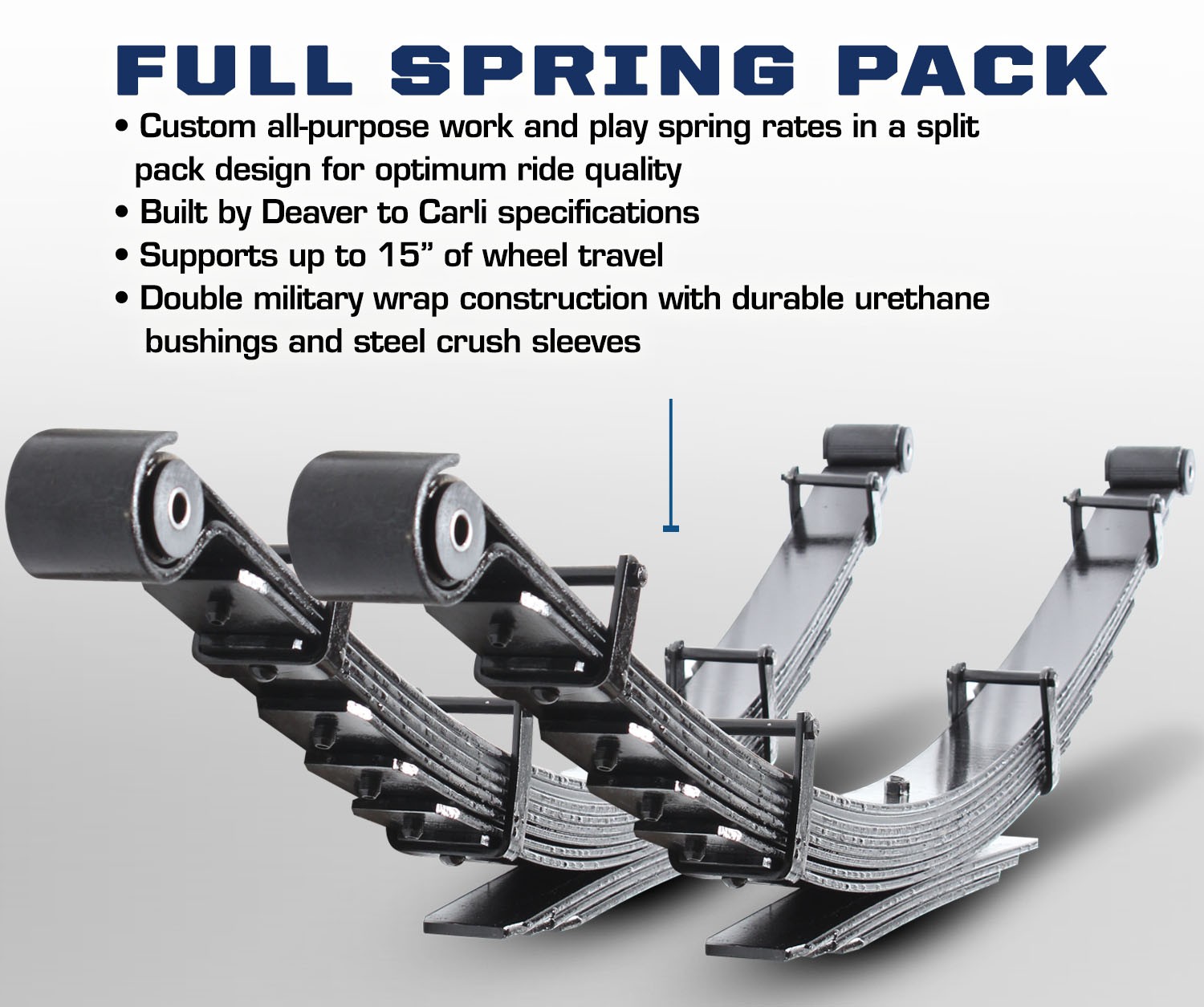 Control Arm Options
Extended Control Arms

Re-centers front axle on 3" Suspension Systems
Offset body for more tire clearance

CS-CA-MS14-94

| 1994-1998 Dodge Ram Control Arms with 12mm/14mm Joints

CS-CA-MS16-94

| 1994-1998 Dodge Ram Control Arms with 14mm/16mm Joints

CS-CA-MS-03

| 2003-2009 Dodge Ram Control Arms

CS-CA-MS-10

| 2010-2013 Dodge Ram Control Arms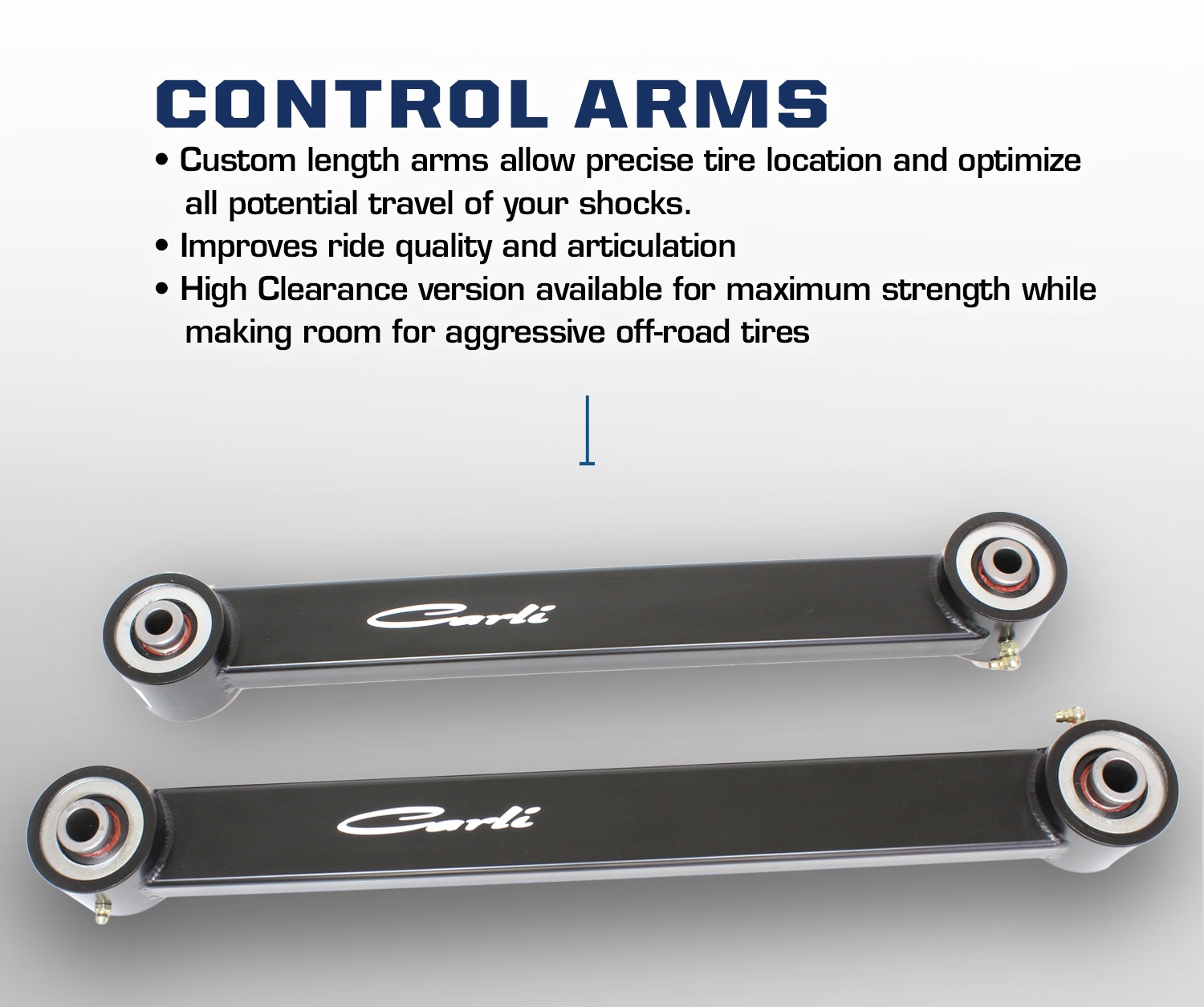 High Clearance Extended Control Arms

Re-centers front axle on 3" Suspension Systems
Offset body more than Extended Control Arms for even more tire clearance!

CS-DFCA-03

| 2003-2009 Dodge Ram High Clearance Control Arms

CS-DFCA-10

| 2010-2013 Dodge Ram High Clearance Control Arms