Carli 2013+ Ram 3500 Pintop 2.5 System Air System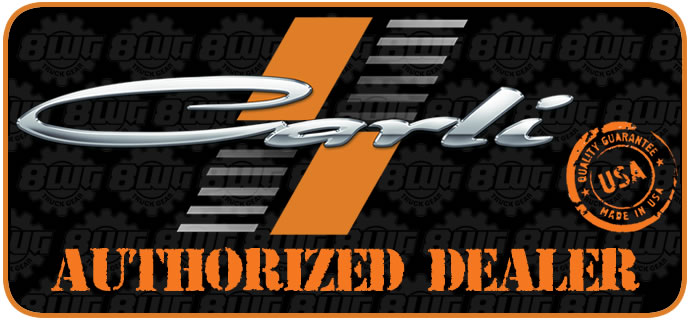 The day has arrived and it's our pleasure to announce that the 3" Carli Pintop 2.5 System for the 2013+ Ram 3500 is now available available! Be the first on your block with one of these highly anticipated sytems.
Designed from the ground up for the serious adventurer, the Pintop 2.5 features excellent road manners while providing the comfort and control needed on those long unforgiving trails. Keeping the factory geometry in check is a host of upgraded components that have been scrutinized for strength, function, and longevity. No other system on the market is this comprehensive and addresses all the suspension vitals.
The Pintop is the Backcountry on steroids, take the description for the Backcountry and throw an exponent on it. This system is our Jack-of-all-trades system from which every Ram owner would benefit. Raising the Ram platform then adding the 2.5" diameter shocks will support the argument that these trucks should come equipped with 2.5" shocks from the factory. This system is our most popular, all around suspension system. It was tuned and rides best with our Full Progressive Leaf Springs and 18" wheels with 37" tires. Both of the aforementioned are recommended.
This system boasts Carli specific, blueprinted, King 2.5" shocks on all four corners. In an effort to provide customers with the best product, we designed a custom piston to determine proper base flow rates to ensure the shock works well in the heavy duty truck platform; we then tuned the shocks around the custom pistons based on the only thing that matters to us, seat-of-the-pants feel. We round off ALL our King shocks with shafts machined and polished from a solid piece of 17-4 Stainless. Unlike King's standard shafts, there is no coating to wear off, weather is far less likely to hurt them and if there is a small chip, you can round the edges with emery cloth to ensure the seal housing isn't damaged as they're not brittle like the stock, hardened shafts. The shocks are finished with King oil good to -55* F. Note that all King shocks are built with a plated steel body. If subjected to inclement weather for extended periods, we recommend wrapping your shocks in 3M to provide a moisture barrier that's replaceable.
Your truck will sit 3"-3.5" higher in the front (cab configuration dependent) with 50% more suspension travel than the factory platform thanks to the taller, lighter rate coil springs. The rear is lifted 1"-2" via the customer's choice of a Progressive Add-A-Pack or Full Progressive Leaf Pack. The Progressive Add-A-Pack maintains load capacity and replaces the factory overload with a 5-Leaf, progressive pack that changes the final rate of the spring pack keeping the rear planted while increasing traction and predictability. The optional Full Progressive Leaf Pack replaces the entire factory leaf spring assembly increasing travel and drastically increasing comfort (when compared to when compared to the factory springs or add-a-pack) throughout the entire usable travel stroke at the cost of a 15% payload reduction from a standard 2500.
When pairing added down-travel with the taller ride height, the position of the factory, front sway bar will need to be altered as well. For this, we offer two options; Billet Sway Bar Drop Brackets or the replacement Torsion Sway Bar. The Billet Drop Blocks shift the sway bar down and forward to ensure the factory end links cycle properly throughout the entire extended travel range. Carli's optional Torsion sway bar removes the entire factory sway bar assembly replacing it with a torsion bar supported by fabricated drop brackets and delrin bushings. Fabricated sway bar arms and dual 5/8" FK heim end links round off the package. This is the single best bang for the buck, ride-quality upgrade offered by Carli Suspension.
When lifting the front end of a straight axle truck, the front axle is pulled off-center unless the proper linkages are addressed. Three inches of front lift equates to an axle shifted toward the driver's side ¾" and, in the radius arm equipped Rams, lightened caster and slight rearward axle shift. This system includes an Adjustable Track Bar to push the axle back toward the passenger side and provide a stronger link with less deflection for the lifted application. We also include Radius Arm Drop Brackets to recenter your caster adjustment and shift the axle forward to its new center of travel. Everything is included to support flawless operation of all components.
Carli Suspension has never released systems in the past that they were this excited about!
Here is what Carli has to say about these new 3" systems:
"After nearly 2 years of painstaking R&D to ensure we bring to market the best riding, most geometrically correct and complete suspension systems available, we're VERY confident that our suspensions will exceed your expectations. Despite losing those who required a first to market, immediate solution, we persisted and stuck to our guns. Not surprisingly, we can now guarantee the products we're releasing are geometrically sound, travel is as linear as possible, coils have the proper forces being applied, and with unparalleled ride quality.

These systems are priced a bit higher than their 2012 and below counter-parts; however, the 2013+ systems are far more inclusive than earlier years. No more "Do I need control arms, track bar, etc…?" All necessities are included in the base systems to ensure optimal performance. This, of course, doesn't mean you can't add accessories (Steering Stabilizers, Torsion Sway Bar,Full Leafs,Fabricated Radius Arms, Differential Guard, etc.) to make the kit your own; we've, however, taken care of everything else for you!"
For the best overall ride we suggest 35-37" tires on 17-18"s wheels. Contact us for tire pressure recommendations based on the planned vehicle use and tire selection.
Carli / King Off Road Racing Shock technology:
The same internals, design, and performance of a Race Series Shock but with specific hardware to work in concert with O.E.M. mounting. Originally intended for off-road racing but adapted for street vehicles, we chose King Shocks for their reliability, serviceability, and familiar feel. Our custom-machined Total Control Pistons make the square edged imperfections on the ground appear more rounded and less severe yet provide the progressive ramp-up needed for off-road performance.
The most wheel travel out of any bolt-on suspension system
Custom tuned the ride quality
The King 2.5 Remote Reservoir shock was blueprinted using our system specifications and comes with our custom shock tune.
FEATURES:
(2) Front King Pintop 2.5 Remote Reservoir Shocks (Carli Tuned)
(2) Rear King Piggyback Shocks (Carli Tuned)
(2) 3" Front Linear Rate Coils
(1) Front Adjustable Chromoly Track Bar
(2) Radius Arm Drop Brackets
(2) Front Bump Stop Extensions
(2) Rear Bump Stop Extensions
DODGE RAM FITMENT GUIDE:
2013+ Ram 3500 4wd Diesel Trucks (will not fit the '13 2500's)
Altered Vehicle Characteristics:
3" of front lift (varies slightly with different cab configurations)
1"of rear lift (varies slightly with different cab configurations and the amount of stock spacers installed)
Level Ride
Part Numbers
2013 - 2018

CS-DPT25-13-D

2019+

CS-DPT25-1319-D-ALAS
System Notes:
Wheels - Carli Recommends a 17"-18" Wheel, no more than 9" wide with 5.75" of Backspacing on Leveling Systems
Tires - 37", E-Rated Tire Fitment is Recommended. Recommended unloaded Tire Pressure 45F/40R
Recommended Configuration - Carli Leveling Systems are Designed and Tested on Vehicles with 17"-18" Wheels with 35", E-Rated Tires. Stock wheels and tires or running a larger wheel diameter will result in a stiffer ride.
Torsion Sway Bar - Selection of the Torsion Sway Bar Replacement will not Require size selection as the entire sway bar assembly is replaced.
Fitting 37" Tires - 37" Tires will fit with the above wheel specifications. Radius arms are not required but will offer more clearance for those wanting to run smaller offsets.
Sway Bar Options
CS-DSBD-14

- Front Sway Bar Drop Brackets

Machined from solid billet Aluminum and Mil-spec Hard Anodized
Relocates and drops the front sway bar for fit and correct geometry
Eliminates End Link bind which could lead to premature failure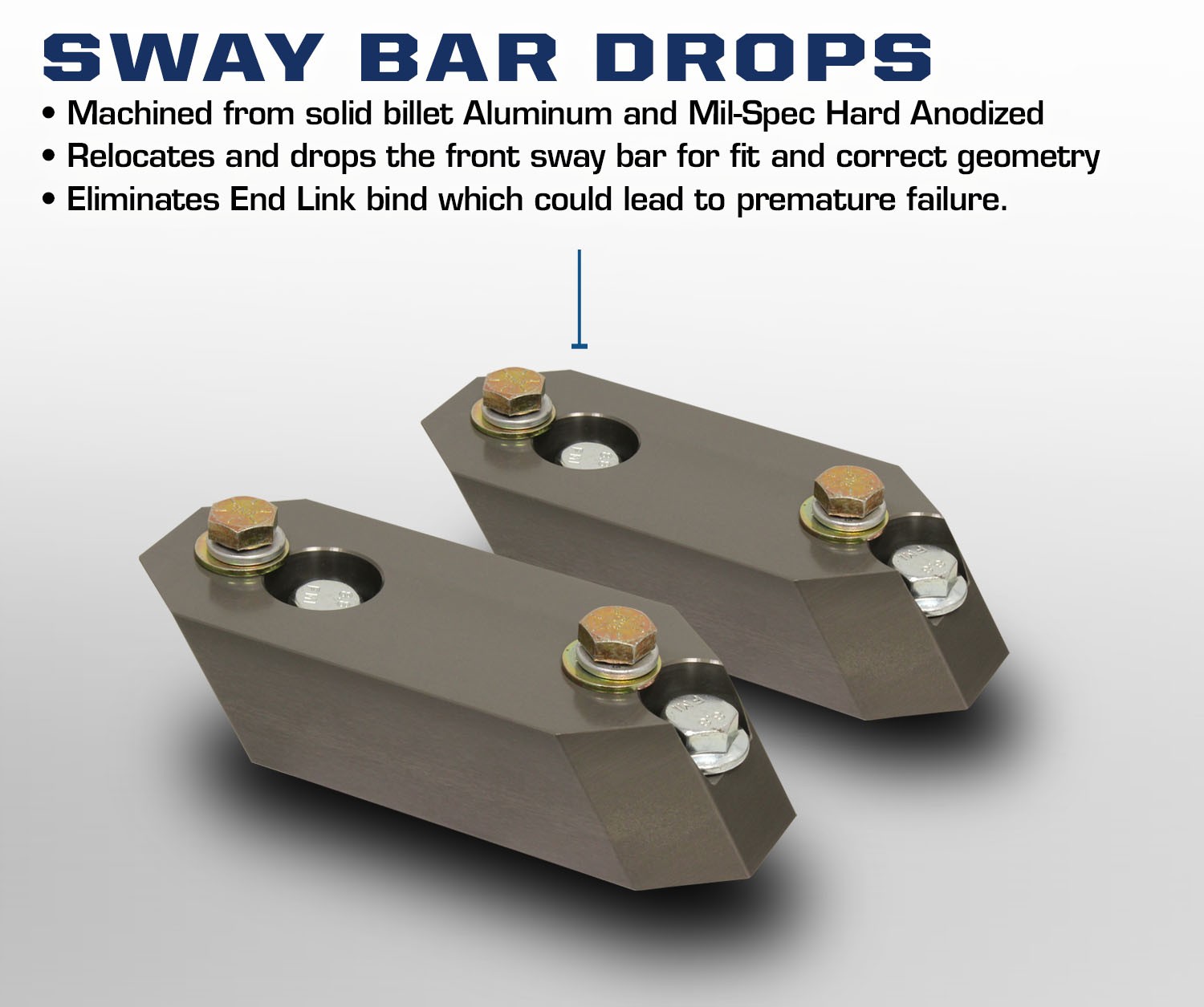 CS-DTSB3-14

- 3" Torsion Sway Bar

Easily the Best "Bang for the Buck" Upgrade for ride quality
Allows front suspension to move freely without giving up Control
Heavy duty chromoly arms and end links with 5/8 race series heim joints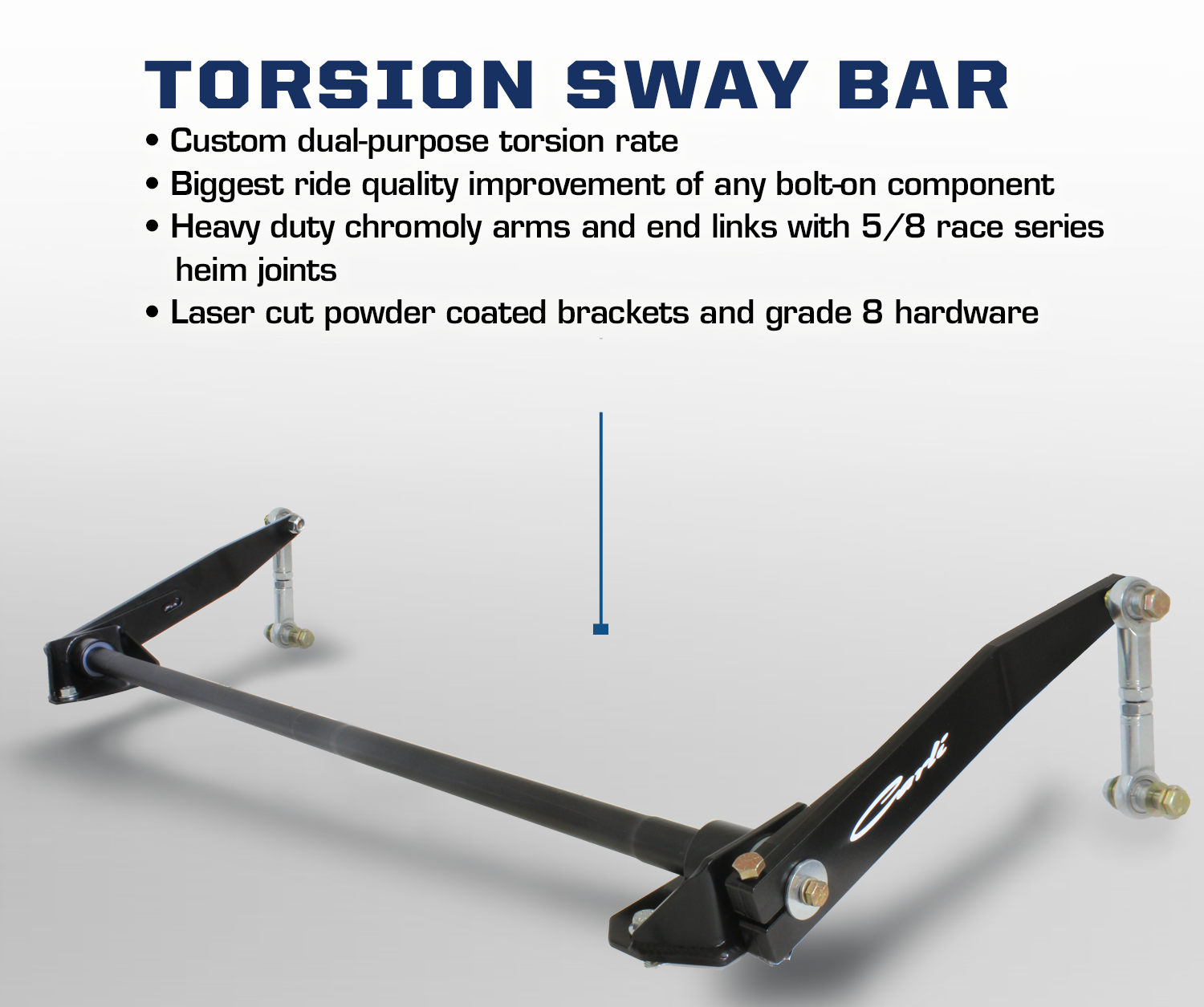 Rear Lift Options
Although it is possible to order this kit with neither of these options, it is HIGHLY recommended that you do choose one of these options in order for this kit to perform as expected.
CS-DPAP-03-D

- 3in Diesel Add-a-Packs

Replaces Rear, lower overload spring for increased ride quality
Provides 1.0" of lift
The O.E.M. load capacity is still maintained while improved ride is achieved
Diesel specific configuration (AAM 11.5 Axle)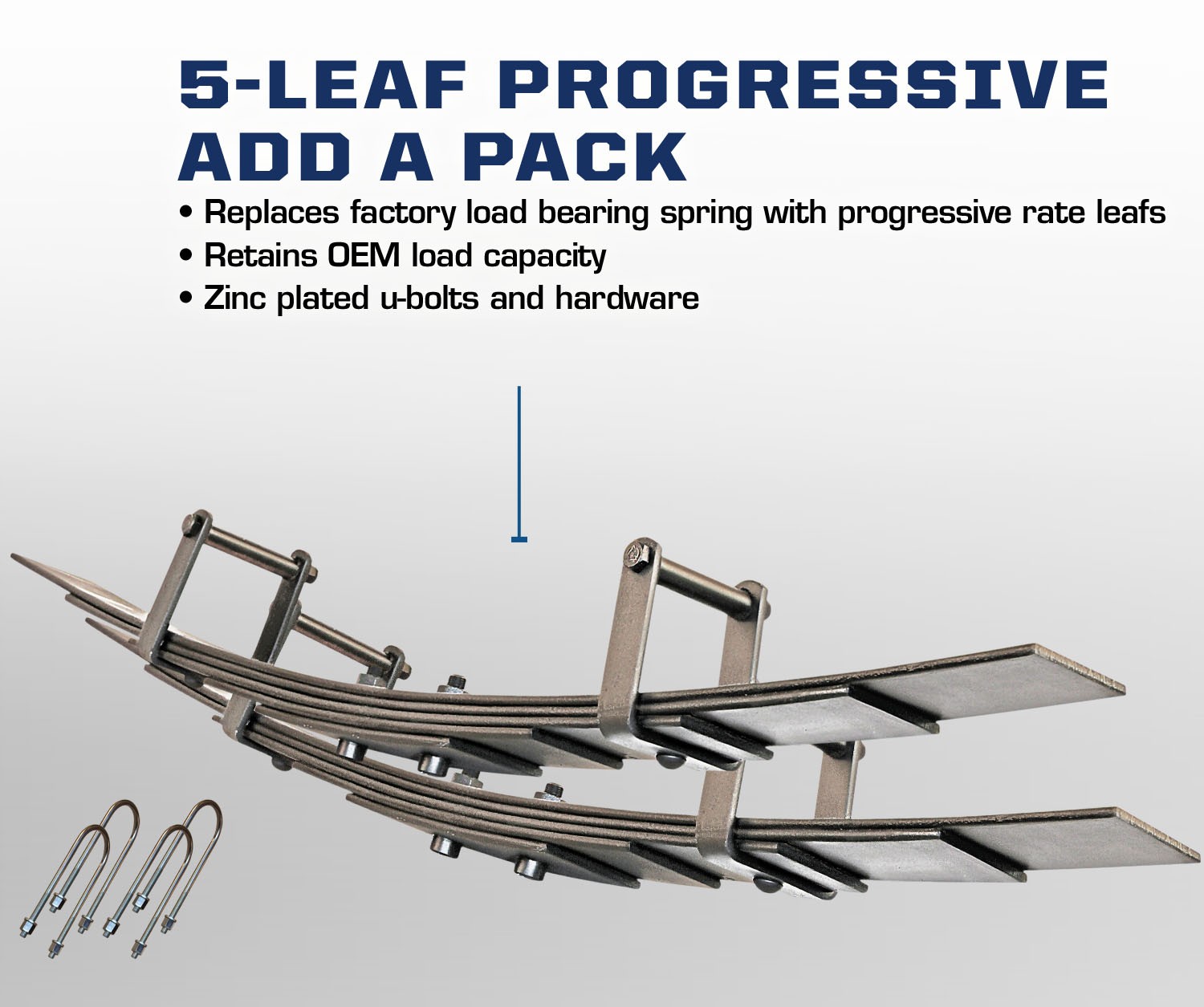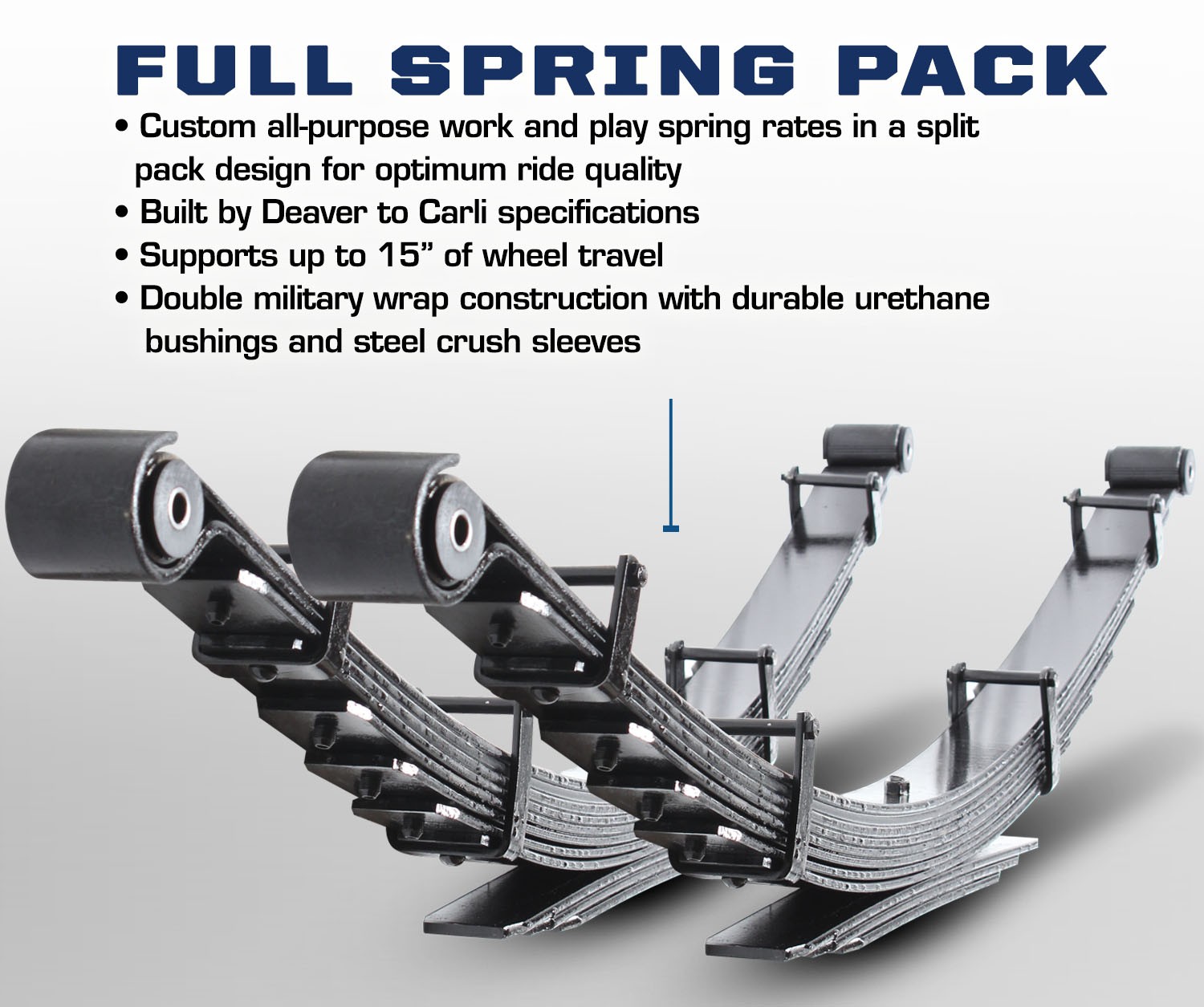 Radius Arms