S&B 2011-16 Ford 6.7 Powerstroke Open Air Intake Kit


Applications:
2011-2016 6.7 Powerstroke equipped F250/F350/F450/F500 trucks
Looking for 2017-2019 Ford 6.7 Powerstroke Open Air Intake? [Click here]
This is the new and improved intake system for the 6.7 Powerstroke from S&B Filters. It is now available in a cleanable cotton filter and a new disposable dry filter.
Airflow Rating: Flows 35.38% better than the OE Induction System at Vehicle's Rated Flow (593 cfm)
Efficiency Rating: 99.9% Efficient - ISO Course Dust
S&B Filters Are Backed By A
1 Million Mile

Limited Warranty

S&B diesel performance intake kits are all about improving airflow to your truck's engine. It's just a matter of superior design. Better airflow translates into a noticeable increase in power, acceleration and most importantly...bragging rights. S&B's intake kits are engineered to improve the airflow to your car's engine. It starts with years of research and development, as well as the most technically advanced testing. S&B tests to the ISO 5011 Air Filtration Standard in a climate – controlled lab when designing and testing our intake kits. This is the same technology used by Ford, Chrysler and General Motors to design the original induction system that comes on your vehicle.
Airflow
It all starts with airflow. The more air that your engine breathes, the more oxygen it receives. More oxygen results in a better combustion. Better combustion translates into more power and better fuel economy. This is why your vehicle runs better on cool mornings than on hot afternoons as cool air is denser and contains more oxygen. You can feed your engine more oxygen by reducing the restriction of the airflow.
S&B Thorough Research & Development
During our ISO 5011 testing, we first measure the restriction of the airflow through your vehicle's original induction system in order to establish a baseline. The goal of a Performance Intake Kit is to reduce the restriction of the airflow to your vehicle's engine. In layman's terms, we want to make it easier for the engine to breathe. By reducing the restriction of the airflow, your engine will have better throttle response and produce more horsepower and torque. Since your engine will not have to work as hard to produce the required amount of power – the result is better fuel economy.
S&B Backs It Up: Certified Test Results
S&B provides ISO 5011 Certified Test Results for its intake kits, so you can see exactly how much the airflow was improved (restriction decreased) as well as the efficiency of the filter. ISO is a worldwide federation of national standards bodies. The work of preparing International Standards is normally carried out through ISO technical committees. The specific individual International Standard utilized by S&B and automotive manufacturers establishes and specifies uniform test procedures, conditions, equipment, and a performance report to permit the direct laboratory performance comparison of air cleaners, in this case, those used on internal combustion engines and compressors used in automotive and industrial applications.
Breathe easy. Your engine & warranty are protected.
Add power and fun while still protecting your investment.
Amazing airflow, solid protection and great looks.
Not only is it the best looking intake, but its test results are really what set it apart from the competition. The 75-5053 improves the airflow by 34% over the stock system while still maintaining an efficiency rating of 99.57% at 580 CFM. When running a dry filter this kit improves airflow by 32% while maintaining an efficiency rating of 99.54% at 580 CFM.
Fits better than stock.
Easy to install with a fitment that rivals the OE intake. Securely mounts to the frame with only one (1) attachement point.
Large secondary opening. Pull in more cool air.
Designed with a secondary inlet to lower the restriction level. A less restrictive intake results in better performance.
Avoid check engine lights.
We designed this kit to avoid check engine lights with a properly mapped Mass Air Sensor. This is where we run away from the competition. Vehicles are becoming more complex. S&B devotes a huge amount of resources to engineer intakes that will allow your engine to run properly with the stock calibration or with enhanced tuning.
An extremely large filter.
All things equal, the more surface area on a filter, the better it will perform. This filter is so big, you may need a hoist.
Cleanable or dry filters. You pick.
We offer intakes with two types of filters. Cotton (cleanable) or Dry (disposable). Since you are not sacrificing performance with either choice, the decision comes down to would you rather throw away the filter or clean it.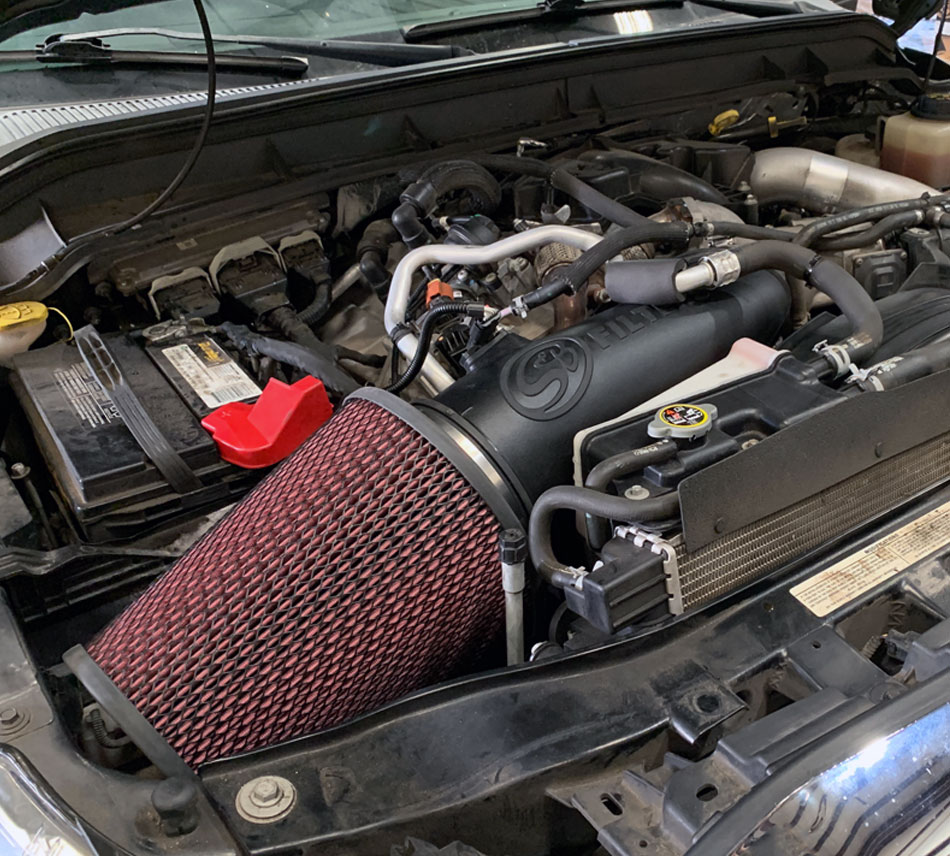 MAXIMUM PERFORMANCE
Our open air intake for the 2011-2016 Ford Powerstroke 6.7L was engineered to minimize air restriction and flows better than stock.
OUR BIGGEST FILTER EVER
This kit comes with a massive, highly-efficient air filter which results in better performance and protects your engine. Available in either 8-layer Cotton Cleanable or Dry Cleanable media. Both filters feature a black powder coated steel cage for added protection.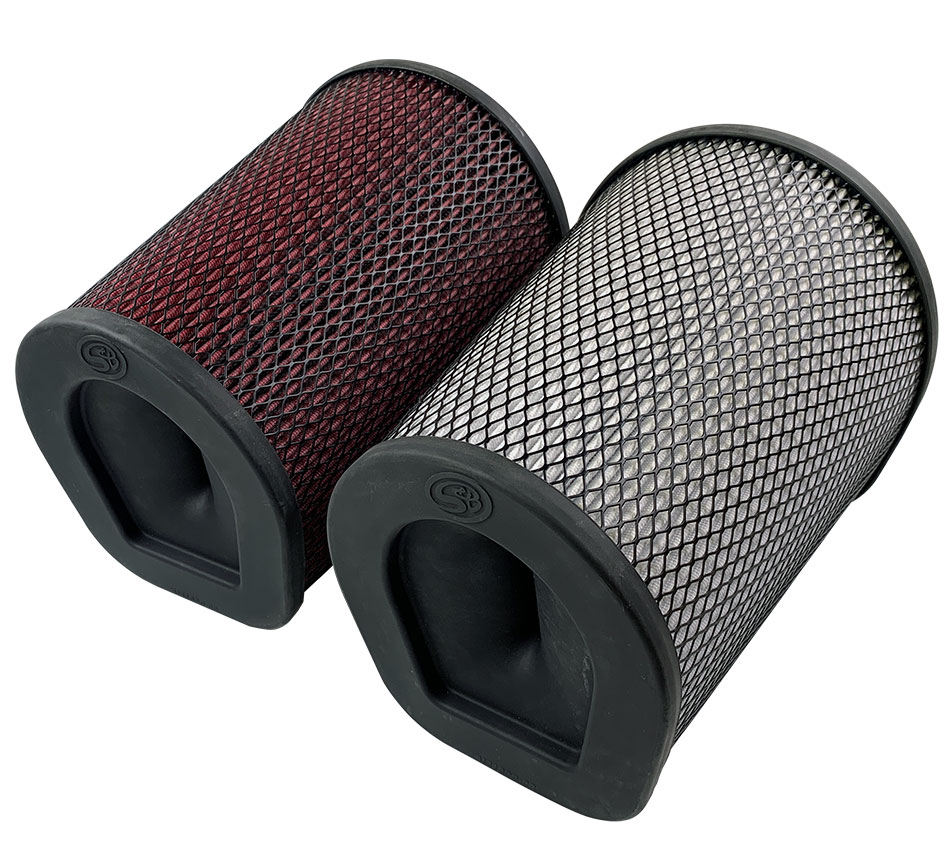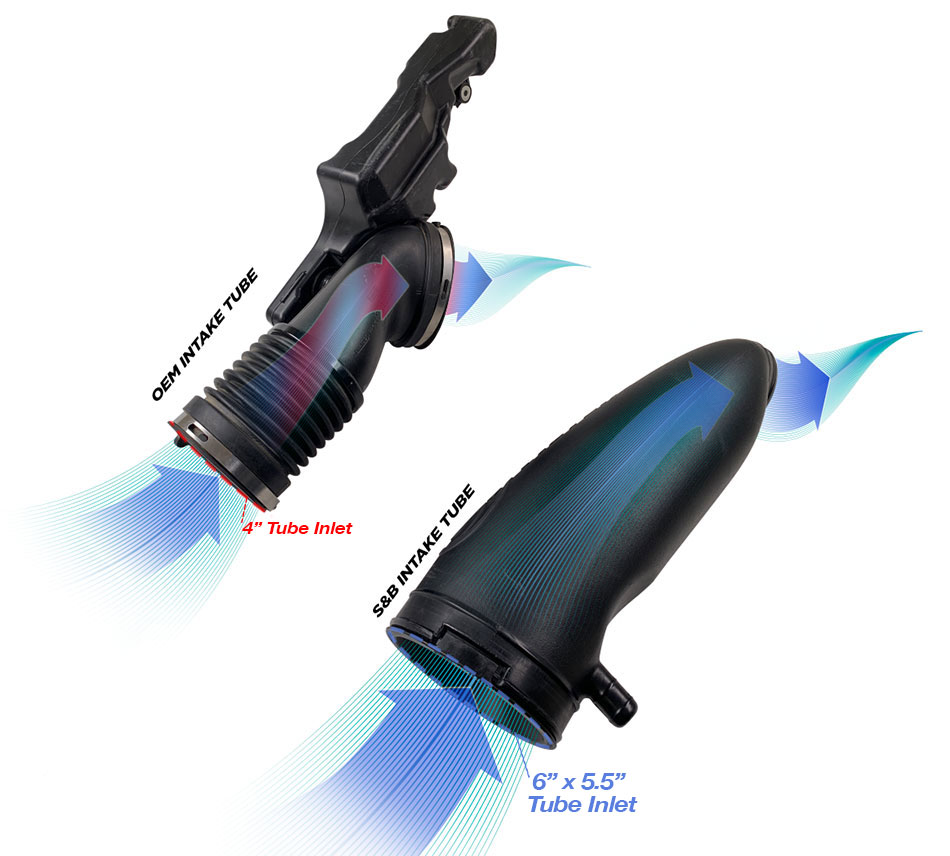 BIGGER TUBE. BETTER PERFORMANCE.
The OEM intake tube is small in diameter and highly restrictive. S&B's intake tube was designed with a huge diameter to allow for insane amounts of airflow to be fed to your engine. More airflow equals better performance. We use an innovative insert in order to get our gigantic tube to work with the MAF sensor parameters of a stock truck.
Important Note:
Removing this insert will cause your truck to drive poorly and possibly display a check engine light, as it will no longer conform to the stock calibration's desired MAF readings.
ADDED SUPPORT BRACKET.
Included is a black zinc plated support bracket to stabilize the intake tube and filter assembly inside the engine bay. The support bracket contains a grommet which accepts a prong at the bottom of the tube, eliminating the need for hardware and allows for quick and easy filter maintenance.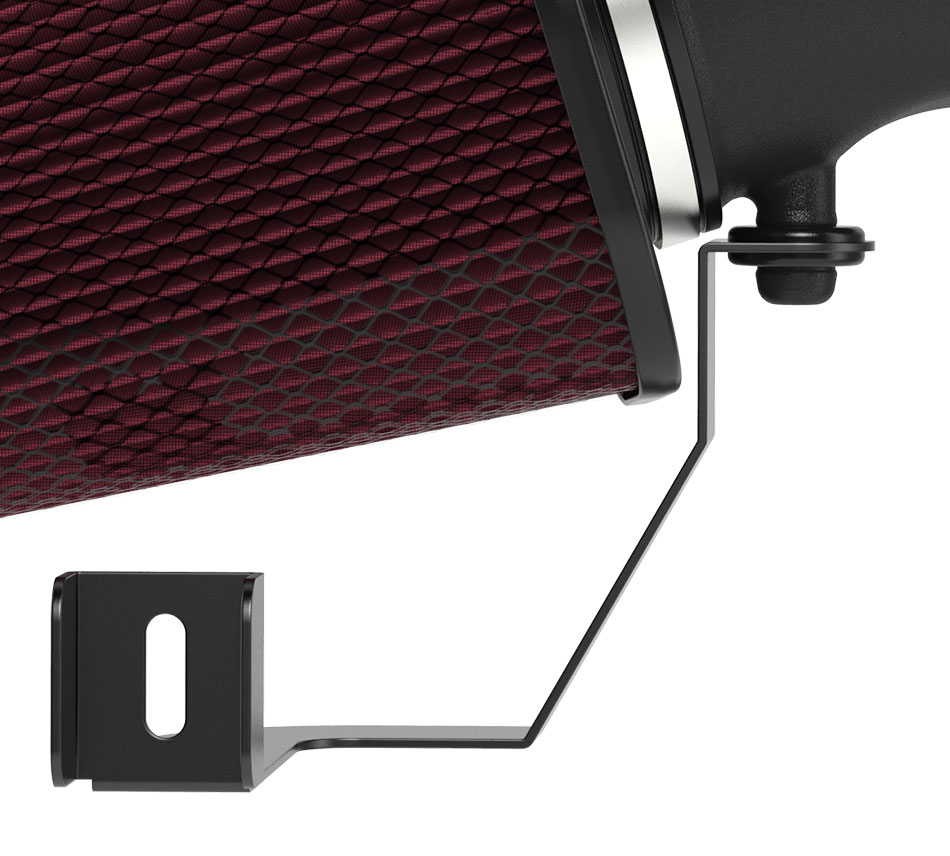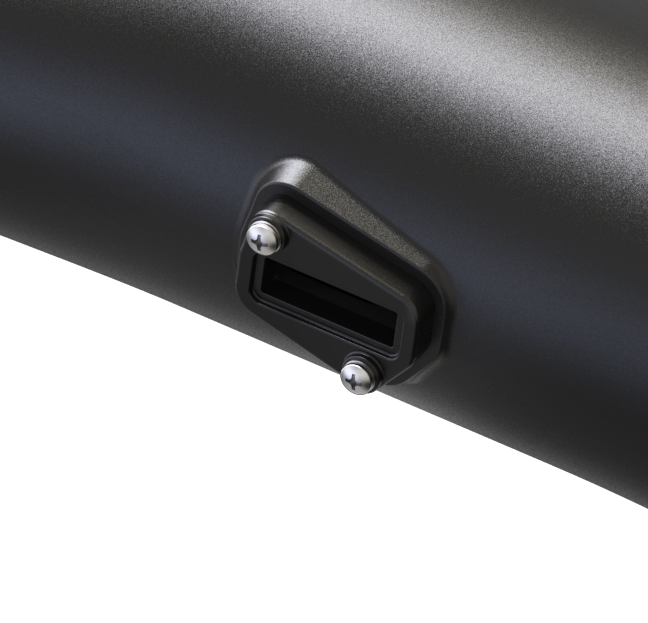 NO CHECK ENGINE LIGHTS
S&B devotes a huge amount of resources to engineer our intakes that allows your engine to run properly with stock calibration or enhanced tuning. The kit was designed to avoid check engine lights by maintaining proper airflow mapping of the Mass Air Flow Sensor.
STEP BY STEP INSTALLATION VIDEO
Follow along with Katie as she walks you through the installation process.