8LUG/Carli 2014+ Ram 2500 2.5" Leveling Kit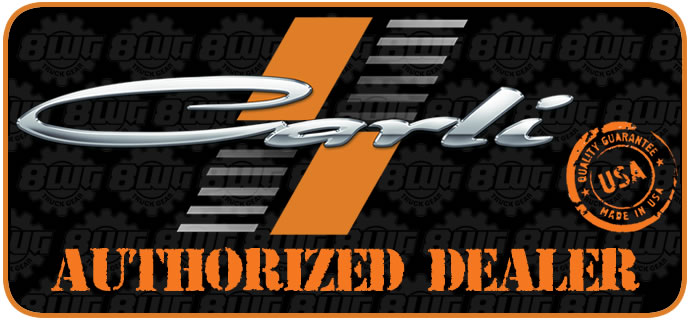 8LUG Truck Gear is proud to announce the new 2014+ Ram 2500 2.5" Leveling Kit - Exclusive here at 8LUG Truck Gear.
Are you looking for a better alternative to the coil spacers on the market for these new trucks but don't want to commit to a full 3"+ system? If that is the case, we put together a nice little 2.5" system using the new Carli 2014+ Ram 2.5" Front Level Coils. These coils will provide you excellent ride quality, improved handling and much improved off-road ability. The coils are Made In The USA using US steel which is higher quality than the overseas built products. We paired these coils with a set of Bilstein 5100 shock absorbers for the front and rear for better suspension control.
Kit Includes:
Applications:
2014+ Ram 2500 Diesel 4WD
System Benefits:
Carli 2014+ Ram 2.5" Front Level Coils deliver a better on and off road ride.
Lifts most Diesel trucks approximately 2.5" up front
Coils are US Made and built from US Steel
Bilstein 5100 Shocks provide better control on and off road.
Notes:
The front axle will be slightly pulled to the driver's side following installation of the lift; this can be corrected with the addition of our Adjustable Track Bar. Further, ride quality can be substantially increased with the addition of our Torsion Sway Bar. Both items can be be easilly added above when ordering or can be purchased/installed at a later date. We recommend a 35" tire on an 18" wheel that's no more than 9" wide with 5.5"-6" Backspace. Recommended unloaded tire pressure is 45F/40R.
NOTE:
This system is designed to be a solution for customers wanting a quality system with minimal lift and part inclusion. We recommend slight eccentric bolt compensation to correct caster after the lift as there are no Radius Arm Drops. For this reason, customers may experience a slight bow in the coil spring. We did not experience a coil bow in any of our test trucks but it's possible at the 2.5" lift height without a Radius Arm Drop Bracket.