Carli 2014+ Dodge 2500 Dominator System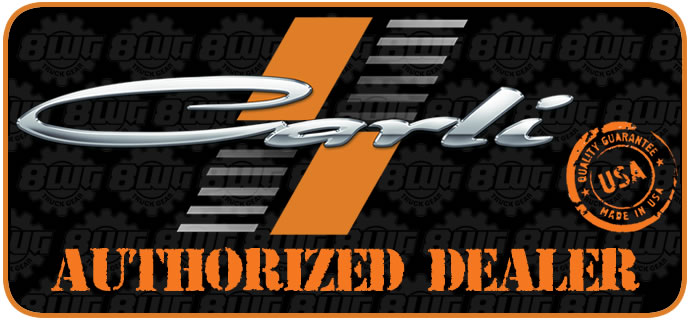 Coming Soon
This is the true, Jack of all trades suspension system offering the most on-road comfort of any system in the Carli lineup. The Dominator rides better than any other system on the road while boasting off-road manners that make the truck feel half its size.
| Front Lift | Rear Lift | Front Travel | Rear Travel | Shock Diameter | Tire Fitment |
| --- | --- | --- | --- | --- | --- |
| 3.25″ | 1″ | 8.5″ | 11″ | 3.0″ | 37″ x 12.5″ |
Does not work with rear auto-level air suspension.
Description
The Dominator is pinnacle offering in boasting front Carli Signature tuned, King 3.0" remote reservoir shocks so large, we needed to engineer mounting systems front and rear for them to cycle properly and strengthen the chassis for the larger shocks. As the old adage goes, there's no replacement for displacement. In an effort to provide customers with the best product, we do not sell off-the-shelf King 3.0s. We designed a custom piston to determine proper base flow rates to ensure the shock works well in the heavy duty truck platform; we then tuned the shocks around the custom pistons based on seat-of-the-pants feel. We round off ALL our King shocks with shafts machined and polished from a solid piece of 17-4 Stainless. Unlike King's standard shafts, there is no coating to wear off, weather is far less likely to hurt them and if there is a small chip, you can round the edges with emery cloth to ensure the seal housing isn't damaged as they're not brittle like the stock, hardened shafts.
In the front, the shocks utilize a 3.0″ King with a large Pintop Bushing to secure them to the factory location.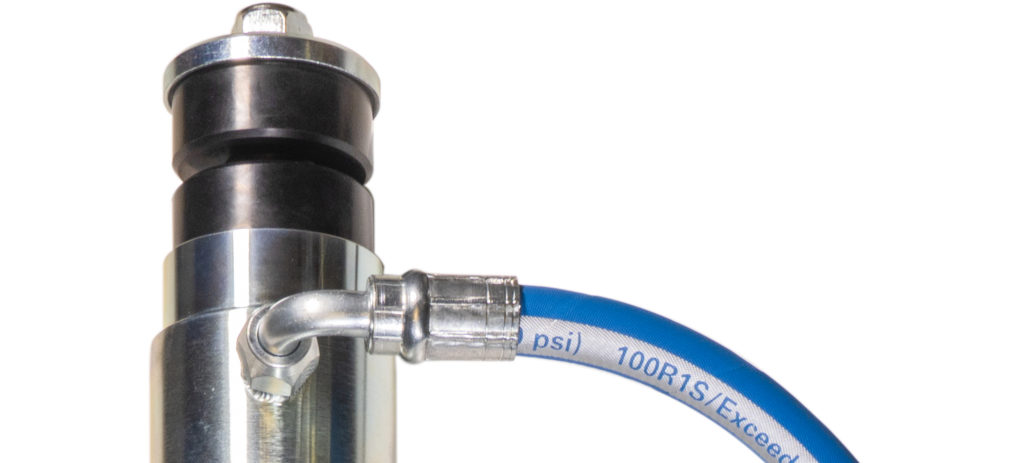 The front, lower shock mount – we provide a 1/4″, boxed replacement for the weak, factory stamped, half-welded mount. The top index included in the side specific mount servers to locate the shock mount off the axle's radius arm mount. Once the factory shock mount is removed, the Carli shock mount will be welded in place providing peace of mind and as much space as possible to cycle the 3.0″ diameter cylinders of the Dominator shocks.

Even slightly offsetting the lower shock mount, the factory brake lines that come over the top of the radius arm need to be relocated to prevent the wiper cap (blue cap on the bottom of the shock body from which the shaft extends) contacting the factory lines. We provide extended Stainless Brake Lines and routing brackets to clear the brake lines from the shocks completely.

Another weak point…. The factory coil buckets offer very little support for the isolator – and thus, the coil – beyond a small hole to index its fitment. Combine this with a lower coil seat that's angled forward and inward creating a spring pressure that induces both forward bowing and slipping coils. It's not uncommon to see flattened isolators and springs that look like they're going to slide forward and out of the bucket. Compound this factory shortcoming by adding big shocks, extended travel, and a heavy right foot off the pavement and additional support for the coils becomes cheap insurance against a coil re-installation off-the-grid! Machined from a solid piece of mild steel, these supports require front suspension disassembly, cleaning of the factory coil bucket, welding, priming and painting. Once in place, they appear factory as they're nearly completely covered by the factory isolator. With these installed, your coil spring will not budge.

In the rear, we move the shocks from their extremely limiting factory location inside the frame-pocket. The tubular rear frame crossmember exits through the outside of the frame serving as the perfect location to which to weld our replacement upper shock mounts.

The bottom shock mount sandwiches the factory mount utilizing 2 existing holes in the mount as well as the factory shock mounting location with the provided hardware. The mount extends forward and cants outward to align perfectly with the new upper mount while providing optimal tire clearance.

Because the shock position changes, the factory bed support must be modified, we provide a bolt-in solution to support the bed laterally from the factory control arm bracket once the factory support it removed.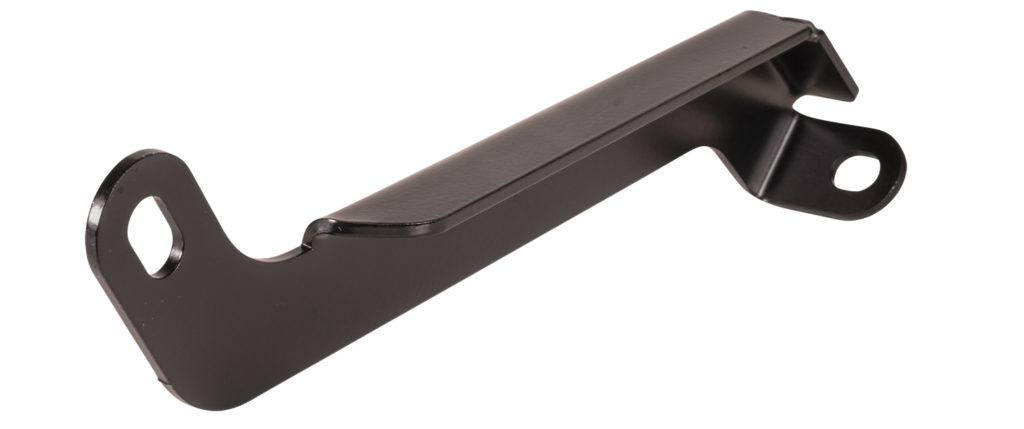 Last but certainly not least, the e-brake routing bracket. It's simple, a bolt, spacer and a couple insulated P-Clamps to ensure the factory E-Brake cables don't run into your massive, new shocks!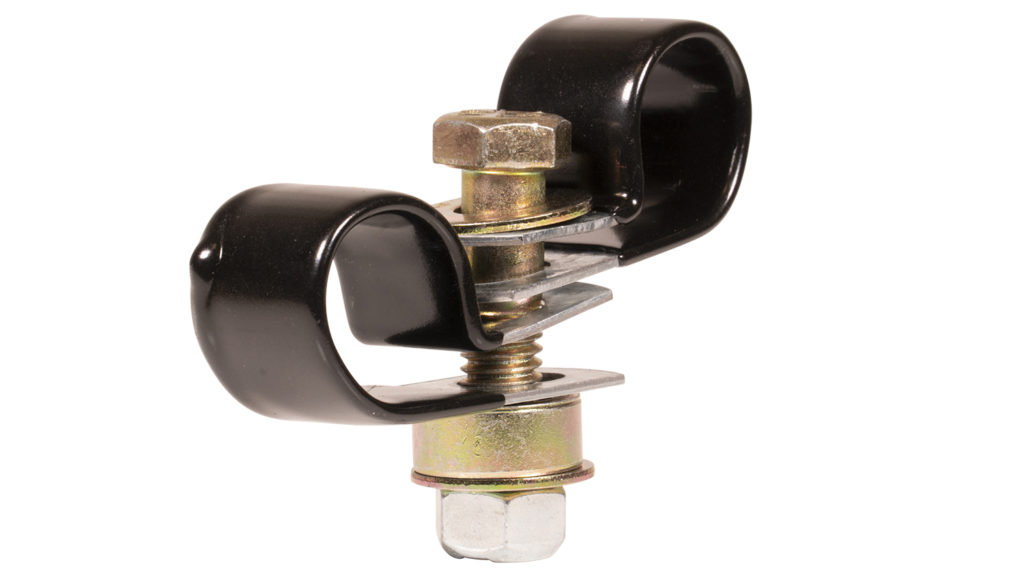 The Details: Your truck will sit 3"-3.5" higher in the front (cab configuration dependent) with 50% more suspension travel than the factory platform thanks to the taller, lighter rate coil springs. The rear is lifted .5"-1.5" via Carli's progressive coil springs and will reduce payload and towing capacity 15% from a stock 2500.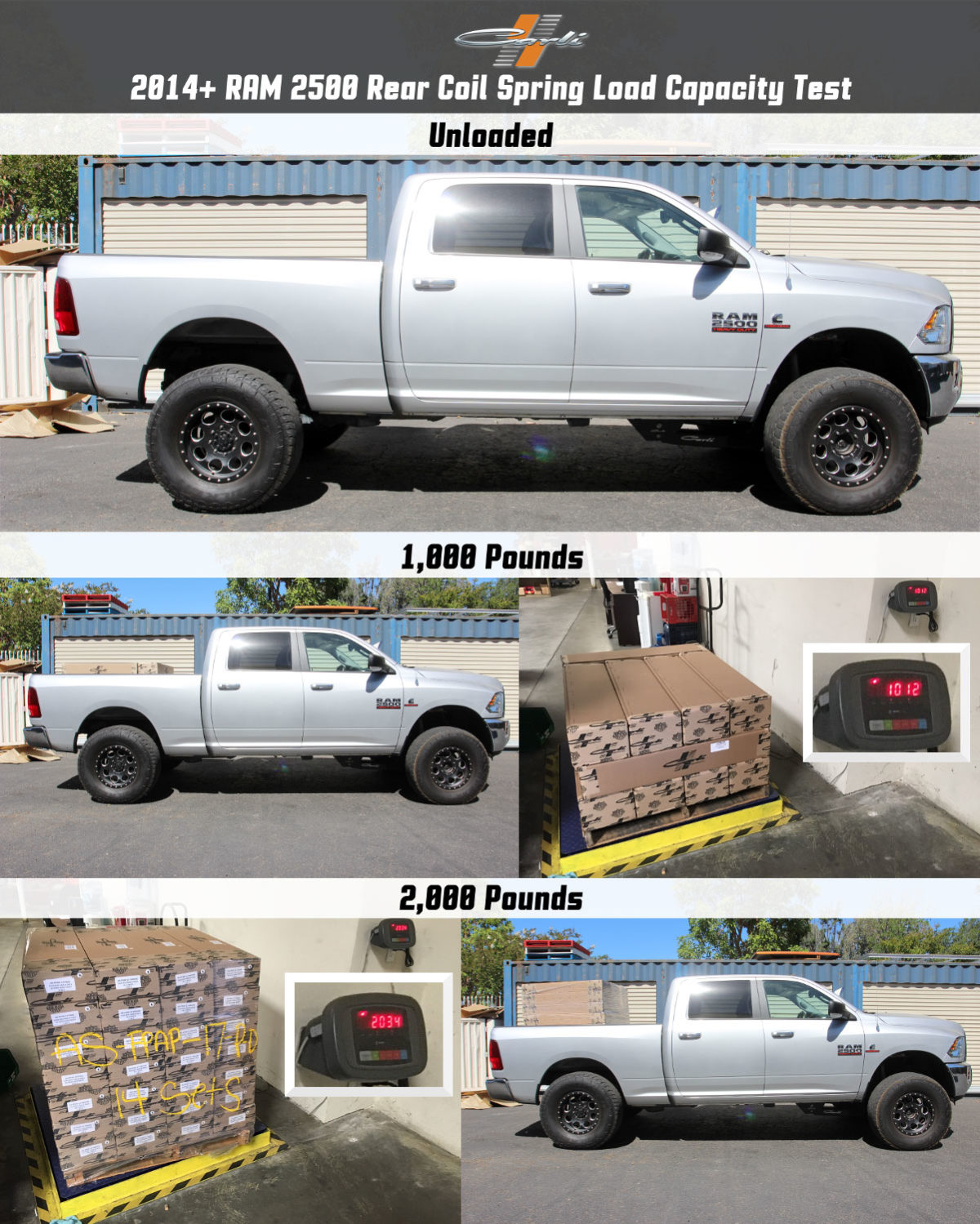 When pairing added down-travel with the taller ride height, the position of the factory, front sway bar will need to be altered as well. For this, we offer two options; Billet Sway Bar Drop Brackets or the replacement Torsion Sway Bar. The Billet Drop Blocks shift the sway bar down and forward to ensure the factory end links cycle properly throughout the entire extended travel range. Carli's optional Torsion sway bar removes the entire factory sway bar assembly replacing it with a torsion bar supported by fabricated drop brackets and delrin bushings. Fabricated sway bar arms and dual 5/8" FK heim end links round off the package. This is the single best bang for the buck, ride-quality upgrade offered by Carli Suspension.
When lifting the front end of a straight axle truck, the front axle is pulled off-center unless the proper linkages are addressed. Three inches of front lift equates to an axle shifted toward the driver's side ¾" and, in the radius arm equipped Rams, lightened caster and slight rearward axle shift. This system includes an Adjustable Track Bar to push the axle back toward the passenger side and provide a stronger link with less deflection for the lifted application. We also include Radius Arm Drop Brackets to recenter your caster adjustment and shift the axle forward to its new center of travel.
Everything is included to support flawless operation of all components. We include bump stop drops to ensure the shocks are cycling in their designed travel range as well as a rear track bar drop bracket minimizing the rear end "wag" associated with opposing track bar suspension designs.
Wheel and Tire: This system will fit up to a 37" tire when utilizing wheels that are no more than 9" wide with 5" of backspacing to clear the new rear shock path. We Recommend running a 17″-18" diameter wheel for optimal ride quality (more rubber = better small bump compliance) on a 35"-37" E-rated tire running 45psi front, 40psi rear when unloaded.
.
Base Kit Includes:
CS-DEL-R-14 Rear Sway Bar End Links
CS-DFBD-1 Front Bump Drops
CS-DLRC-14-D Front Linear-Rate Coil Springs
CS-DMRC-14-R Rear Multi-Rate Coil Springs
CS-DATB-1419 Adjustable Track Bar with Stabilizer Bracket
CS-DRAD-14 Radius Arm Drops
CS-DCM-20-HK Transmission Crossmember, Extended Hardware Kit
CS-DRBD-AL Rear Bump Drops
CS-DPRBDROP-14-R Rear Track Bar Drop
CS-DD30SPKG-14-D Carli Tuned King 3.0" Remote Reservoir Shock Package with Stainless Shafts, Reservoir Mounts, Brake Line Kit, Coil Isolator Supports, Front Lower Shock Mounts, Rear Upper and Lower Shocks Mounts, Bed Supports and E-Brake Relocation Bracket
DODGE RAM FITMENT GUIDE:
2014 - 2018 Ram 2500 4wd Trucks (will not fit the 3500's)
---
Options
Sway Bar Selection
Sway Bar Drops
SKU: CS-DSBD-14
In-house machined billet aluminum
Hard-Anodized for corrosion resistance
Correct factory sway bar geometry on 3" Lift
Fitment: 2014+ Ram 2500, 4×4
Fitment: 2013+ Ram 3500, 4×4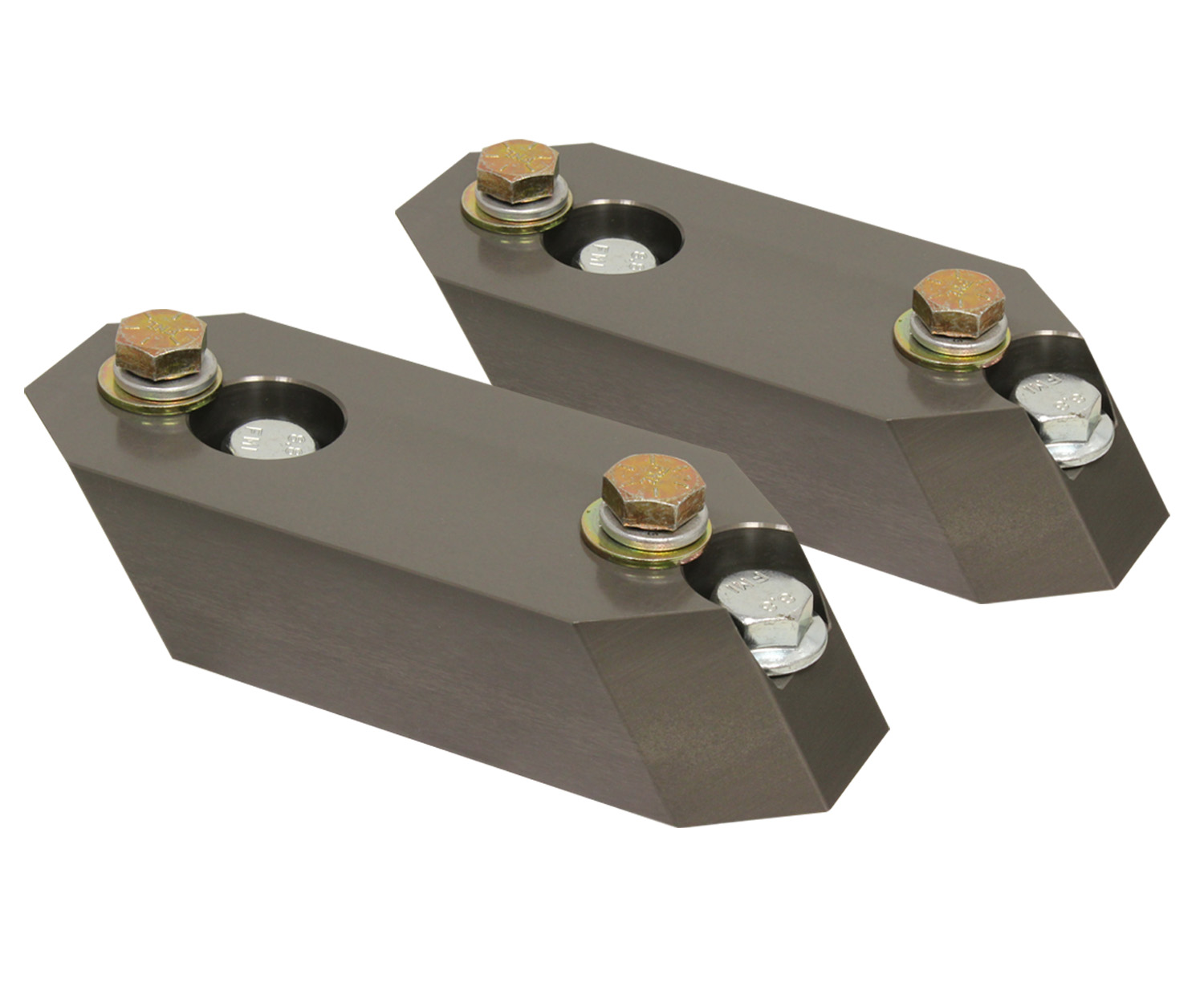 Torsion Sway Bar
SKU: CS-DTSB3-1419
Easily the best "bang for the buck" upgrade for ride quality
Allows front suspension to move freely without giving up control
Requires removal of electronic sway bar on Power Wagons
Fitment: 2014+ 2500 4x4
Fitment: 2013+ 3500 4x4
Compatible with 2.5"-4" Front Lift
---
Low Mount Steering Stabilizer
Stainless Low Mount Stabilizer, 2014+
SKU: CS-DLMSS-14
Direct bolt-in replacement
Corrects left tire pull, adjustable
Stainless Steel Shock
Black Nitride Shaft
Billet Red Ends with 1/2" Spherical Bearings
Fitment: 2014+ Ram 2500, 4×4
Fitment: 2013+ Ram 3500, 4×4
---
High Mount Steering Stabilizer
Stainless High Mount Stabilizer, 2014+
SKU: CS-DHMSS-14
Direct bolt-in
Corrects right tire pull, adjustable
Stainless Steel Shock with Black Nitride Shaft
Billet Rod Ends with 1/2" Spherical Bearings
Fits Leveled & Lifted trucks, ONLY.
Does NOT Fit with Factory Power Wagon Sway Bar.
Fitment: 2014-18 Ram 2500, 4×4
Fitment: 2013-18 Ram 3500, 4×4
---
Fabricated Radius Arms
Fabricated Radius Arms for 3.25" Lift Systems, 12″ Limit Straps
SKU: CS-DFRA-14
Massive Strength Upgrade vs. Stock Arm
Improved ride quality and control
Internal X-Bracing & Serviceable 17-4 Stainless Spherical Joints
12" Quad Wrap Limit Straps, For 3.25" Lift Systems
Fitment: 2014+ Ram 2500, 4×4
Fitment: 2013+ Ram 3500, 4×4
---
Front Differential Guard
Front Differential Guard
SKU: CS-DFDG-14
Protection for your Ring-Gear
Bolts On In Minutes
1/4" Wall Cold-Rolled Steel Construction
Grade 8 Hardware
Fitment: 2014+ Ram 2500, 4x4
Fitment: 2013+ Ram 3500, 4x4
Power Wagons may require modification to the Diff Guard or Lower Diff Housing.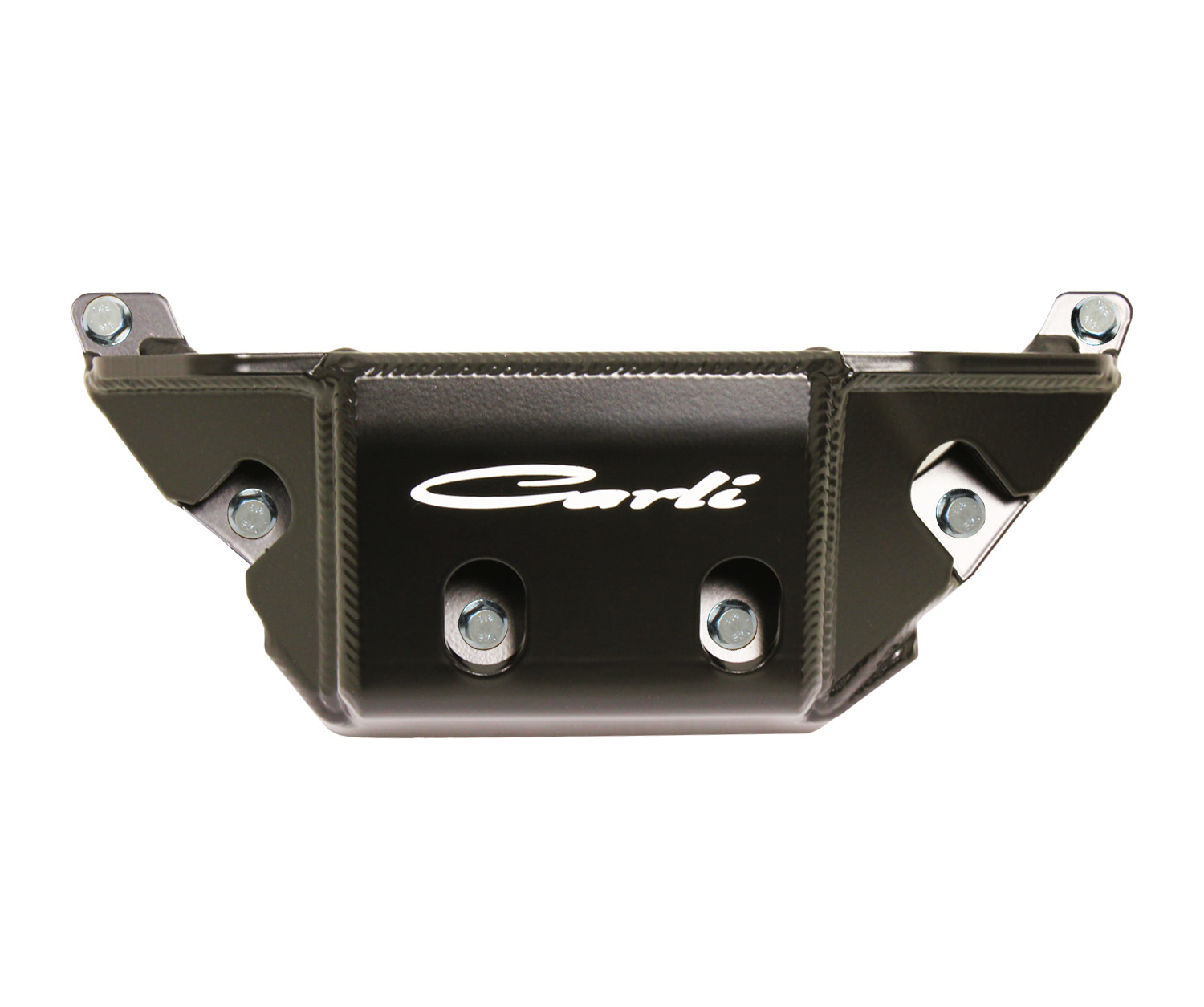 ---
Lifetime Ball Joints
Lifetime Ball Joint Set, 2014
SKU: CS-DBJP-14
Set of Upper and Lower Ball Joints
LIFETIME Advanced-Replacement Warranty
Copper Plated, Carburized and Dry-Lubed
Includes a tube of Redline CV2 Grease
Fitment: 2013+ Ram 3500 4x4
Fitment: 2014+ Ram 2500 4x4