Carli Fabricated Axle Truss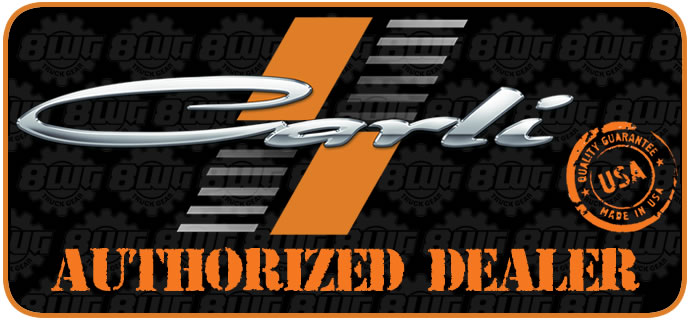 Now Shipping!
Designed for the AAM American Axle found under Heavy Duty Dodges, the Carli Axle Truss is a crucial component for the avid off-roader that routinely puts their truck in extreme situations. The factory AAM axle is susceptible to bending from the forces encountered in normal or extraneous off-road activities, leaving the truck with a "smile" that leads to worn tires and steering components. At the heart of the Truss is an internal network of 1/4" thick x-bracing and reinforcement ribs that zig-zag down the length of the axle. Coupled with the axle tube saddles, Upper C Gussets, Lower C Doublers, and CNC manufactured plates, the Carli Fabricated Truss will keep your axle straight and intact for that next blast down a desert trail.
---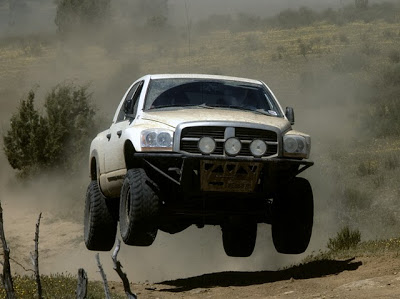 So we've given you the tools to expand your perception of the term "off road" and in short order you've been getting more comfortable behind the wheel. In an attempt to see what your bad ass truck can do, you are deliberately looking for obstacles to plow through to find that threshold where the truck says "nuh-uh, didn't like that." Gone are the days when splashing through a monsoon-soaked service trail a hair faster than a horses trot would bring a permanent smile; you've seen what a GOOD shock can do for control and performance and you now demand more for satisfaction and entertainment. Have we created a monster? From now-on-out, the old adage "there's no replacement for displacement" isn't just ringing true, it has become your truck's cadence as you hear the cacophony of American metal and brawny rubber ruthlessly pounding Dirt like it owes Metal & Rubber money. There's a stretch of a rutted-out unpaved service road you've found that haunts your daydreams like that limber redheaded college cheerleader that crawled up on your truck's hood during a Car Wash Fundraiser and you are determined to see what you can get away with.
Well, like many things in life you can't just go let the bull out of the pen without thinking of protection first. For your truck, whether you're going to be slamming it around, taking a "short cut" at break-neck speed, or just riding it hard and putting it away wet, there are a couple areas of concern that need to be addressed before a repair bill with far too many zero's is thrown in your face. You've got the suspension: CHECK. You've got the Ball Joints: CHECK. You've got Stabilizers and a Differential Guard: CHECK. Do you have an Axle Truss? Uhh….. no? For the pent-up dirt animal that is clawing it's way out of your psyche, this is a definitive MUST-HAVE.
One minor drawback to the Dodge trucks is their AAM front axle doesn't dig extreme abuse. The axle can bend in a few different areas that weren't intended to be bent, resulting in crazy tire wear and an axle "smile" that makes an on-looker say "Aww, bless his heart, he's trying!". Solution? AXLE TRUSS. In simplest terms, its a means of reinforcing the axle to prevent bending. Many styles have been presented to the world, but few have been customer friendly enough to allow them to be installed by the motivated DIY'er.

We set out to take a new approach with a truss that would yield easy fitment with no requirement of being an overly experienced fabricator or expert metal man. What we came up with almost looks like it was born from the playbook of the U.S. Corps of Army Engineers. Stacked with precision laser-cut 1/4″ cold-rolled plate and gussets upon gussets, an interwoven series of triangles snakes its way across the axle creating an unbreakable backbone of strength. The inner x-braces converge to an outer clam-shell casing that is then welded on all contact points, shoring up any potential for flexing and movement on several axis. The overall appearance is intended for a tucked up, high clearance attack to keep away from as many obstacles as possible while still being able to withstand a direct impact from some of those "oops!" moments.

The whole assembly is welded here at Carli by our experienced welders on a table-top fixture to ensure accurate and repeatable results. The end product is a complete truss ready to be installed while the axle is ON THE TRUCK by anyone with a decent knowledge of welding, particularly to dissimilar metals like cast steel and rolled plate steel.
For something of this importance, its function and service life will be dependent on whomever welds it to the axle. To keep things on the sunny side of life, make sure the installer knows a thing or two about buzzing metal together. We highly recommend a mild pre-heat and nickel-based rod for the cast center section and knuckles, such as Ni-Rod. The rest of the truss can be married to the axle with your standard MIG gun.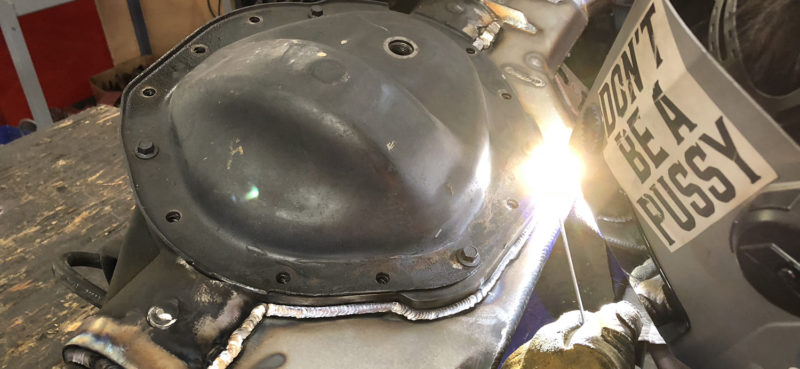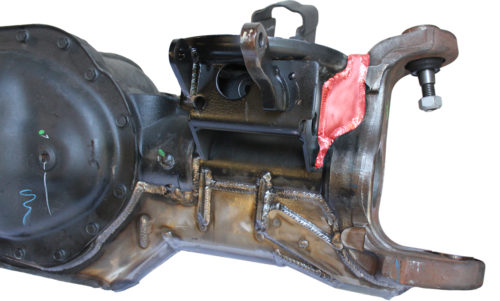 Also featured in the this Axle Truss is an "Upper C" Gusset that prevents the bending of the ear that encapsulates the upper ball joint. The design of the axle allows a bit too much leverage to be applied during hard hits. This Gusset sandwiches itself between the "C" and the coil bucket making it nearly impossible for the Upper C to deflect and bend, a bad situation that could make steering difficult and again wear your tires prematurely.
The Carli Fabricated Truss isn't exactly for the faint of heart or rookie hobby welder; it's an easy installation for most people with decent welding experience. The benefits of the Carli Axle Truss will allow you to breathe a sigh of relief knowing that the investment in your truck is solidly insured with brute strength and design. We assure you that the grins culminated over a treacherous section of dirt will come more easily knowing that your front axle is laughing at all the mayhem thrown in it's path.is laughing at all the mayhem thrown in it's path.
---
FITMENT:
This Truss is NOT a direct fit item and will require skilled fitment and installation. Cutting and grinding will be required in the fitment process.
INSTALLATION:
This item requires installation by a trained professional. Welding is required to secure the truss to the axle. Knowledge of dissimilar metals: Cast, Forged and CRS, is highly recommended. See instruction download above.
DODGE RAM FITMENT GUIDE
2003 - 2012 2500 / 3500 4x4
2013 2500 4x4 only - Will not fit the 2013 3500's!
2006 - 2009 1500 Megacab 4x4
2005 - 2013 Power Wagon
SPECIFICATIONS
1/4" plate steel construction
Fabricated axle truss with internal x-bracing
Upper C Gussets
Lower C Doublers
Part Numbers
.