Carli 4.5" Super Duty Dominator 3.0 Suspension System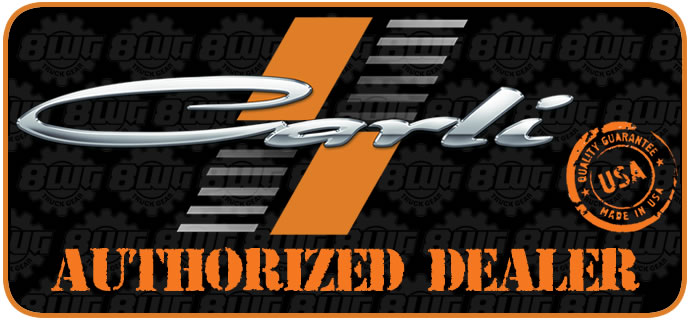 Carli has taken the Super Duty to the next level. By replacing the factory Ford stamped steel buckets with these beefier versions fabricated out of 1/4" steel it allows the use of taller eyelet mount shocks. Combine that with a design that moves the shock away from the frame a bit you can now get a larger 3.0 shock to bolt in. Of course they had to come up with new bolt in upper shock mounts in the rear. This not only allows for clearance of the bigger King 3.0's that come in this kit but they also mount the shock in double shear which is much stronger than the single shear stud style that Ford uses from the factory.
This is the true, Jack of all trades suspension system offering the most wheel travel of any Carli system. The Dominator rides better than any other system on the road while boasting off-road manners to rival the Coilover Bypass. No tubes to adjust or user-tunability in this system; we've done the hard work for you.
The truck will sit 4.5" higher in the front and have more wheel travel thanks to the taller, Progressive Rate Coil Springs that mount into the Fabricated Carli Spring Buckets. Radius Arm Drop Brackets reset the pivot point and keep the travel linear for the best ride while Sway Bar Links or Drop Brackets reset the sway bar engagement point. The included Bump Stop Drops protect the shocks from over-compressing while the Adjustable Track Bar centers the front axle and Stainless Brake Lines firm up braking and ensure there is enough line for the newfound travel. To round off the front end, we include Caster Shims to tighten the steering.
The rear is outfitted with a Full Progressive Spring Pack requiring no block to achieve proper ride height; thus, travel is extended and wheel hop/axle wrap minimized at the cost of 15% less load capacity than a stock F250. If capacity is a concern, we offer Long Travel Airbags to restore the payload capacity to that of a SRW F350.
This system boasts Carli Signature tuned, King 3.0" Remote Reservoir shocks so large, we needed to fabricate custom mounts to fit them; as the old adage goes, there's no replacement for displacement. The 3.0" shock has a piston surface area 45% greater than a 2.5" King and 126% larger than a factory 2.0" shock making it far more efficient in all situations. The massive surface area also ensures we can achieve amazing off-road performance while offering the best on-road ride of any of our systems. To fit these shocks, we provide fabricated mounts that lift the upper mounting point and position the shock away from the frame while the standard bump stop extensions were shortened to allow for more up-travel to compliment the additional down-travel from the longer shock. In an effort to provide customers with the best product, we designed a custom piston to determine proper base flow rates to ensure the shock works well in the heavy duty truck platform; we then tuned the shocks based on seat-of-the-pants feel. We round off ALL our King shocks with shafts machined and polished from a solid piece of 17-4 Stainless. Unlike King's standard shafts, there is no coating to wear off, weather is far less likely to hurt them and if there is a small chip, you can round the edges with emery cloth to ensure the seal housing isn't damaged as they're not brittle like the stock, hardened shafts. The shocks are finished with King oil good to -55° F. Note that all King shocks are built with a plated steel body. If subjected to inclement weather for extended periods, we recommend wrapping your shocks in 3M to provide a moisture barrier that's replaceable.
Aesthetically, there will be one huge shock at each corner. The purpose for which the truck's being built does not need to be a consideration when purchasing the Dominator. On Road, it's the best; Off-Road, it's a monster and cycles more travel than any other system we offer. All the aforementioned with only 4 completely rebuildable shocks to maintain and stupidly simple operation with the tuning left to the experts. If it's in the budget, this is the Carli recommendation for everyone.
As with the Coilover Bypass, it's recommended that users purchase a Differential Guard for axle protection, High Mount Steering Stabilizer to keep the steering as controlled as the suspension and Fabricated Radius Arms for strength and Limit Strap mounting. At this level of suspension, a roll cage is also recommended if the system will be used to its full off-road potential.
Features:
Superior Ride Quality
Very Controlled Off Road
Increased Cornering Capability
Reducing and/or Eliminating Body Roll
Tighter street feel Driving Characteristics, Increased Suspension Response
Steering geometry is all within OEM specs, no additional components are necessary
Bolt On Performance!
Fitment Guide:
CS-F45-D30-11

| 11-16 F250 / F350 4x4 (Old Part Number: CS-FORDD3.0-11)

CS-F45-D30-08

| 08-10 F250 / F350 4x4 (Old Part Number: CS-FORDD3.0-08)

CS-F45-D30-05

| 05-07 F250 / F350 4x4 (Old Part Number: CS-FORDD3.0-05)
*Rear Driveshaft must be checked for 1 piece or 2 piece units. It is recommended that 2 piece driveshafts order a carrier bearing drop, PN# CS-CARRIERDROP-F, $35
Wheel/Tire Fitment info- Due to the large 3" shock and the large attache reservoir It is recommended to run a wheel with 4.5-5" backspace. With wide 37's like Toyo MT's you will still get a little rubbing on the shock reservoir but it won't hurt anything.
Components:
King 3.0" Piggy Back Remote Reservoir Shocks (Front)
King 3.0" Piggy Back Remote Reservoir Shocks (Rear)
17-4 Stainless Steel Shafts Are Standard On This System
Fabricated Coil Bucket Mounting Kit
Rear HD Replacement Upper Shock Mounts
Carli 4.5" Multi-Rate Coil Springs
Radius Arm Drop Bracket Kit with Dimple Die Cross Member
Sway Bar End links (2011+ kits use sway bar drop brackets instead)
Adjustable Track Bar
Front And Rear Bumpstop Drops
Extended Braided Stainless Brake Lines
Caster Adjustment Shims
Altered Vehicle Characteristics:
4.5" of Lift on the Front
2.5" of Lift on the Rear*
Vehicle is "Leveled"*
12.0" of Front Wheel Travel
13.0" of Rear Wheel Travel
Recommended Wheel and Tire Combination:
37" tires on 17" or 18" wheels for the best ride and performance
8.5-9" wide wheels with 5" backspace will require a little trimming butwil clear the factory radius arms
8.5-9" wide wheels with 5.5-5.75" will clear the aftemarket Carli Radius Arms with most 37" tires
For most E-rated tires we suggest running 40-45psi front and 30-35psi rear when not towing/hauling really heavy
Shipping Info - This system ships on a pallet so we will need you to provide an address that accepts freight truck deliveries. Let us know if you need any help with this.
System Notes:
Wheels - Carli Recommends a 17"-18" Wheel, no more than 9" wide with 5" of Backspacing on 4.5" Lift Systems.
Tires - 37", E-Rated Tire Fitment is Recommended. Recommended unloaded Tire Pressure 45F/40R.
Recommended Configuration - Carli 4.5" Systems are Designed and Tested on Vehicles with 17"-18" Wheels with 37", E-Rated Tires. Stock wheels and tires or running a larger wheel diameter will result in a stiffer ride.
Leaf Springs - Full Replacement Leaf Spring Option Requires NO BLOCKS to achieve level Stance.
Full Leaf Notes:
Choosing the full leafs will offer a better street ride, further decrease wheel hop, and eliminate the need for a rear lift block altogether.
Full Leaf Shipping Info - If you are choosing the full leaf upgrade we will need you to provide an address that accepts freight truck deliveries as the kit will ship on a pallet. Please contact us if you have any questions about shipping.