Carli Ford Super Duty Full Spring Pack
For trucks with 4.5" of lift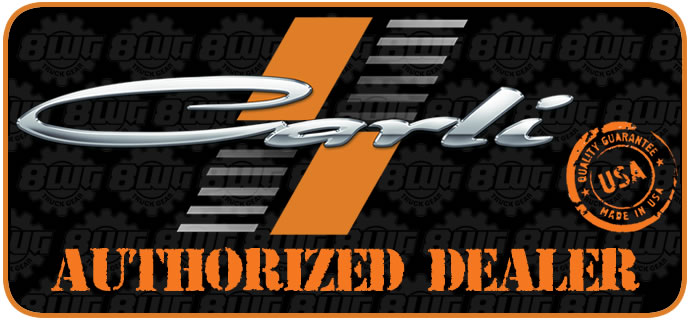 Super Duty Full Spring Pack
The Carli Super Duty full spring pack is designed and built to our spec. The leaf pack will support up to 15" of wheel travel. The center-pin is relocated so you can run 38 inch tires, 37" recommended, and levels the rear perfectly to match our 4.5" front suspension systems. If more lift is desired, one could pair Carli springs with lift blocks to accommodate additional lift; however, this will require brake line extensions and longer U-Bolts (not included).
This spring pack delivers smoother suspension cycling in all situations: highway, off road and towing. Because of the reduction in tow capacity, Carli Suspension recommends pairing our Super Duty Full Spring Pack with our Proprietary Long-Travel Airbags for trucks that constantly tow trailers with over 1,000lbs of tongue weight, or carry over 1,000lbs. in the bed.
This spring pack is designed to work with Carli and other brand 4.5" lifts while eliminating the factory lift blocks. This coupled with the superior spring design also greatly reduces the axle wrap that leads to the wheelhop that the Super Duty's have been plagued with for years.
These leafs will also come with Year Specific U-Bolts and Rear Bump Stop Drops. The Factory Block is removed, and the bump stop will now strike the axle instead of the tang on the factory Block.
Fitment Guide:
11-16 F250 / F350 4x4
08-10 F250 / F350 4x4
05-07 F250 / F350 4x4
Part Numbers for trucks with 4.5" Lift
CS-FFSP-11

| 11-16 FORD F250 / F350 4x4

CS-FFSP-08

| 08-10 FORD F250 / F350 4x4

CS-FFSP-05

| 05-07 FORD F250 / F350 4x4
Specifications:
Provides approximately 3" of lift over a stock height F250 and 2" of lift over a stock height F350
Custom Progressive Rate
Relocated Center Pin
Eliminates the factory block
Usable up to 15" of travel
Shipping Info - If you are choosing the full leaf upgrade we will need you to provide an address that accepts freight truck deliveries as the kit will ship on a pallet. Please contact us if you have any questions about shipping.
Related Products