Carli 4.5" Super Duty Back Country 2.0 Suspension System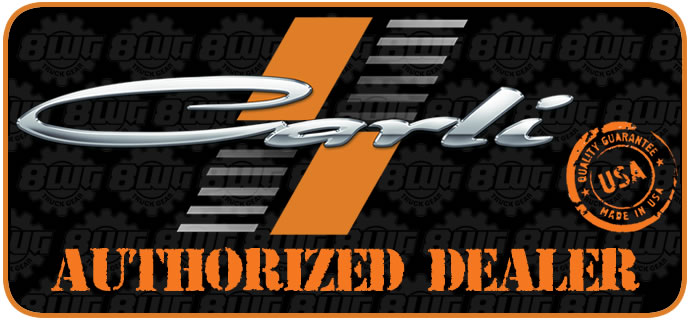 Now shipping with Fox 2.0's!
Super Duty 4.5" BackCountry 2.0 Suspension System
Custom Fox 2.0 Remote Reservoir Shocks
The Super Duty Backcountry 2.0 system is designed for people seeking the best ride on and off-road quality on a budget; basically, the commuter for those that want to have a little dirt-road fun in their 8,500lb truck without losing the on-road ride quality or usability for which the truck was designed. You're no longer limited to the highway while gravel roads become uninteresting as you can drive them at speed with one hand on the wheel. Utilizing Fox 2.0" Remote Reservoir Shocks, we've developed a tune that delivers all around comfort and ride quality designed for on-road, in town, highway, towing/hauling as well as slow to mid speed off road use. The Fox 2.0s boast extruded aluminum construction with a clear anodizing for corrosion resistance, are fully rebuildable and are built with hour-glass bushings in the rod-ends. Fox builds these shocks with their legendary red shock oil that flows well down to -55° F.
The truck will sit 4.5" higher in the front and have more wheel travel thanks to the taller, Progressive Rate Coil Springs. Radius Arm Drop Brackets reset the pivot point and keep the travel linear for the best ride while Sway Bar Links or Drop Brackets reset the sway bar engagement point. Bump Stop Drops protect the shocks from over-compressing, the Adjustable Track Bar centers the front axle and Stainless Brake Lines firm up braking and ensure there is enough line for the newfound travel. To round off the front end, we include Caster Shims to tighten the steering.
The rear can be outfitted with a replacement Full Progressive Spring Pack (reduces capacity to a "light" ¾-ton) or factory leaf-pack modifying Progressive Add-a-Pack (maintains factory payload capacity and pairs with the factory 3-5/8" block). This is where the F250 and F350 are a bit different. Since 2008, the main spring packs on these two trucks is different; the F250 has a lighter rate spring pack than its 350 counterpart. The F250 Add-a-Pack equipped systems are a nice improvement over stock; the F350 with the Add-a-Pack is still very stiff in the rear as the main pack doesn't move much unless loaded. We recommend the Full Replacement Leaf Spring packs for both trucks but especially the F350 given the super-stiff factory springs. If capacity is a concern, the Full Progressive Leaf Springs can be supplemented back to the factory capacity of a SRW F350 with the addition of our Long-Travel Airbags. The Full Progressive Leaf Spring Pack will shift the axle slightly forward in the wheel well to ensure maximum tire clearance for a 37" M/T at full compression.
If ordering this kit with an Add-a-Pack, Super Duties equipped with a 2" tall block from the factory will require the factory 3-5/8" tall Block to achieve a leveled stance with the Add-a-Pack. Part Number: 7C3Z-5598-HB, 7C3Z-5598-JB
Features:
Aluminium Bodied Shocks
Direct Fit Application
Long Lasting Bushings
Superior Ride Quality
Very Controlled Off Road
Increased Cornering Capability
Reducing and/or Eliminating Body Roll
Tighter street feel Driving Characteristics, Increased Suspension Response
Steering geometry is all within OEM specs, no additional components are necessary
Towing/hauling capacity is the same as OEM, no reduction of capability
Fitment Guide:
11-16 F250 / F350 4X4
08-10 F250 / F350 4x4
05-07 F250 / F350 4x4
Components:
Carli Specific Fox 2.0 Remote Reservoir Shocks
Carli 4.5" Multi-Rate Coil Springs
Radius Arm Drop Bracket Kit with Dimple Die Cross Member
Sway Bar End links (2011+ kits come with sway bar drop brackets instead of end links)
Adjustable Track Bar
Front Bumpstop Drops
Extended Braided Brake Lines
Caster Adjustment Shims
Altered Vehicle Characteristics:
4.5" of Lift on the Front
2.5" of Lift on the Rear*
Vehicle is "Leveled"*
10.0" of Front Wheel Travel
14.0" of Rear Wheel Travel
Part Numbers
CS-F45-BC20-11

| 2011-13 F250 / F350 4x4 Diesel (Old Part Number: CS-FORDBC-11)

CS-F45-BC20-08

| 2008-10 F250 / F350 4x4 Diesel (Old Part Number: CS-FORDBC-08)

CS-F45-BC20-05

| 2005-07 F250 / F350 4x4 Diesel (Old Part Number: CS-FORDBC-05)
System Notes:
Wheels - Carli Recommends a 17"-18" Wheel, no more than 9" wide with 5" of Backspacing on 4.5" Lift Systems.
Tires - 37", E-Rated Tire Fitment is Recommended. Recommended unloaded Tire Pressure 45F/40R.
Recommended Configuration - Carli 4.5" Systems are Designed and Tested on Vehicles with 17"-18" Wheels with 37", E-Rated Tires. Stock wheels and tires or running a larger wheel diameter will result in a stiffer ride.
Add-A-Packs - Super-Duties equipped with a factory 2" Block will require the 3-5/8" Factory F350 Block [7C3Z-5598-HB, 7C3Z-5598-JB] to achieve a level stance.
Leaf Springs - Full Replacement Leaf Spring Option Requires NO BLOCKS to achieve level Stance.
Full Leaf Upgrade Notes:
Choosing the full leafs over the mini packs will offer a better street ride, further decrease wheel hop, and eliminate the need for a rear lift block altogether.
Full Leaf Shipping Info - If you are choosing the full leaf upgrade we will need you to provide an address that accepts freight truck deliveries as the kit will ship on a pallet. Please contact us if you have any questions about shipping.