Carli 4.5" Super Duty Pintop 2.5 Suspension System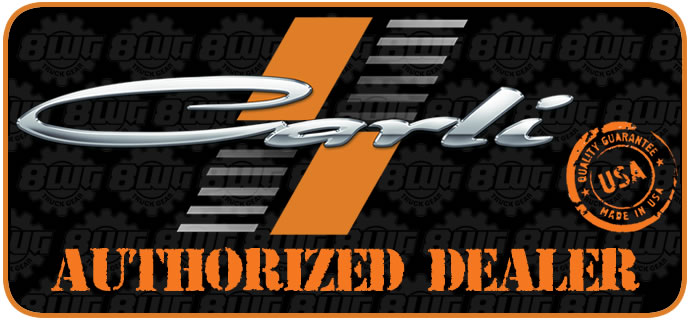 Stainless Shock Shafts Now Standard!
This system was developed for outstanding on-road and highway performance while offering King Off Road Racing shock with our custom pistons and valve profile. Off road performance takes a huge step up, while maintaining our signature street ride. Your truck will sit higher, level, have more wheel travel, plush ride quality and OEM towing and weight carrying capacity.
The Backcountry on steroids, take the description for the Backcountry and throw an exponent on it. This system is our most popular, all around suspension system. For quite a while, this system dominated. While the Coilover and Coilover Bypass Systems existed, we continued to run the Pintop 2.5" and 4.5" lift systems on our personal trucks as there wasn't much reason to upgrade a rig that wasn't a dedicated off-road truck. The on road ride is terrific, sharp edges are rounded and light to medium duty offroad escapades become completely controlled and uneventful. Most Carli videos were filmed with the Pintop kit showcasing the extremes of its capability.
The Pintop is a Jack-of-all-trades system from which every Super Duty owner would benefit. Raising the Super Duty Platform then adding the 2.5" diameter shocks (55% more piston surface area than a 2.0" shock) will support the argument that these trucks should come equipped with 2.5" shocks from the factory. The higher end systems will get you more off-road capability, yes, and even a bit more on-road. The premium paid for these systems; however, doesn't compare to the on and off-road ride quality per dollar spent on the Pintop. For these reasons, it will likely remain our best seller for years to come.
The Pintop system boasts Carli specific, blueprinted, King 2.5" shocks on all four corners. In an effort to provide customers with the best product, we designed a custom piston to determine proper base flow rates to ensure the shock works well in the heavy duty truck platform; we then tuned the shocks around the custom pistons based on the only thing that matters to us, seat-of-the-pants feel. We round off ALL our King shocks with shafts machined and polished from a solid piece of 17-4 Stainless. Unlike King's standard shafts, there is no coating to wear off, weather can't hurt them and if there is a small chip, you can round the edges with emery cloth to ensure the seal housing isn't damaged as they're not brittle like the stock, hardened shafts. The shocks are finished with King oil good to -55° F. Note that all King shocks are built with a plated steel body. If subjected to inclement weather for extended periods, we recommend wrapping your shocks in 3M to provide a moisture barrier that's replaceable.
The truck will sit 4.5" higher in the front and have more wheel travel thanks to the taller, Progressive Rate Coil Springs. Radius Arm Drop Brackets reset the pivot point and keep the travel linear for the best ride while Sway Bar Links or Drop Brackets reset the sway bar engagement point. Bump Stop Drops protect the shocks from over-compressing, the Adjustable Track Bar centers the front axle and Stainless Brake Lines firm up braking and ensure there is enough line for the newfound travel. To round off the front end, we include Caster Shims to tighten the steering.
The rear can be outfitted with a replacement Full Progressive Spring Pack (reduces capacity to a "light" ¾-ton) or factory leaf-pack modifying Progressive Add-a-Pack (maintains factory payload capacity and pairs with the factory 3-5/8" block). This is where the F250 and F350 are a bit different. Since 2008, the main spring packs on these two trucks is different; the F250 has a lighter rate spring pack than its 350 counterpart. The F250 Add-a-Pack equipped systems are a nice improvement over stock; the F350 with the Add-a-Pack is still very stiff in the rear as the main pack doesn't move much unless loaded. We recommend the Full Replacement Leaf Spring packs for both trucks but especially the F350 given the super-stiff factory springs. If capacity is a concern, the Full Progressive Leaf Springs can be supplemented back to the factory capacity of a SRW F350 with the addition of our Long-Travel Airbags. The Full Progressive Leaf Spring Pack will shift the axle slightly forward in the wheel well to ensure maximum tire clearance for a 37" M/T at full compression.
If ordering this kit with an Add-a-Pack, Super Duties equipped with a 2" tall block from the factory will require the factory 3-5/8" tall Block to achieve a leveled stance with the Add-a-Pack. Part Number: 7C3Z-5598-HB, 7C3Z-5598-JB
Features:
Superior Ride Quality
Very Controlled Off Road
Increased Cornering Capability
Reducing and/or Eliminating Body Roll
Tighter street feel Driving Characteristics, Increased Suspension Response
Steering geometry is all within OEM specs, no additional components are necessary
Towing/hauling capacity is the same as OEM, no reduction of capability
Fitment Guide:
CS-F45-PT25-11

| 11-16 F250 / F350 4x4 (Old Part Number: CS-FORDPINTOP-11)

CS-F45-PT25-08

| 08-10 F250 / F350 4x4 (Old Part Number: CS-FORDPINTOP-08)

CS-F45-PT25-05

| 05-07 F250 / F350 4x4 (Old Part Number: CS-FORDPINTOP-05)
Components:
King Pintop 2.5" Remote Reservoir Shocks
King Piggy Back 2.5" Remote Reservoir Shocks
17-4 Stainless Steel Shock Shafts
Carli Multi-Rate Coil Springs
Radius Arm Drop Bracket Kit with Dimple Die Cross Member
Sway Bar End links (2011+ kits use sway bar drop brackets instead)
Adjustable Track Bar
Front Bumpstop Drops
Extended Braided Brake Lines
Altered Vehicle Characteristics:
4.5" of Lift on the Front
2.5" of Lift on the Rear*
Vehicle is "Leveled"*
10.0" of Front Wheel Travel
12.0" of Rear Wheel Travel
System Notes:
Wheels - Carli Recommends a 17"-18" Wheel, no more than 9" wide with 5" of Backspacing on 4.5" Lift Systems.
Tires - 37", E-Rated Tire Fitment is Recommended. Recommended unloaded Tire Pressure 45F/40R.
Recommended Configuration - Carli 4.5" Systems are Designed and Tested on Vehicles with 17"-18" Wheels with 37", E-Rated Tires. Stock wheels and tires or running a larger wheel diameter will result in a stiffer ride.
Add-A-Packs - Super-Duties equipped with a factory 2" Block will require the 3-5/8" Factory F350 Block [7C3Z-5598-HB, 7C3Z-5598-JB] to achieve a level stance.
Leaf Springs - Full Replacement Leaf Spring Option Requires NO BLOCKS to achieve level Stance.
Full Leaf Upgrade Notes:
Choosing the full leafs over the mini packs will offer a better street ride, further decrease wheel hop, and eliminate the need for a rear lift block altogether.
Full Leaf Shipping Info - If you are choosing the full leaf upgrade we will need you to provide an address that accepts freight truck deliveries as the kit will ship on a pallet. Please contact us if you have any questions about shipping.