Carli 2017+ Ford Rear Shock Mounts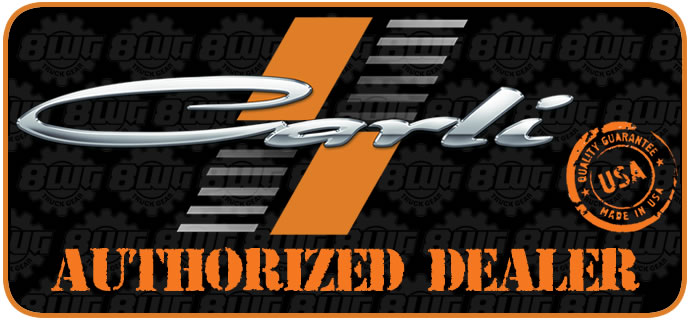 In 2017, Ford swapped the Super Duty to a boxed frame. This was great news for Ford owners looking for better frame rigidity and longevity; unfortunately, it came at the cost of many of our bolt-on upgrades. As the new frames are hollow, boxed steel, there were no more riveted buckets or shock mounts to which we'd become accustomed to grinding, drilling and replacing with stronger alternatives. We had to get creative…
The goal was two-fold: to fit a larger shock AND run something stronger than the single-shear, pin-style factory Ford mount. Those who have been following us for a while know we've been working on Dominator Kit (3.0″ King Shock) since the platform was released. There are few things to compare with the on and off-road ride of a 3.0″ Diameter shock but the constraints of the new Super Duty wouldn't make easy work of squeezing these giant shocks into the factory infrastructure; nor would the pin-style factory mount hold up to the forces these monster-shocks would apply to them.
Bolt-on wasn't an option, unfortunately – we are, however, proud to have accomplished this shock mount without requiring the customer to pull the bed. Installation is as simple as cut, grind, punch, clean and weld. We had both shock mounts installed on the test truck in under 2 hours; not bad for the MASSIVE strength increase these offer.
The ARE NOT intended for use with factory style shocks, or shocks with bushings. We include the misalignment spacers to adapt any off-road race shock (I.E. – King/Fox) utilizing a 5/8″ Internal Diameter Uniball to the 14mm x 1.667″ mounting dimension. Although not required, these would made a fantastic upgrade to the Pintop 2.5 or E-Venture!
Fitment Guide:
2017+ F250/F350 4x4
Cutting and welding required
Specifications:
Weld-On
Massive Strength Increase
Fits up to 3.0″ King Shock in Factory Location
NOT For Use With Factory-Style Shocks
Includes Flag-Bolt for Easy Shock Installation
Fitment: 2017-22 F250/350 4×4
Part Numbers
CS-FRSM-17

| 17-22 FORD F250 / F350 4x4
Related Products