Carli 2.5" Super Duty Commuter 2.0 Leveling System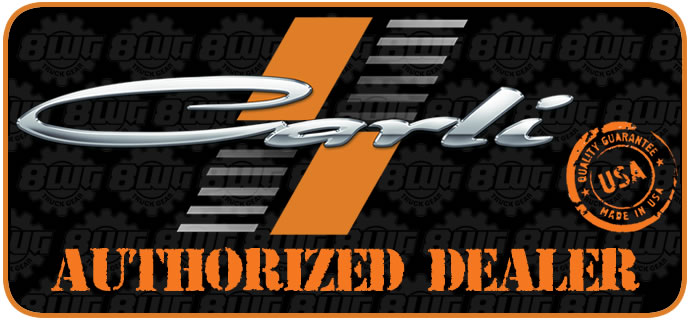 Stainless Brake Lines Now Included!
Due to popular demand, Carli Suspension has developed a 2.5" suspension system for SuperDuty owners wanting the "Carli Suspension Ride" without the height of our current 4.5" suspension lift offering. This system will lift the front of the vehicle 2.5" with the use of a soft ride, linear rate coil spring. As will all Carli coils, these will come pre-set, shot peened and powder coated to ensure they perform and look great for the life of the vehicle.
Shock options currently range from Bilstein 5100, Fox 2.0 IFP, to a custom length King 2.5" remote reservoir front and piggy back rear are added into the mix with Sage's custom tuning for each body style. The caster is adjusted with an adjustment cam included with the system; further, an adjustable track bar with a 7/8" x 7/8" FK Bearing Rod end and angled ball joint seat (to prevent bind associated with other adjustable track bars) get the SuperDuty's front axle square under the truck again.
The rear springs are softened by removal of the overload and helper springs in addition to a year-specific progressive add-a-packs and Zinc plated U-Bolts. F350s will need an F250 block to maintain a level stance with the front given the F250 block is 1" shorter. All Carli add-a-packs maintain factory load capacity while softening the rear ride.For an even better ride improvement in the rear you can upgrade to the full replacement Carli/Deaver leaf springs that are bolt in replacments for the 08-14 trucks. Customers with 05-07 trucks can order the 08-10 leafs but you will need to move your front leaf spring hangars (Instructions on how to perform this are listed above). The full leaf upgrade also completely eliminates the factory lift blocks which when combined with the better spring design, offers superior wheel hop control without the addition of traction aids.
2.5" SuperDuty Commuter 2.0 System
The Super Duty Commuter 2.0 system is designed for people seeking the best on-road ride quality on a budget. Utilizing Fox 2.0" internal reservoir shocks, we've developed a tune that delivers all around comfort and ride quality designed for on-road, in town, highway, and towing/hauling. The Fox 2.0s boast extruded aluminum construction with a clear anodizing for corrosion resistance, are fully rebuildable and are built with hour-glass bushings in the rod-ends. Fox builds these shocks with their legendary red shock oil that flows well down to -55° F. Unlike most of our suspension systems, the Commuter was tuned with 20", factory wheels on factory Michelin tires given many in the entry level, 2.5" lift market want the most bang for their buck and will continue to run the factory wheels and tires. We still recommend 35", E-Rated tires at 40F/35R as the ride only gets better with proper tires.
The truck will sit 2.5" higher in the front and have more wheel travel thanks to the taller, lighter rate coil springs. Stainless Brake Lines and an Adjustable Track Bar round off the front end geometry correction while Caster Shims improve on the stock handling. The rear is outfitted with an optional but highly recommended Progressive Add-a-Pack lifting it 2" and matching rear shocks help keep the truck planted over rough terrain while maintaining factory towing and payload capacity. The 2.5" systems are designed to work with trucks equipped with the 2" rear block. Super Duties equipped with a 3-5/8" tall block from the factory will require the factory 2" tall Block to achieve a leveled stance with the Add-a-Pack. Part Number: 7C3Z-5598-L and 7C3Z-5598-K
The Commuter is the beginning of our no-compromise, custom tuned suspensions. The 2.5" lift variation was tuned with the Progressive Add-a-Pack. We advise against upgrading to the Full Progressive Spring Pack.
Gas Kit Availability:
Fox is struggling with production, that a simple statement to describe a very complex problem. We're looking at early 2021 before Fox will have the bandwidth to approve our custom shock prints for production – from this point, it'll likely take 3-4 months to produce.
Mid 2021 is our estimate on these Fox Kits. This is the downside to running proprietary shocks, lots of red tape and hoops to jump through BUT we will have, by far, the best riding – most refined and complete product offerings available for this specialty model.
Features:
Superior Ride Quality
Increased Cornering Capability
Reducing and/or Eliminating Body Roll
Tighter street feel Driving Characteristics, Increased Suspension Response
Steering geometry is all within OEM specs, no additional components are necessary
Towing/hauling capacity is the same as OEM, no reduction of capability
Fitment Guide:
CS-FLVL-C20-11

| 11-16 F250 / F350 4x4 (Old part number: CS-FORDLVL-2.0-11)

CS-FLVL-C20-08

| 08-10 F250 / F350 4x4 (Old part number: CS-FORDLVL-2.0-08)

CS-FLVL-C20-05

| 05-07 F250 / F350 4x4 (Old part number: CS-FORDLVL-2.0-05)
GAS 2011-16: F250/F350 4×4, 6.2 Gas, 2.5″ Front Lift
Components:
Custom Fox 2.0 IFP Shocks
Carli 2.5" Linear Rate Coil Springs
Caster Correction Shims
Bump Stop Extensions
Stainless Braided Brake Lines
Adjustable Track Bar
Optional (but recommended) Year Specific Carli Add-a-Pack with Zinc Plated U-Bolts
Altered Vehicle Characteristics:
Level 2.5" of Lift on the Front
F250: 2" of Lift on the Rear*
F350: 1" of Lift on the Rear*
Vehicle is "Leveled"*
9.0" of Front Wheel Travel
12.0" of Rear Wheel Travel
Gas Trucks - 2.5″ Front Lift
System Notes:
Wheels - Carli Recommends a 17"-18" Wheel, no more than 9" wide with 5"-5.5" of Backspacing on Leveling Systems
Tires - 35", E-Rated Tire Fitment is Recommended. Recommended unloaded Tire Pressure 45F/40R.
Recommended Configuration - Carli Leveling Systems are Designed and Tested on Vehicles with 17"-18" Wheels with 35", E-Rated Tires. Stock wheels and tires or running a larger wheel diameter will result in a stiffer ride.
Add-A-Packs - Super-Duties equipped with a factory 3-5/8" Block will require the 2" Factory Block [7C3Z-5598-L, 7C3Z-5598-K] to achieve a level stance.
Leaf Springs - Full Replacement Leaf Spring Option Requires NO BLOCKS to achieve level Stance.
Leaf Spring Modifications - CS-FFSP-08: Full Springs require the front leaf spring hanger be moved forward to accommodate the longer, 2008+ Leaf Springs on 2005-2007 trucks.
Full Leaf Shipping Info - If you are choosing the full leaf upgrade we will need you to provide an address that accepts freight truck deliveries as the kit will ship on a pallet. Please contact us if you have any questions about shipping.
Rear Lift Options
Although it is possible to order this kit with neither of these options, it is HIGHLY recommended that you do choose one of these options in order for this kit to perform as expected.
CS-FPAP-(05, 08, 11)

- Progressive Add-a-Pack

Built in the U.S.A. By Deaver Leaf Spring
Smooth progressive design
Supplied with U-bolts and hardware
Provides 2.0" of lift
The O.E.M. load capacity is still maintained while improved ride is achieved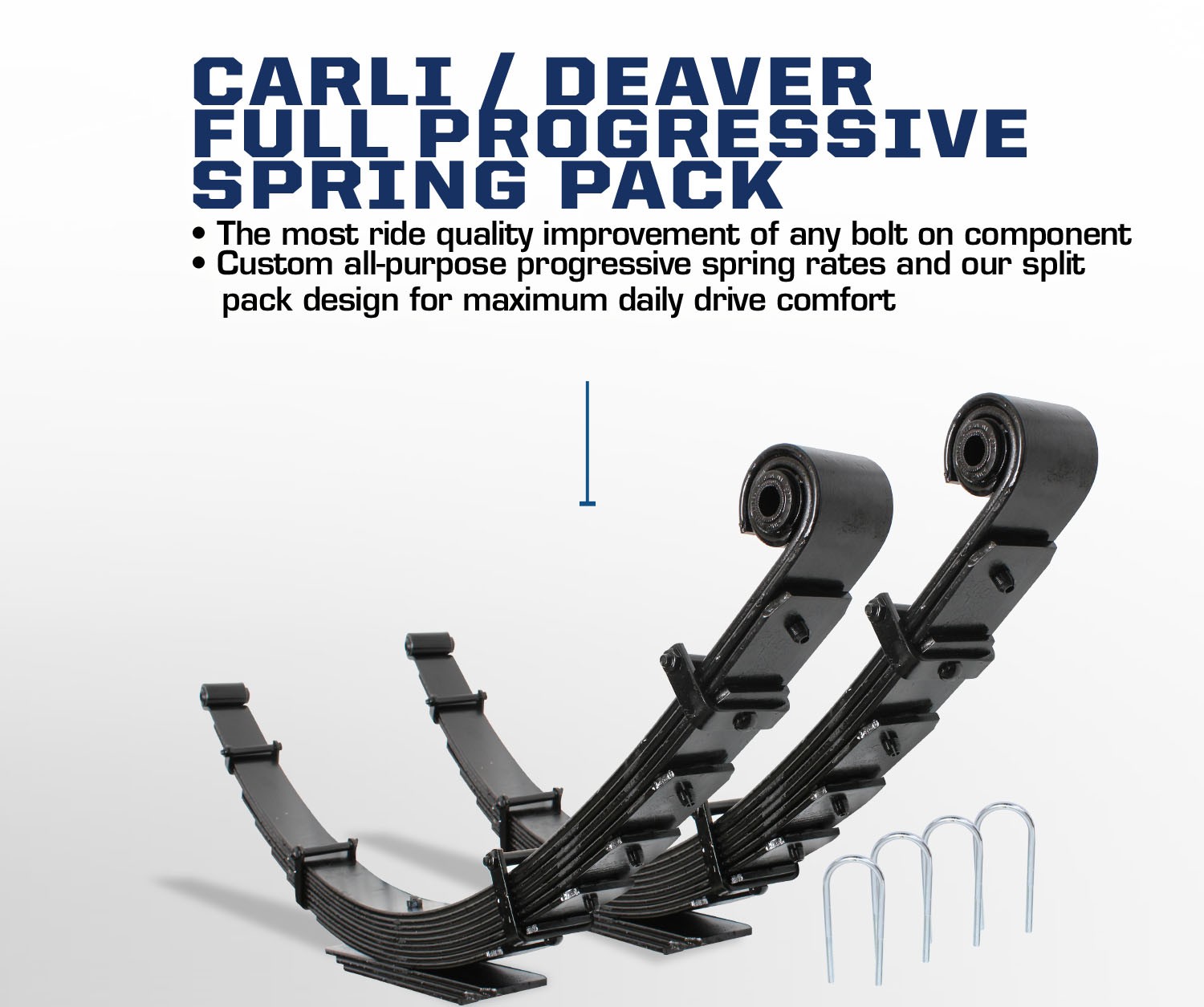 Radius Arm Option
CS-FFRA-LVL-05

- Radius Arms for 2.5in Lifts

For Leveling Systems
1° of Caster correction engineered into arm
Internal Gusseting
Limit Straps Included
1/2" Additional Tire Clearance
Huge Johnny Joint at Frame Connection for longevity and bind free Cycling