Carli Extreme Duty Ball Joint Package 03-12 Ram HD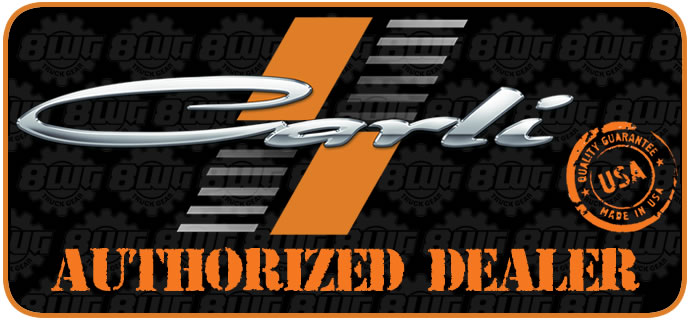 This special package from Carli Suspension saves you $100 when compared to buying the uppers and lowers seperately!
Warranty:
Warrantied for life.
In leu of enumerating the materials, processes and design characteristics of our Ball Joints, we're just going to stand behind this component for as long as you own it. If for any reason the performance of our Ball Joint declines, we'll stand behind it. For the life of your purchase. After the finalization of the R&D process we are confident that this part will never fail.
Extensive testing on the ball joints through Carli Suspension's product research and development cycle is now complete. We have logged thousands of nasty dirt miles over the past year to ensure that this product would be everything you have come to expect from us. These new Extreme Duty Ball Joints should yield a service life for as long as you own your truck and we're confident enough to offer a lifetime warranty. With an average labor of $500.00, the end user actually saves money the first time that they don't have to replace them.
Dodge Ram Upper Ball Joints
The ball joints start out as a chunk of 4130 chro-moly which is machined to our unique two tiered, internal grease port, patent pending design. The ball joint is then heat treated to a specified rockwell (hardness) that we have tested and set to make them able to withstand the meanest of beatings without showing any fatigue. From there the ball joints head to an aero-space lube company where a proprietary dry-lube is applied to our specified thickness. And of course we top them off with an accessible zerk fitting for easy servicing plus we even include a tube of high quality synthetic grease with each pair.
Upper Ball Joint Break In and Use
The ball joints are designed to break in after use. Constructed out of 4130, hardened and machined again makes for a smooth surface. With any hard smooth surface, there will be pores or high spots, not visible by the eye, but under extreme magnification you will be able to detect contact points raised from the general surface plain. The 2-stage aerospace dry lubrication process fills the pores of the machined surface and after significant period of time and consistant use, the surface will burnish. The definition of Burnish means to polish by friction. This is built into the design of the assembly and accounted for in the hard dry lubricant process. After removing the pin from the assembly following our testing periods, the surface has a luster to it which is the affect of the burnishing through normal use of the product. The burnished surfaces will reduce friction and smooth out rotation even further.
Without diving into a lesson on metallurgy, what we have discovered is that the ball joints get even better over time. Still flowing Redline CV2 high performance grease combined with the 2-stage machine applied dry lubricant process, the sheer pressure of the activity that the upper ball joint is subject to allows for the burnishing process to take place and when reviewed, you can see by eye and feel by touch that the surface is smoother. Just the way it was designed to do.
Dodge Ram Lower Ball Joints
Starting out from billet 4130 stock and CNC machined into a two-piece assembly, then case hardened, this truly is a bullet-proof component. The best part is the ride quality improvement over O.E.M. ball joints. The ball and socket on factory Dodge Ram Upper Ball Joints is separated by a plastic break-away that under severe stress, deflects.
By removing even .0625 inches of deflection times two axle ends omits 1/6" of an inch, or more, of ball joint deflection. You can feel it in the steering wheel. 35 and 37 inch tires, more stress and off-road impacts only exaggerate the movement, and subsequently, its affect. Your truck feels tighter and the steering wheel goes numb, even over pot holes and rail road tracks. The secondary tire movement, once eliminated, gives you a more controlled feel. Sometimes when you hit a sharp lip on the street, it feels like you hit two bumps, that aftershock is the tire's secondary movement from O.E.M. lower ball joint deflection. The front end of your truck will feel improved, or we'll buy the product back from you - guaranteed.
U-Joints
Replacing your ball joints? It is an opportune time to get at your U-Joints as well. Easily add the U-Joints you need to this order by selecting the correct U-Joints right up near the "Add to Cart" button. This means FREE SHIPPING on your ball joints and U-joints!
SPECIFICATIONS:
Heat Treated 4130 Construction
2-Stage Dry Lube Process
Easy Maintenance
Life Of The Vehicle Product
DODGE RAM FITMENT GUIDE:
2003 - 2012 2500 / 3500 4x4
2013 2500 4x4 only - Will not fir the 2013 3500's!
2006 - 2009 1500 Megacab 4x4
2005 - 2013 Power Wagon
Upper and Lower Ball Joint Package Part Numbers
CS-DBJP

| 03-12 Dodge Ram 2500/3500 4x4

CS-DBJP

| 06-08 Dodge Ram 1500 4x4
Upper Ball Joints Part Numbers
CS-DUJP

| 03-12 Dodge Ram 2500/3500 4x4

CS-DUJP

| 06-08 Dodge Ram 1500 4x4
Lower Ball Joints Part Numbers
CS-DLJP

| 03-12 Dodge Ram 2500/3500 4x4

CS-DLJP

| 06-08 Dodge Ram 1500 4x4