Wilco Offroad Hitchswing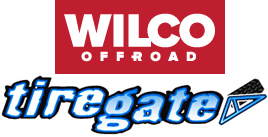 It's all about options. We love options and do all we can to avoid being painted in a corner. The Hitchswing™ puts an exclamation point on making the back of your vehicle a freely accessed area once again.
The Hitchswing adds a secondary 2" receiver hitch mated to a swinging arm. Slide into the Hitchswing your favorite bike rack, cargo rack, or whatever-rack, pull the pin, and swing that entire load away from your vehicle. Boom! The rear hatch, tailgate or door is free again! Now you don't have to decide between stuff on the hitch or accessing the cooler at the gas station again.
Hitch mounted bike racks are a godsend, but usually that means opening the rear for a trip to the local hardware store is mostly off limits or at least compromised.
Hitch mounted cargo racks are spectacular for family road trips, but usually that means waiting for 12 hours to get into the rear of the vehicle again.
Fitment Notes
Rectangular support arm is welded to secondary hitch extending 2″ above factory hitch and 30″ out horizontally from your vehicle's.
When properly installed, the Hitchswing will sit level with inside of the hitch…if your bumpers arc upward at the corners, the Solo may appear not to follow those body lines as it is mated up to the hitch rather than the bumper.
Hitchswing will interfere with factory back-up sensors and reduce the scope of vision of a back-up camera.
4.5″ of clearance required from center of hitch pin hole rearward for it to be compliant with wedge lock system. You may need to relocate spare tire from underneath or modify to gain the necessary clearance.
Features
Securely haul extra gear and an oversize spare tire without losing cargo space in the truck bed.
Hitchswing features the same secondary receiver as our Hitchgate™ line, tow-rated at 7,500 lbs (max trailer weight) and 750 lbs (tongue weight). Not every trailer will be compatible with the full range of motion of the Hitchswing..
Available with 1 accessory: License Plate Relocation Bracket (no light included)
Hitchswing support arm sits level with vehicle's' receiver hitch.
Like all Wilco Offroad products, the Hitchswing is proudly built in Southern California and comes with a limited lifetime warranty.
Specifications
Finish: Bead Blast and powder Coat
Hardware: Zinc plated
Weight: 45-pounds
Tow Rating: 7,500 lb Trailer Weight, 750 lb Tongue Weight
Source: Made in USA
Warranty: Limited Lifetime Warranty