Carli Spec Ford Backcountry Level Shock Package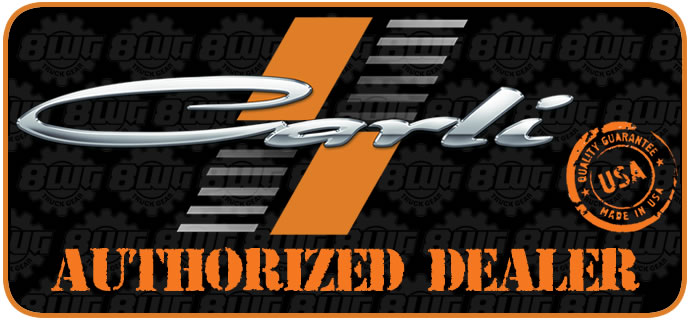 Carli Spec Ford Super Duty Backcountry Shock Package
The "Carli Spec" Backcountry shock package is designed for people seeking the best ride on and off-road quality on a budget; basically, the Commuter for those that want to have a little dirt-road fun in their 8,500lb truck without losing the on-road ride quality or usability for which the truck was designed. You're no longer limited to the highway while gravel roads become uninteresting as you can drive them at speed with one hand on the wheel.
These shocks will be a touch softer on-road than a Pintop with an impressive off-road capability for a 2.0″ shock. This is our best-riding, on-road package when paired with our Full Progressive Leaf Springs and Torsion Sway Bar.
Through our 20 years in business, we have built our brand by pairing our manufactured parts with complimenting products built to our specification from other industry-leading manufacturers in their respective markets. Through endless trials with these manufacturers, we've built a formidable knowledge database fit to produce, or improve, any of these items to suit our applications. Suffice it to say, we know a thing or two about shock quality and tuning.
Having worked with several shock manufacturers, we've expanded our capability through contention with varying approaches to shock, piston, and tuning shim design. These trials made us better and, in searching for a replacement shock for the Foxes, made our check-list longer and quality standards more stringent.
Let's talk about the highlights.
The Construction:
Both the Internal Reservoir (IFP) and Remote Reservoir shocks will feature the same construction. The body is 6063 aluminum offering a long service life and fantastic heat dissipation – they're also anodized for corrosion resistance. The 5/8″ shafts are a hardened & chrome plated steel. These shocks are spec'd with a premium 5WT oil to balance lubricity, consistent damping and the widest available range in temperature variation
The stem-top bushings are something we're excited about. In our vast experience with shocks, we've become bushing snobs. In an industry obsessed with poly bushings, we've always measured against our benchmark – the original rubber Bilstein bushings. In an eyelet style, poly is fantastic – in a stem-top, we've not met a poly bushing we preferred to tried and true rubber. They do not seem to handle the forces of the stem-top as well as a rubber bushing. We're elated to be able to spec a rubber bushing on these Carli Spec Shocks. Elated may be an exaggeration but we eat, sleep and breath shocks – to eliminate such a frequent point of failure is exciting!
The rod ends are constructed of 6061 billet aluminum; inside you will find a high-quality 1-peice bushing and zinc-plated crush sleeves for precision fit and longevity.
The cylinder end cap has a unique design as it overlaps the body of the shock to provide external support to the internal snap ring. These shocks serve as the travel limiter for all trucks without our radius arms (and subsequent limit straps installed), ensuring the shock stays together on top out while bearing the load of the axle is paramount.
The Remote Reservoir variant adds the separate canister to carry the dividing piston and nitrogen charge leaving the entirety of the body available for extended piston travel. Without getting too technical, a Remote Reservoir will have more suspension travel than an IFP with the same mounting dimensions. In adding this canister, we have spec'd a high quality hose and fittings (better than our Fox offerings) similar to the one offered on our King shocks.
The last high-end touch we've added is our billet, laser etched Carli reservoir clamp, where applicable. In front applications, we tend to run a longer reservoir hose to a Carli mount, whether frame or coil bucket mounted. Rear configurations favor piggy-back style mounting. To ensure the look is on-par with the brand and function, we'll be providing these CNC'd clamps.
The Warranty:
The warranty covers manufacturer defect for 1 year from the date of purchase. We service the warranty so you'll work directly with us for any warranty concerns.
FITMENT GUIDE:
CS-FLVLSPKG-CS20RR-A - 2020+ F250/350 4×4, Diesel - 3.5" Lift
CS-FLVLSPKG-CS20RR-A - 2017-19 F250/350 4×4, Diesel - 2.5" Lift
SPECIFICATIONS:
Carli SPEC 2.0" Remote Reservoir Shocks, Front and Rear
Includes Coil-Mounted Reservoir Mount
9.5″ Front Wheel Travel, 13.8″ Rear