PMF Suspension 2005-19 Ford SD HD Single Piece Draglink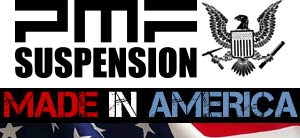 The factory draglink on the 2005-19 trucks is a known weak link in the steering system. There are a few causes for the weakness but the majority lies within the design of the split collar adjusting sleeve. This allows the rod to flex when put under a load caused by road variations or steering input. Increased tires and lift size adds even more stress to this part. Upgrading to our single piece unit will eliminate ALL flex and tighten up the feel of your steering wheel. This is an upgrade that you can notice a night and day difference in the second you open the box and lay the two side by side. We use a heavy wall single piece DOM tube and CNC single point thread the bar for the strongest possible threads. We dont weld in tube adapters to eliminate the concern of a weld failing resulting in a loss of control of your vehicle.
We have two version of this bar. A "Direct Replacement" which comes with a Moog "Problem Solver" series of tie rod end that will fit into your stock pitman arm with no modifications.
The second is our "Offroad" version. This uses a much stronger and MUCH more durable 1" FK heim. We custom machine from high strength 17-4 stainless steel to fit the oem taper of the pitman arm with a built in safety washer on the opposite side. We also supply a custom High Strength Grade 9 bolt for even more security! Because this uses a heim and not all states allow a heim to be used in your steering system, we list this product as an offroad only item. If you live in a state that allows heims to be used, the offroad version is BY FAR our recommended option. One thing to note, the heims slightly larger diameter may create clearance problems with some aftermarket drop track bar brackets when turning all the way to steering stop.
Since the entire bar spins when adjusted, it cannot have a tapered hole for a OEM style of steering stabilizer as it would never align properly. It is recommend to run a dual steering stabilizer kit or a stabilizer that clamps on the outside of the bar (OD is 1.5") instead.
THIS PRODUCT IS NOT DESIGNED FOR THE "WIDETRACK" DANA SUPER 60 AXLE FOUND IN THE 450/550 TRUCKS AND SOME DUAL REAR WHEEL 350 TRUCKS WHEN EQUIPPED.
Rod is powdercoated black wrinkle for a long lasting finish.
Vehicle Fitment:
2005 - 2019 Ford F250 & F350