PMF Suspension 2005-19 Ford SD HD TIE ROD BAR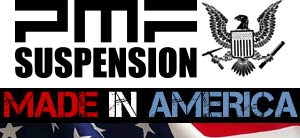 2005-19 Ford F-250/350 trucks now have a simple and strong replacement option option to clean up the front axle without having to run heims! This bar replaces the oem center tie rod bar that runs between the knuckles (tie rods not included). Instead of the OEM clamp unit, our bar uses a jam nut. The outside of the bar remains the same diameter as the OEM bar was. This is threaded to match the OEM tie rod threads.
THIS BAR DOES AWAY WITH THE SAFETY WIRE LOCK SYSTEM!! SPECIAL CARE MUST BE TAKEN TO ENSURE JAM NUTS ARE LOCTITED AND PROPERLY TORQUED AND FREQUENT CHECKING IS NECESSARY!! IF THE BAR WERE TO LOOSEN UP, LOSS OF VEHICLE CONTROL AND INJURIES OR DEATH COULD OCCUR!! THIS IS THE USERS RESPONSIBILITY TO MAINTAIN!!!
Vehicle Fitment:
2005 - 2019 Ford F250 & F350