Carli 3" Dodge Dominator 3.0 System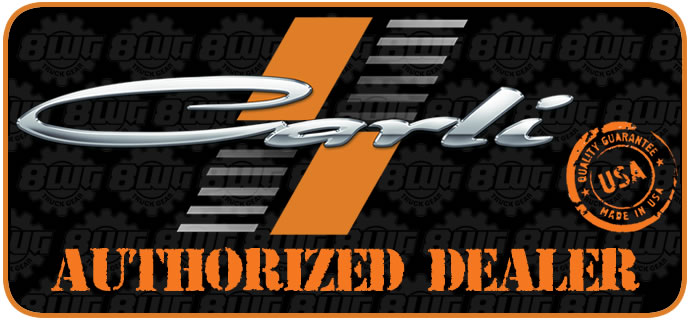 Now Shipping with Fabricated Shock Towers for an even better value!
To keep your investment in a full state of readiness, All Dominator Systems now come with Stainless Shafts for maximum strength and corrosion resistance.
"The Dominator 3.0 is our flagship ride quality performer. The larger displacement combined with our custom low-flow piston and latest shock tune offers the smoothest dampening control and high speed bottom-out resistance. There's nothing smoother than a Carli tuned King 3.0."
Dominator 3.0 Dodge Ram Suspension System
The 3.0 series are designed for the customer who wants the ultimate suspension package. Built to support heavy to race off-road conditions with outstanding street performance. This system is designed for drivability, race/chase support applications and aggressive off-road use, still rendering impeccable street characteristics and handling. This is the most advanced performance system available... the next step up from the Carli Dominator system would require a roll cage and race set up. Essentially this system is a stock full class system. Utilizes King Off Road 3.0 custom race shocks.
This is the true, Jack of all trades suspension system offering the most on-road comfort of any short-arm system in the Carli lineup. The Dominator rides better than any other system on the road while boasting off-road manners that make the truck feel half its size. This is the end of our "all-around" Suspension Systems; anything above the 3.0" King will sacrifice on-road ride for off-road capability. For the customer looking for the best balance of on and off-road capability, without leaning too far in either direction, wanting to maintain the factory short arms (ability to return to stock), this system is the perfect candidate.
The Dominator is the best of our short-arm, utilitarian style offerings boasting front Carli Signature tuned, King 3.0" remote reservoir shocks so large, we needed bore the factory spring buckets for them to cycle properly. As the old adage goes, there's no replacement for displacement. In an effort to provide customers with the best product, we do not sell off-the-shelf King 3.0s. We designed a custom piston to determine proper base flow rates to ensure the shock works well in the heavy duty truck platform; we then tuned the shocks around the custom pistons based on seat-of-the-pants feel. We round off ALL our King shocks with shafts machined and polished from a solid piece of 17-4 Stainless. Unlike King's standard shafts, there is no coating to wear off, weather is far less likely to hurt them and if there is a small chip, you can round the edges with emery cloth to ensure the seal housing isn't damaged as they're not brittle like the stock, hardened shafts. All King shocks are built with a plated steel body. If subjected to inclement weather for extended periods, we recommend wrapping your shocks in 3M to provide a moisture barrier that's replaceable.
Your truck will sit 2.5"-3" higher in the front (year/cab configuration dependent) with 50% more suspension travel than the factory platform thanks to the taller, lighter rate coil springs. The rear is lifted 1"-2" thanks to the included Full Progressive Leaf Pack. The Full Progressive Leaf Pack replaces the entire factory leaf spring assembly increasing travel and drastically increasing comfort throughout the entire usable travel stroke at the cost of a 15% payload reduction from a standard 2500. This payload reduction can be supplemented back to factory 3500 SRW capacity with the addition of the Long Travel Airbags for the best of both worlds; ride quality and payload capacity/load control.
When pairing added down-travel with the taller ride height, the position of the factory, front sway bar will need to be altered as well. For this, we offer two options (unless 1994-2002, then there's only one); extended, Sway Bar End Links or the replacement Torsion Sway Bar. The End links are equipped with ½" FK Rod-Ends and in-house machined 17-4 stainless bodies that are extended over stock to reset the sway bar engagement points. Factory pillow-bushings are re-used to assemble the sway bar to the lengthened link. Carli's optional Torsion sway bar removes the entire factory sway bar assembly replacing it with a torsion bar supported by fabricated drop brackets and delrin bushings. Fabricated sway bar arms and dual 5/8" FK heim end links round off the package. This is the single best bang for the buck, ride-quality upgrade offered by Carli Suspension (in close competition with the full progressive leaf spring upgrade).
When lifting the front end of a straight axle truck, the front axle is pulled off-center unless the proper linkages are addressed. Three inches of front lift equates to an axle shifted toward the driver's side ¾" and back toward the cab ½". This system includes an Adjustable Track Bar to push the axle back toward the passenger side and provide a stronger link with less deflection for the lifted application. We also recommend the purchase of a set of extended control arms to shift the axle forward to its new center of travel.
Carli Suspension Total Control Piston
All Dominator 3.0 suspension systems come with Carli's total control piston designs.
Dodge Ram Suspension System Engineering
Each shock valve profile is proprietary and was thoroughly tested for performance gains. Each of the systems at Carli Suspension are developed to maximize the on-road performance, first, then it is put through the off-road development process. This is a standard design cycle that renders the ride quality for the real world. Each shock that is delivered, gets installed on a company vehicle and tested on the street. The testing is performed with the actual component family that makes up the suspension system. This allows the ride quality to be evaluated as the system is sold to customers. Valve profile adjustments are made, and then the shocks are re-installed on the test vehicle for another round of road performance evaluation. This cycle continues until the ride quality is perfect for daily use.
Once the system is set up, it is then tested in an off-road environment for further refinement. Off-road testing involves the conditions and terrain that the system is designed for. A progressive testing method that encompasses well maintained to semi-maintained dirt roads, all the way up to open desert in Baja Mexico, depending on which system is in development.
Dodge Ram Suspension Testing
Once the drivability and off-road characteristics are refined, the system will be abuse tested for durability and strength. Testing the 3.0 series under extreme conditions resulted in the truck surrendering before any suspension components did. This also provides a platform for additional product development. It is necessary to find the limits and extend them, a hallmark of the Carli Suspension product development cycle.
Carli Suspension performs professional, technically enabled, product testing. These mediums ensure that each system is rendering the highest performance on the market, from driving to the office... all the way to leaving the ground over desert terrain.
Wheels and Tires
This system will fit up to a 35" tire with stock control arms (we recommend purchasing our extended, Mild Steel Control Arms) on wheels with 5.75-6" of backspacing. If running factory wheels, we recommend an All Terrain 35" tire to avoid rubbing. For 37" tire fitment, our High-Clearance Control Arms and Adjustable Track Bar can be paired to a wheel with 5.75" of Backspacing. The more rubber, the better the small bump compliance will be at proper inflation pressures. The ride will firm up as you go larger in wheel diameter. For more details, see our article on wheel and tire selection and tire pressures: HERE
FEATURES:
King 3.0" Remote Reservoir Front Shocks
King 3.0" Weld-on Reservoir Rear Shocks
Corrosion Resistant Stainless Shock Shafts
Full Progressive Spring Pack
Multi-Rate Coil Springs for 1994-2009
Linear-Rate Coil Springs for 2010+ Diesel
Zinc Plated U-Bolts
Stainless Sway Bar End Links With F.K. Bearings
Fabricated Steel Shock Towers
Limit Straps
Adjustable Chromoly Track Bar
High Misalignment Spacers
Reservoir Mounts
DODGE RAM FITMENT GUIDE:
2003 - 2012 2500 / 3500 4WD Diesel Trucks (Also fits 2013 2500's)
2003 - 2012 2500 / 3500 4WD Hemi Trucks (Also fits 2013 2500's)
2006 - 2009 1500 Megacab 4WD Hemi Trucks
98.5 - 02 2500 / 3500 4x4 (requires track bar conversion bracket)
94 - 98 2500 / 3500 4x4 (requires track bar conversion bracket)
Part Numbers
CS-DD30-03-D

| 2003-09 2500/3500 4x4 Diesel 5.9 Liter | (Old Part Number: CS-D30-03-D)

CS-DD30-03-H

| 2003-09 2500/3500 4x4 Hemi, 1500 4x4 Mega cab | (Old Part Number: CS-D30-03-H)

CS-DD30-03-PW

| 2003-2009 Power Wagon

CS-DD30-10-D

| 2010-12 2500/3500 4x4 Diesel 6.7 Liter (12mm End Link) | (Old Part Number: CS-D30-10-D-12mm)

CS-DD30-10-H

| 2010-12 2500/3500 4x4 Hemi (10mm End Link) | (Old Part Number: CS-D30-10-H)

CS-DD30-10-PW

| 2010-12 Power Wagon

CS-DD30-94

| 1994-98 2500/3500 4x4 Diesel | (Old Part Number: CS-D30-94)

CS-DD30-985

| 1998.5-02 2500/3500 4x4 Diesel | (Old Part Number: CS-D30-985)
Notes for 2010+ trucks:
Some of the 2010+ trucks use larger 12mm threaded hardware as opposed to the 10mm threaded hardware on most trucks. You will need to confirm what version your truck uses by checking the hex nut size on the top of your factory end link. If it uses an 18mm socket then you have the 12mm version. If the nut is a smaller 15 or 16mm nut then you will need the standard 2010+ end links.
Altered Vehicle Characteristics:
3" of front lift
1"of rear lift
Level Ride
Upgrade Options:
Torsion Sway Bar Upgrade- This replaces the standard sway bar end links with a full replacement sway bar and end links that has a less aggressive effect on the ride performance.
Shipping Info - If you are choosing the full leaf upgrade we will need you to provide an address that accepts freight truck deliveries as the kit will ship on a pallet. Call us if you have any questions.
System Notes:
Wheels - Carli Recommends a 17"-18" Wheel, no more than 9" wide with 4.5" of Backspacing on 6" Systems
Tires - 37", E-Rated Tire Fitment is Recommended. Recommended unloaded Tire Pressure 45F/40R
Recommended Configuration - Carli Leveling Systems are Designed and Tested on Vehicles with 17"-18" Wheels with 35", E-Rated Tires. Stock wheels and tires or running a larger wheel diameter will result in a stiffer ride.
Torsion Sway Bar - Selection of the Torsion Sway Bar Replacement will not Require size selection as the entire sway bar assembly is replaced.
Fitting 37" Tires - 37" Tires will fit with the above wheel specifications if the system is equipped with Full Replacement Leaf Springs and Control Arms.
Rear Bypasses - Selection of Rear bypass shocks carries a lead time of 6-8 weeks from order date.
Sway Bar Options
Sway Bar End Links

Machined out of 17-4 Stainless Steel
FK Bearing, Chromoly Rod-End
Relocates and drops the front sway bar for fit and correct geometry
Eliminates End Link bind which could lead to premature failure

CS-DEL-94

| 1994-1998 Dodge Sway Bar End Links

CS-DEL-985

| 1998.5-2009 Dodge Sway Bar End Links

CS-DEL-10

| 2010-2013 Dodge 10mm End Links (15mm Nut Size)

CS-DEL-12

| 2010-2013 Dodge 12mm End Links (18mm Nut Size)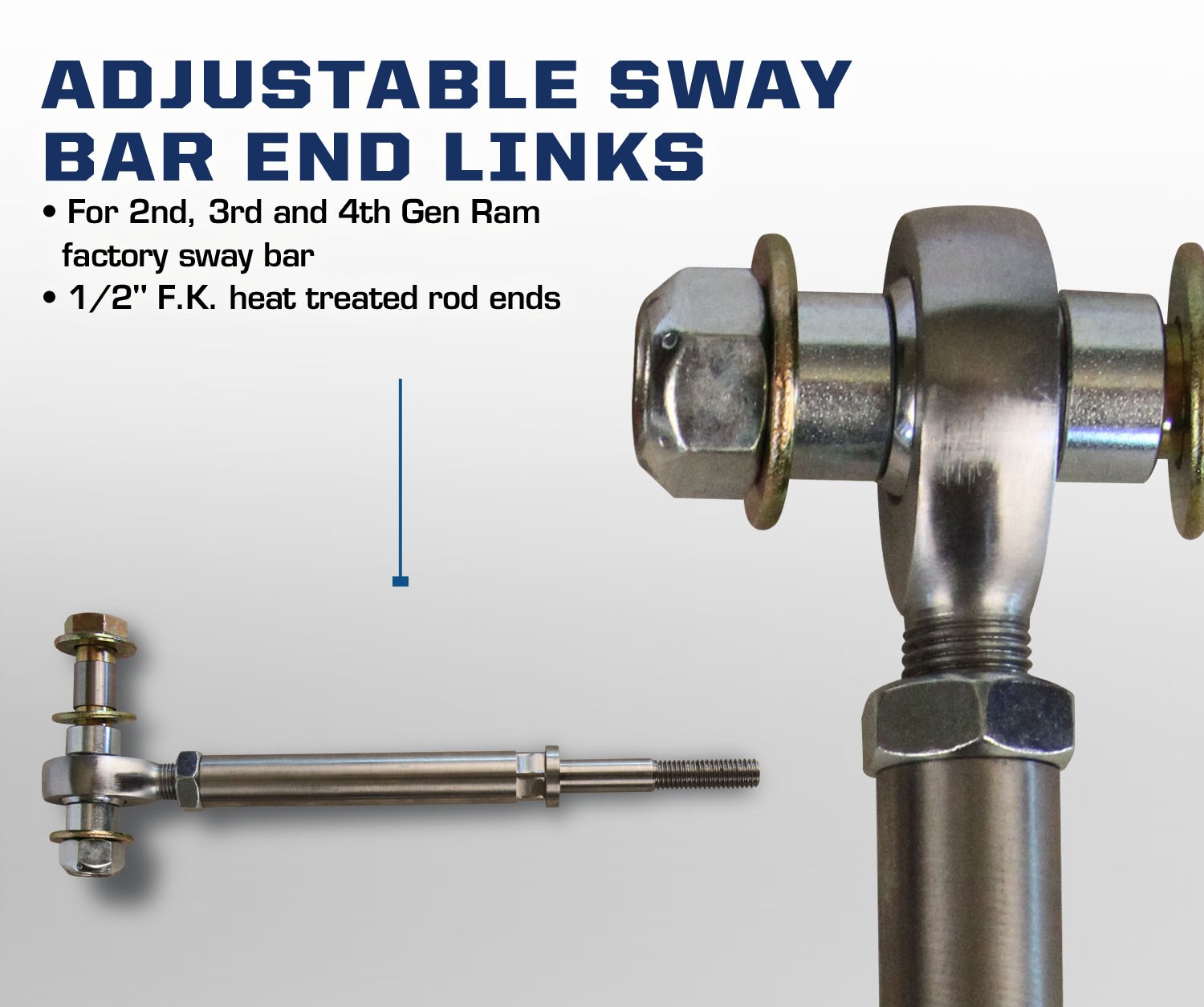 2003-2013 Torsion Sway Bar |

CS-DTSB3-03

Easily the Best "Bang for the Buck" Upgrade for ride qualityy
Allows front suspension to move freely without giving up Control
Heavy duty chromoly arms and end links with 5/8 race series heim joints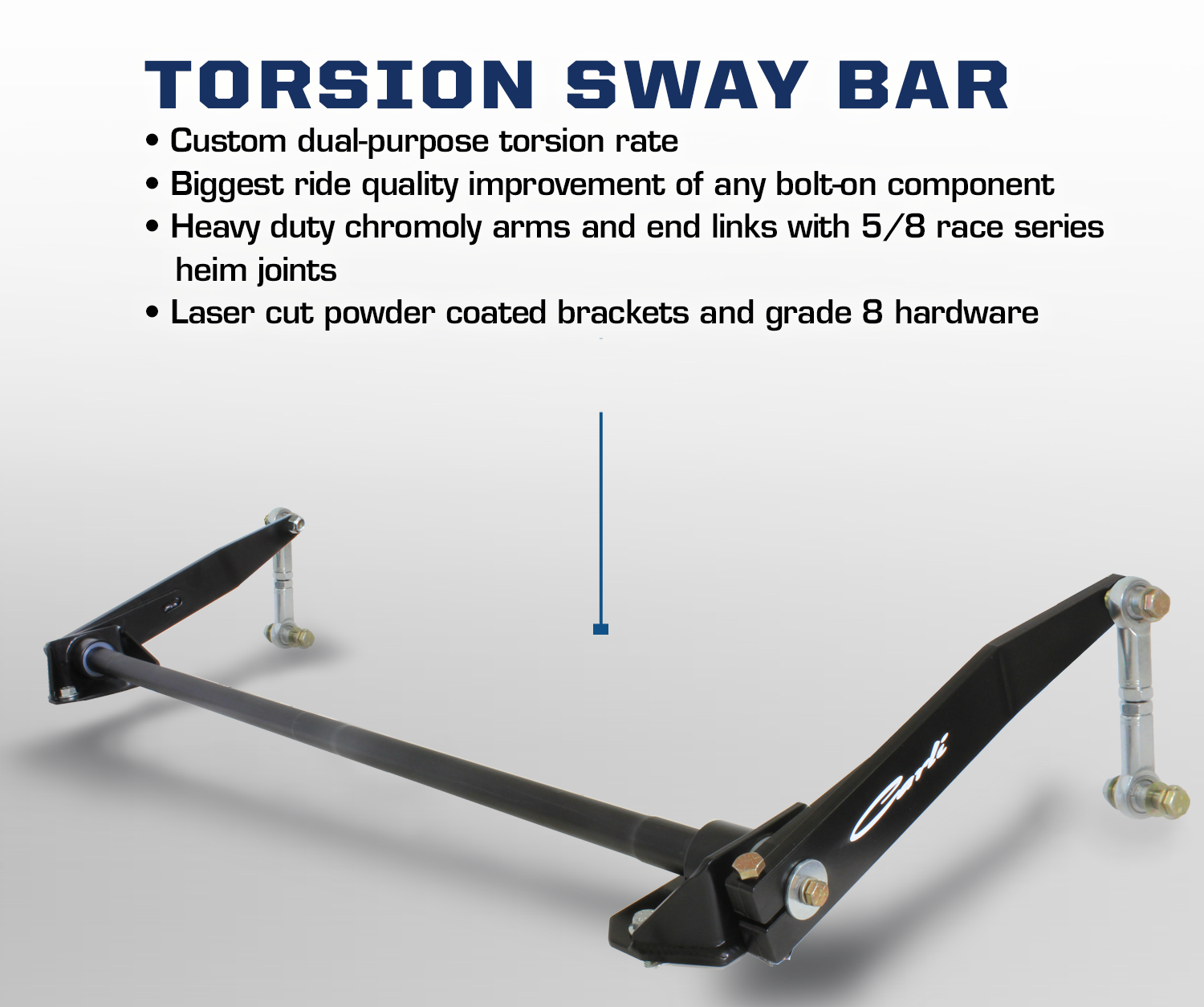 Rear Lift Leaf Options
Although it is possible to order this kit with neither of these options, it is HIGHLY recommended that you do choose one of these options in order for this kit to perform as expected.
Add-a-Packs

Replaces Rear, lower overload spring for increased ride quality
Provides 1.0" of lift
The O.E.M. load capacity is still maintained while improved ride is achieved
Diesel specific configuration (AAM 11.5 Axle)

CS-DPAP-94

| 1994-2002 Dodge Ram Add-A-Packs

CS-DPAP-03-D

| 2003-2009 Dodge Ram Add-A-Packs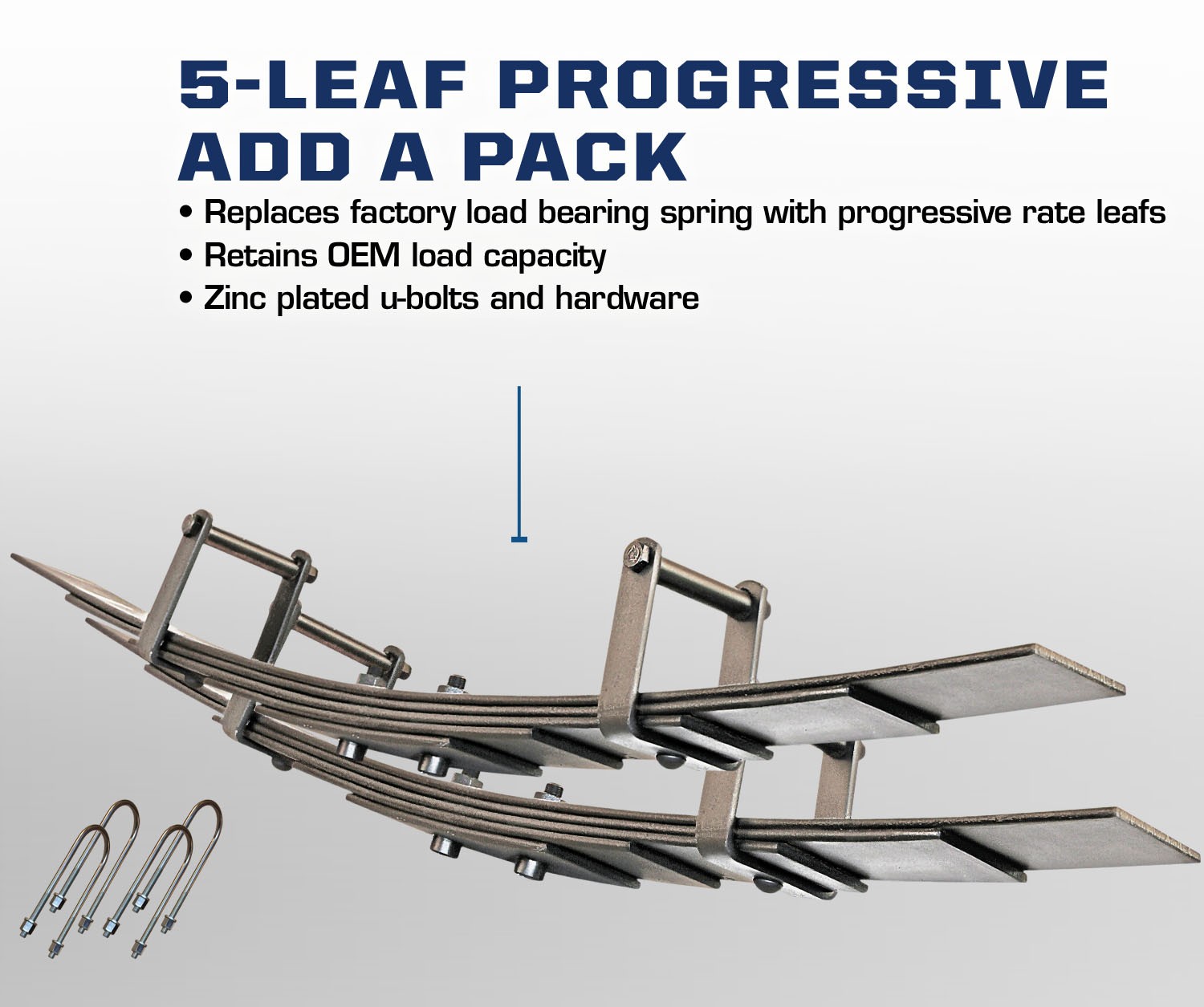 Full Spring Pack

Softens initial spring rate at ride height
Minimizes Axle Wrap/Wheel Hop
Reduces Payload 15% From Stock 2500
Capable of 15" of Suspension Travel

CS-DFSP-94

| 1994-2002 Dodge Ram Full Spring Pack

CS-DFSP-03-D

| 2003-2009 Dodge Ram Full Spring Pack

CS-DFSP-03-D-HD

| 2003-2009 Dodge Ram Heavy Duty Full Spring Pack (For Trucks with 1,500lbs. In the Bed at all times)

CS-DFSP-10-D

| 2010-2013 Dodge Ram Full Spring Pack

CS-DFSP-10-D-HD

| 2010-2013 Dodge Ram Heavy Duty Full Spring Pack (For Trucks with 1,500lbs. In the Bed at all times)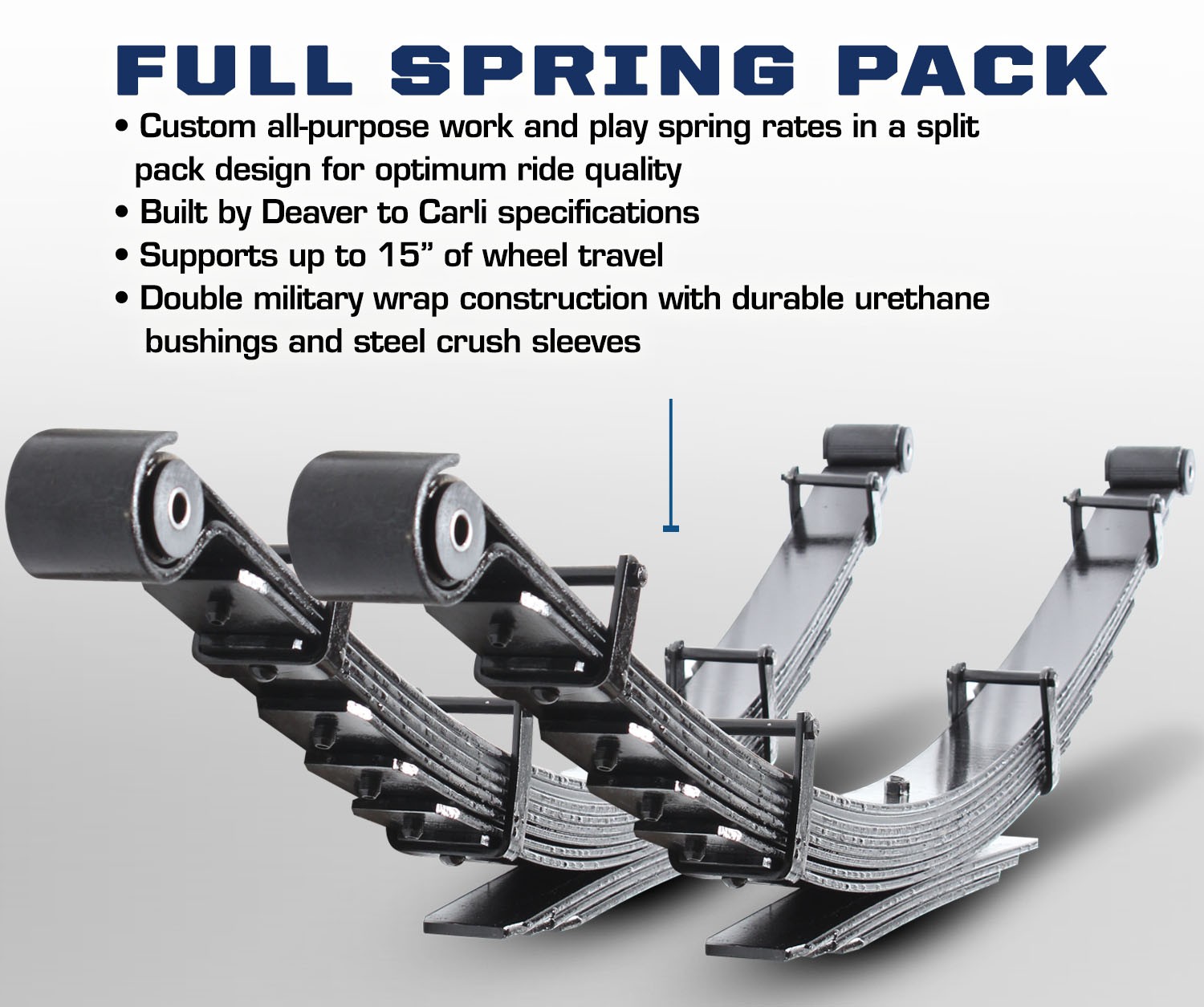 Control Arm Options
Extended Control Arms

Re-centers front axle on 3" Suspension Systems
Offset body for more tire clearance

CS-CA-MS14-94

| 1994-1998 Dodge Ram Control Arms with 12mm/14mm Joints

CS-CA-MS16-94

| 1994-1998 Dodge Ram Control Arms with 14mm/16mm Joints

CS-CA-MS-03

| 2003-2009 Dodge Ram Control Arms

CS-CA-MS-10

| 2010-2013 Dodge Ram Control Arms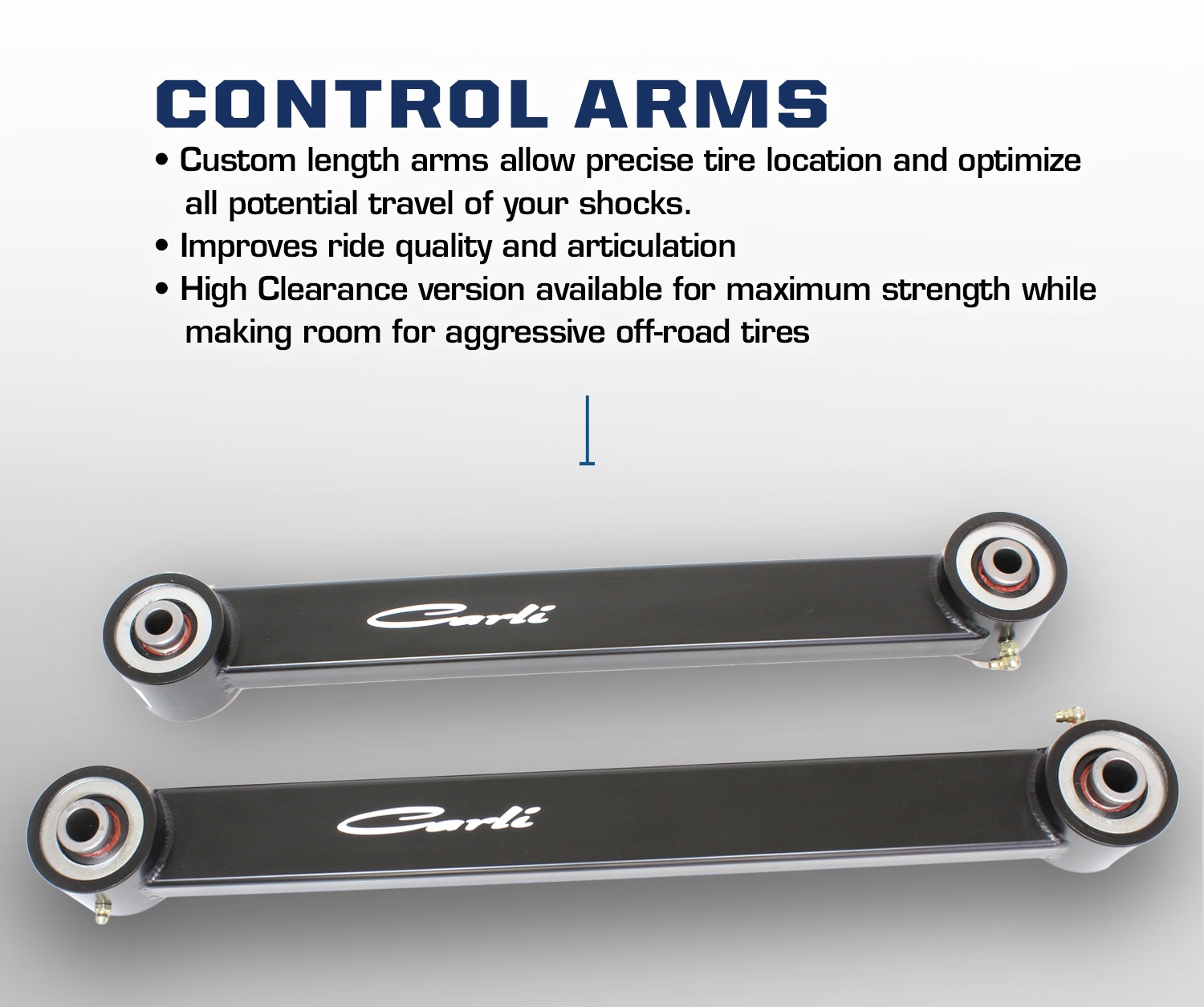 High Clearance Extended Control Arms

Re-centers front axle on 3" Suspension Systems
Offset body more than Extended Control Arms for even more tire clearance!

CS-DFCA-03

| 2003-2009 Dodge Ram High Clearance Control Arms

CS-DFCA-10

| 2010-2013 Dodge Ram High Clearance Control Arms